Celebrity
Noah Cyrus Wants to Change This One Thing on Her Wikipedia Page
Plus, why she finally decided to step into the limelight, not caring about being compared to Miley, and the surprising reason her dad is her style icon.
Alec Kugler
It may be a bold statement, but I'm going to call it: this is Noah Cyrus's year. With a VMA nod and a just-announced tour with Katy Perry, Miley's younger sister is stepping jumping into the limelight. And she isn't fazed by it. When I met her ahead of her Samsung's Made for Summer Live at 837 concert series, it was clear she was ready. We sat down to talk about why she felt this was the right moment to work on her album, how she deals with the constant comparisons to her famous family members, and the best (and worst) advice Miley gave her.
---
Why now seemed like the perfect time to start her music career:
"I was 14 [years old] and learning about music. I fell in love with the artist Ben Howard and when I was 15 [years old], I wanted to go into the studio and start writing. Around that time, I fell for my first love, and then as I grew up, we broke up, which inspired the album. A song called 'Almost Famous' is especially about the breakup. Even though it's only been two years, I feel much older—I've definitely found where I want to be."
The spiritual song that is most special to her:
"This is the first time I've ever really talked about it but because it's so special, I might as well just start. I wrote a song called 'Ghost' and hopefully it'll be on the album. If not, I'll definitely find a way to get that song out. 'Ghost' is really special—it's inspired by the Native American ghost dance, and my dad had me watch a documentary about it, which [Native Americans] would do to bring their loved ones back from the dead. I wrote 'Ghost' about chasing a love that you're never going to get back. My dad's very spiritual and I think I get that from him."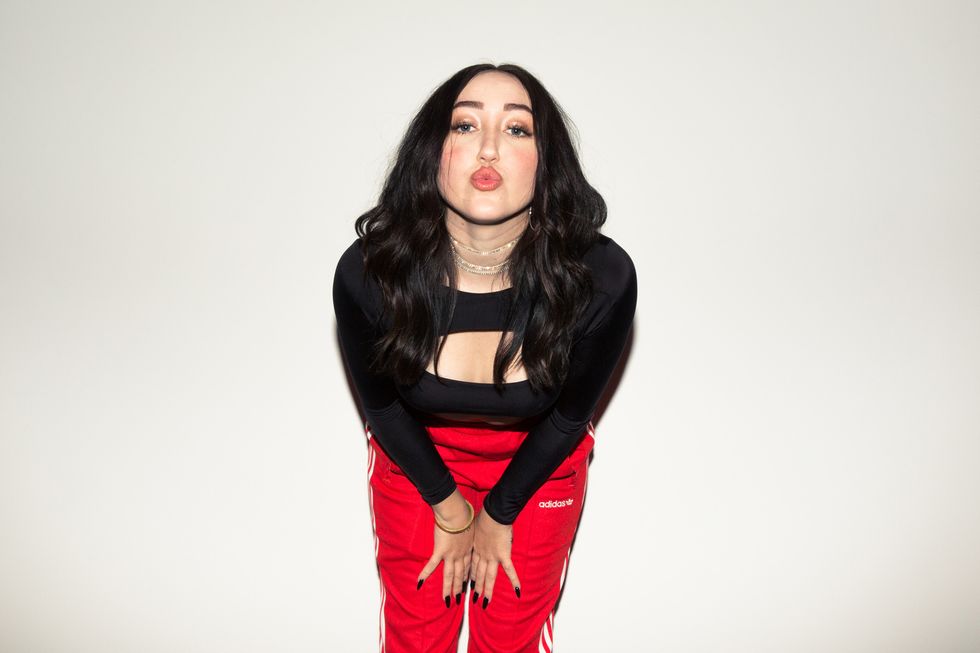 She doesn't get your comparisons:
"You can make all the comparisons you want, and I don't blame you because I am related to Miley and my dad. That's fine, you can do that. I don't really see the point in it, we're all different. We might share the same DNA, we might be blood, but we're so different. I think the most important thing for me is being real in everything that I put out and everything that I've put out so far."
Best advice Miley ever gave her:
"Don't look yourself up. That was the best advice because every time I look myself up I get hurt."
And the worst advice:
"I don't know. Probably had something to do with outfits or something [laughs]."
Out of all of her family members, the beauty moment she would bring back is:
"My dad's '90s mullet. Absolutely. But you know what's great about what my dad did? He'd wear a cowboy hat, high-waisted jeans and a tucked-in cutoff t-shirt with a pair of Reeboks. He was really the only country singer you would see out there wearing Reeboks. And I just think it's so dope. So I would definitely recreate that moment myself. Maybe I just need to cut my hair into a mullet or something."
The most unexpected thing to happen in her career:
"Probably 'Make Me Cry' going platinum in America. I think that was really cool for me. It happened so quick. No, I totally take that back! The VMAs. I got nominated as Best New Artist this year. So I totally take that back. This is the most. I'm like, mind-blown."
The trend she would never try:
"I don't even think this is a trend. It's not a trend. But the shoes that you see your toes.
The Cinderella shoes...the clear ones?
"Those I would never wear because I hate my feet and my family tells me my feet are ugly all the time. My mom, my boyfriend and I went to get pedicures the other day and my mom pointed out to him that my feet are ugly. And he's like, 'Yeah, they're not that cute,' and I'm like, 'What?!' They're like, 'They're a little chubby.' And I'm like, 'What? I just have small toenails.' They're like, 'All your toes connect in weird ways.' I'm like, 'Uh, okay, I'm just not going to show my feet around you guys anymore.' And then my dad told me that my feet felt like leather! And I'm like, what is with everybody hating on my feet? But he didn't say that until I asked about it, so maybe it's just they're trying to pick on me. I'm never going to go get a pedicure with my mom and my boyfriend ever again, that's for sure."
The one thing she would change on her Wikipedia page:
"Probably the picture that comes up. I've been trying to do it for years. They, for some reason, use this picture from I think from the VMAs in 2014, with my long extensions. Perez Hilton almost murdered me for that look. [Laughs]"