Denim Week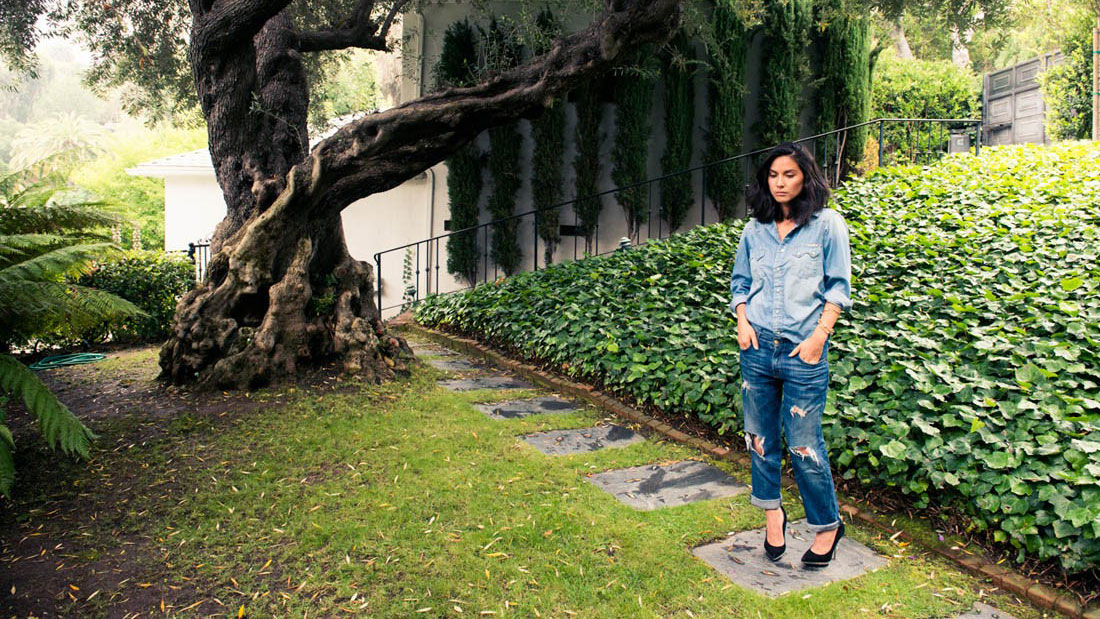 How to Pull Off an All-Denim Outfit
We were founded in Canada, after all.
No one can forget the denim on denim on denim moment that was Britney Spears and Justin Timberlake at the 2001 American Music Awards. The photo of them—arm-in arm and  draped in denim—is perhaps pop culture's most iconic nod to the Canadian tuxedo. While the look can be polarizing (and one could argue that Britney and J.T. took it a little too far), that hasn't stopped brands such as Y/Project and Off-White from championing it. And even style mavens like Rihanna, Céline Dion and Bella Hadid are all about it.
In the spirit of denim week, we put together our favorite variations on all-denim looks. Coveteur did, after all, originate in Canada.  
---
Tara
Assistant Editor
Bella Freud x J Brand Snap Front Jacket in Electrify: Lately I've been obsessing over Bella Freud, and her most recent collaboration with J. Brand reminds me of the retro, rocker-chic vibe of the '70s I've always wanted to emulate. This jean jacket absolutely reminds me of something that Anita Pallenberg would wear—it's perfect.
Ida Klamborn Star Jeans: I love jeans that have a little extra something. My Miaou pants are embroidered with a pair of dice on the back pockets, my AGOLDE jeans have rainbow stitching, and I own a pair of vintage jeans with faux fur-lined pockets. For obvious reasons, I want this Ida Klamborn pair. The star shape is so good, and would add a nice statement to any outfit.
Apiece Apart Florian Off-the-Shoulder Ruffled Denim Top: Speaking of things that would look great with those Ida Klamborn jeans, can we discuss this top? I love the light wash and how the ruffles fall off the shoulder. As a Spanish girl, I'm a sucker for anything that reminds me of a flamenco dress (big fan of the flamenco dancer emoji over here); it's always a yes from me when it comes to ruffles. 
---
Hannah Baxter
Assistant Editor
Alexa Chung Denim Bustier Top: Alexa Chung's new line is painfully chic, and I love the structure of this denim bustier top in particular. It's feminine and tough at the same time, and just waiting to take up residence in my closet.
3X1 Higher Ground W3 Cropped Jeans: When I imagine a Canadian tuxedo, I usually think lighter denim, so subbing these dark wash jeans seems much more modern to me. The crop is perfect, and the deconstructed hems keep the look from feeling too polished.
See by Chloe Tara Denim Platforms: I can never own too many platforms! I'm getting such early-2000s vibes from this See by Chloe pair, so obviously I need to buy them immediately.
---
Jodi Taylor
Assistant Editor
Alexander Wang Bite Denim Shorts: I'm Canadian, it's in my blood to wear a Canadian tuxedo (and trust me, I do it often). The light wash makes these shorts perfect for an all-denim outfit. Another plus is the length—nothing hanging out with these guys, which is a win in my books.
Current/Elliott Vintage Boyfriend Denim Jacket: This jacket's unfinished hems make it a perfect match for the Alexander Wang shorts. I'm also into the boxy shape. To be honest, I'd probably wear this buttoned up with nothing underneath. With the shorts, though, I'd do a half tuck.
Manolo Blahnik Hangisi Pumps: Try and tell me a better way to make this "tuxedo" pop.
---
Leah Faye Cooper
Features Editor
Jesse Kamm Cut Offs: Stylist Karla Welch put me on to this label when I interviewed her for a story, and I've been eyeing the line's perfect denim pieces ever since. I usually go for skinny jeans, but how good are these shorts?
Crew Point Sur Denim Workshirt: A real tuxedo isn't complete without some sort of button-down situation, so I'd go with this chambray top. Styled halfway tucked-in is a good look, though I'd probably tie the front in a knot and roll up the sleeves.
Bill Blass Frayed Denim Slides: I never knew how much I needed denim sandals until I spotted these. While I'm not opposed to all-blue from head to toe, white adds such a nice contrast to an otherwise monochromatic look. And the fringe, you guys? I love it.     
---
Monique Kamargo
Photo Producer
Pixie Market Denim Jacket: I own a lot of denim jackets. Like, a lot. That being said, I'm always looking for new styles/any excuse to buy a new one. I have yet to purchase an off-the-shoulder style, and I'm loving how this one is edgy yet feminine.
3x1 Pants: I've been on the hunt for the perfect pair of frayed jeans, and I think these are it. The spectrum-fade detailing is perfection, and the super high-rise fit makes them great for styling with a simple white tank underneath the Pixie Market denim jacket.
3.1 Phillip Lim Bag: I'm a fan of denim in all forms, so when it comes to denim accessories, count me in. The paper-clip-inspired enclosure on this bag has me swooning, not to mention that sleek snake chain. This bag is the perfect accessory to bring my Canadian tuxedo from day to night.
---
Tahmina Choudhury
Editorial Intern
AEO Slim Black Denim Shirt: I haven't shopped at American Eagle since ninth grade, and I'm seriously questioning why I ever stopped. They have great, affordable denim, including this shirt. Like most denim pieces, you can throw this on without giving it too much thought, and the slim fit is so flattering.
RE/DONE Originals High Rise Ankle Crop With Stretch: I know that looser-cut jeans are becoming increasingly popular, but I love a pair of high-rise skinnies and this RE/DONE pair is on my wish list. I'm really feeling the gold rivets.
BCBG MAX AZRIA Dona Denim Sandals: I own all of the ordinary shades of heeled sandals: black, nude, grey, brown. I don't, however, have a denim pair. I might just have to get these.