Denim Week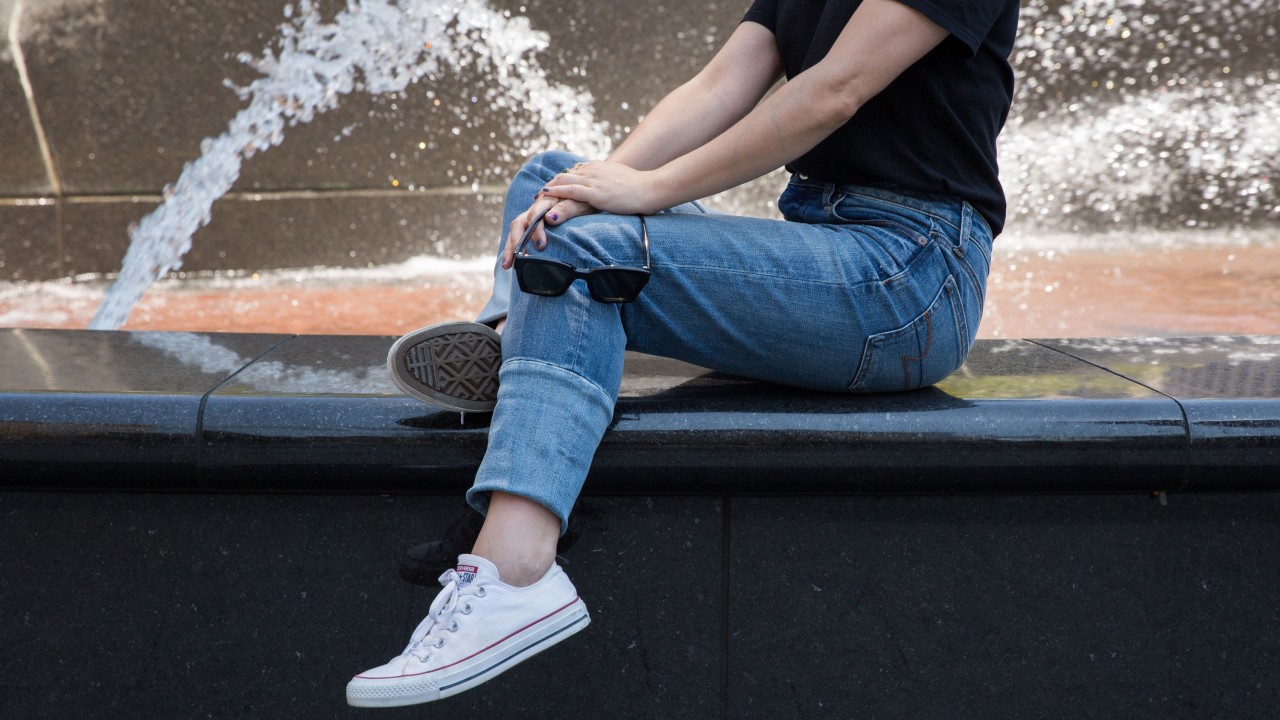 This Store Is Low-Key the Best Place to Buy Petite Denim
It's quite the throwback, but trust us—it's worth it.
Bustle and Coveteur are working together to bring you the best mix of the season's fashion and beauty releases, shopping tips, and service stories in ways that are both inspirational, and attainable. Check The Fall Style Edit channel weekly to see what we're up to.
I'd always assumed Karlie Kloss was nice, but when I actually met her, she ended up being extremely complimentary. "I love your outfit," she told me as we sat down for an interview—a statement I felt weirdly happy about, since everything I had on was under $100. My white button-down? H&M. My silver boots? Oh, y'know…Zara. My tassle MISA Los Angeles earrings? A gift, and even still, rang in at $96. Obviously, I was on cloud nine.
Then, as we sat down on a ledge for a photo, Karlie sweetly asked, "Where are your jeans from?"
Part of me wished I had a super cool "editor" answer, like I'd found them at a vintage shop or from some obscure brand you haven't heard of yet—but will soon! The truth about this particular pair, however, was the same as almost every other pair in my closet. "These? They're American Eagle."
Karlie wasn't shocked, but I wouldn't have been surprised if she was. American Eagle is typically seen as a store for the younger teen crowd, not a late twentysomething like me. But here's a secret: It's honestly the best when it comes to stretchy, hug-your-butt-perfectly denim, and it's a freakin' gold mine for petite ladies.
As a full-grown, 5'0", size 0 human, it's almost comical shopping for clothes that don't need to be tailored. There are times I've resorted to the kids section, but (surprise, surprise!) it's still not a perfect fit when you have curves. Then, a few years ago, when I was desperately looking for flares, I popped into AE on a whim. Lo and behold, I found a great pair—in *short* length, no less—and immediately made the purchase. Since then, the store has been my go-to when it comes to petite bottoms.
To give you a better idea of how great American Eagle's offerings are, I've played model for three cute, short pairs currently in stores. Check 'em out, along with why I love them, ahead.
---
Tomgirl Pant, $60
---
There are two types of jeans I tend to gravitate towards: cropped (to elongate my legs) and anything that qualifies as "boyfriend" (comfort is key for me). This pair is loose enough to really move around in, and will be the perfect pajama-like option for weekend outings, or throw-on-and-go for any other day of the week. Plus, they're distressed, but not too distressed, if you get what I'm saying.
Every woman needs the perfect pair of black jeans, but honestly, I'm totally over the skin-tightness of skinnies. Enter this straight-leg option, which gives off the same sleek look without the risk of cutting off circulation. Styled with a black top, I was told this look is "very New York." Sold!
---
AEO Denim x Vintage Hi-Rise Jean, $50
---
Say you're looking to hop on a major trend, but aren't willing to spend a ton because you're still not exactly sure if it's "you." American Eagle is the answer. The store is great with keeping up with current styles, and even sells this daring, mismatched, cuffed-hem pair. While it's a bit out of my comfort zone, to be honest, at $50, I'm more willing to give it a try. Not to mention, high-rise is everything these days.