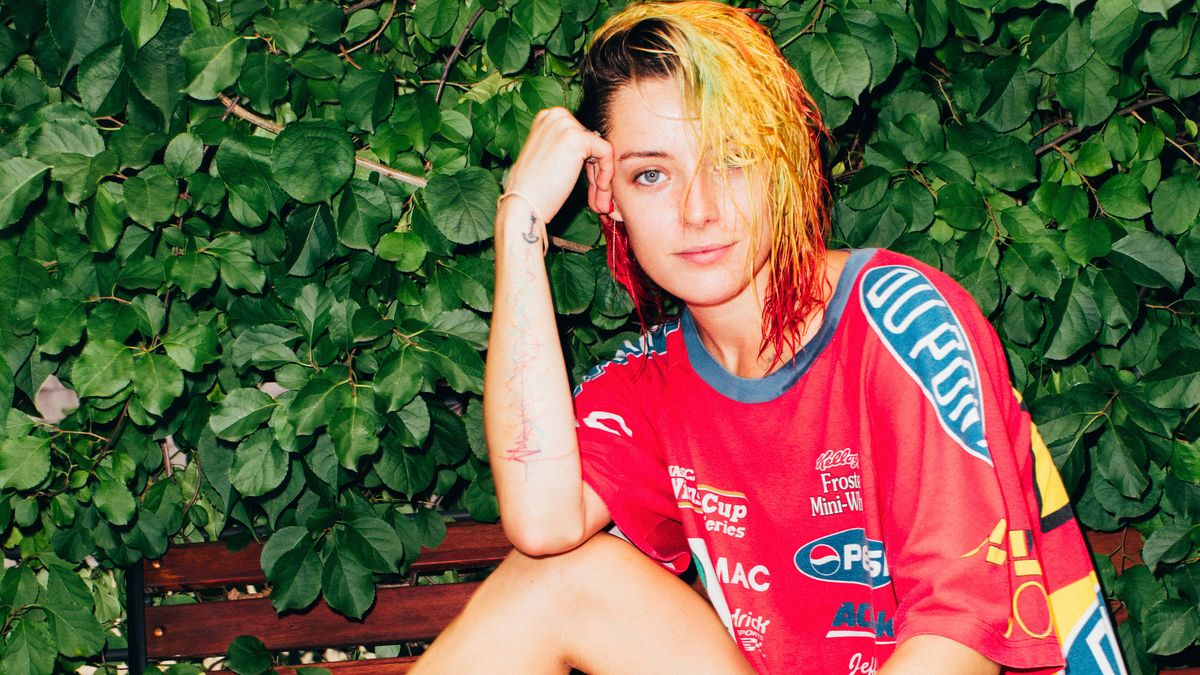 Models
The model reveals the one product she always has in her bag.
Ben Ritter
Bustle and Coveteur are working together to bring you the best mix of the season's fashion and beauty releases, shopping tips, and service stories in ways that are both inspirational, and attainable. Check The Fall Style Edit channel weekly to see what we're up to.
On the day of our shoot with model and hair-icon-in-the-making Chloe Nørgaard, the heat index tops out at 112 degrees Fahrenheit. It's undeniably and unbearably HOT. For us mere mortals, that means showing up to set with copious amounts of back sweat and some untamable hair frizz, but for Chloe it means a quick hop in the shower, a swipe of moisturizer, shimmying into a comfy t-shirt, and that's it! No makeup, no blow-dry, no problem. She happily posed for our photographer outside on her (amazing) deck, like the seasoned pro that she is, all bare skin and legs for days. And that hair! The girl is a true color chameleon, having dyed it, quite literally, every shade under the sun, and we have to say, she knows exactly how to rock the wet look.
We couldn't wait to get all the details about her current fiery red and orange "fire" hair (hint: She dyes it herself!) plus all the products she uses to combat the stress of her insane travel schedule. Seriously, nothing sucks the moisture out of your skin like flying all the time. So, if you're looking for some inspiration for feeling comfortable in your own skin, even in front of the camera and without a scrap of makeup, look no further. Take a page from Chloe's book, relax in the nearest available hammock, and check out her tips for helping your skin and hair survive the last of summer's relentless heat.
---
What's the one product you always have in your bag?
"I'm obsessed with Angela Caglia's Rose Vitamin C Ester Serum [ed note: Sadly, discontinued, but find similar here]. I have that serum in my bag all the time, ever since she's given it to me."
What's your biggest beauty concern?
"I have bad skin—I mean, it's not terrible, but I have hormonal acne [on my cheekbones and jaw], which really bothers me, and then I have scarring from it, which also bothers me. I was recommended salicylic acid, and I went and got a lower-grade peel recently. I couldn't be in the sun for a week, which was hard, but it helped for a little bit. But now, I think because I've been sweating so much going to the gym, or just that it's so hot, I feel like I really have to exfoliate. I've been using the Frank Body Creamy Face Scrub. Actually, Angela Caglia is making me a peel soon, so I'm going to try that out."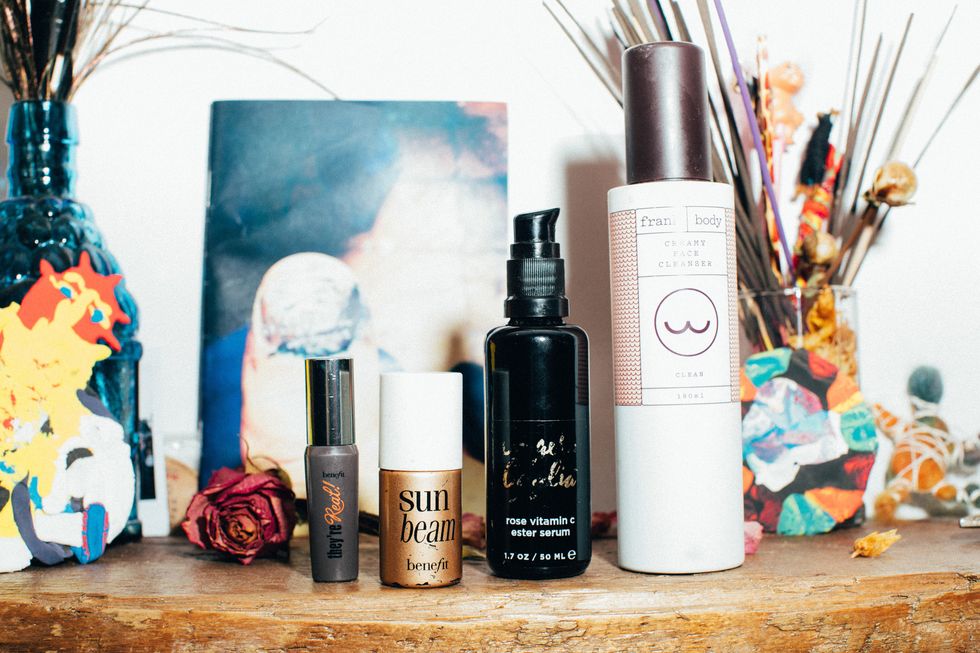 What's your favorite spot to get products and facials?
"I've gotten a facial from Angela two or three times. She used to work at Ole Henriksen in L.A. I love their products. They have The Truth Vitamin C Serum which is really nice. They also have a Lavender Body Oil which is insane, and the African Red Tea Foaming Cleanser. They have really good-smelling stuff."
How do you reset your skin after wearing all that makeup for work?
"[Constantly wearing makeup] is annoying. Having a pound of makeup on my face always makes me feel uncomfortable. I feel like I can't move like I normally move, and I'm also like, 'My skin is going to hate this.' Before I was modeling, my skin was fine. Up until I was 22 it was good, then 22 to 24, my skin started getting bad. But [I use] this Aztec Secret Indian Healing Clay Deep Pore Cleansing Mask. [It's] amazing. You mix it with apple cider vinegar and put it on your face and it removes a lot of impurities. It's really hard and tight, and it's totally natural. I love any kind of rosewater on the plane, like the Evian mister."
What's the weirdest beauty hack you've seen on set?
"Well, I haven't done this personally, but I heard there's this hairstylist who used to use lube instead of hair gel. Supposedly it's better. I don't know, I thought that was hilarious that he would just put lube on everyone [laughs]."
How did you learn to bleach your own hair?
"I bleach it myself. I had two friends who went to beauty school in high school, so I would just watch them do it. And then I started doing it. We'd bleach and dye our hair. I'm like a double, triple process. I tone it depending on what color I'm doing."
What does your coloring process entail?
"Bleaching always takes way longer, because you want to make sure you cover all the spots. Then you let it sit—usually I do forty minutes because my hair is dark. And then either I give it a couple days and bleach it again or I tone it—it just depends on what color [I choose]. Now, I'm growing out my roots, which I like. The dyeing is fairly fast. You just put the dye on, let it dry, or heat it if you want to—I usually don't—and then you wash it out. It's semi-permanent dye."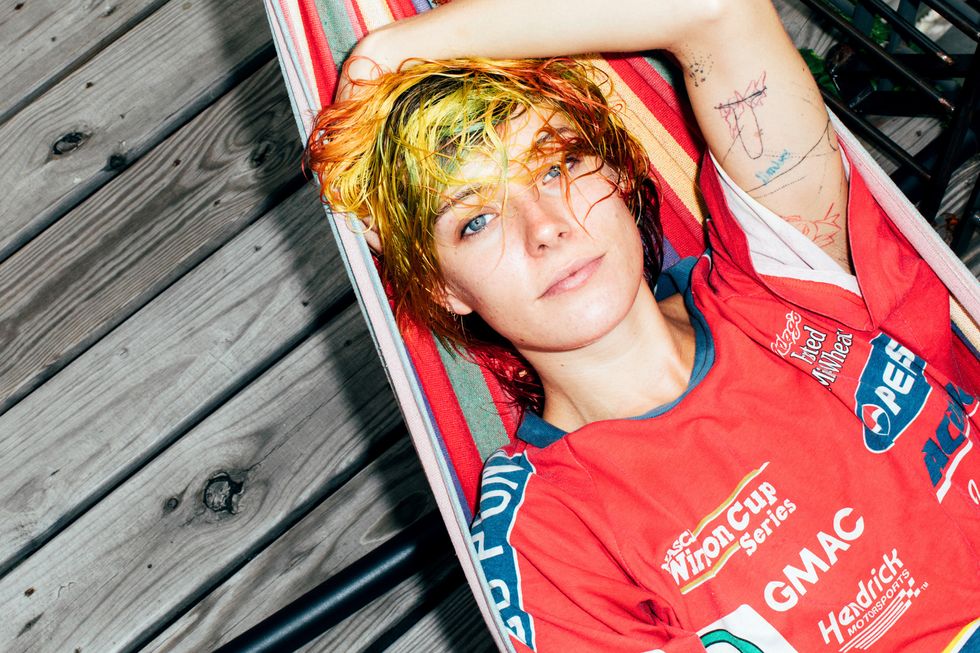 How long does the color last?
"It depends. I feel like blue stays the longest. Green stays a lot. Pink and purple come out fast, especially if they're light. So, when I want to do purple I usually do a dark [shade] and just let it fade as it goes on. Red and orange I guess depend on the brand. I notice that when I put red in my hair, every time I shower it bleeds so much."
What's your favorite color to dye your hair?
"I think it depends on my mood. I haven't done these fire colors in a minute. Before this, I was doing tie-dye which was really fun. I would just braid it and put dye on random spots with four or five colors. I air-dry it to [protect it from heat damage] and also it's just too much effort for me [to blow-dry it]."
What's your go-to look for a Saturday night out?
"If I go out, depending on the shape my skin is in and what I'm doing—whether it's like a dive bar or an actual event—that'll determine if I put on foundation. Mascara is always a go-to—Benefit 'They're Real'. The foundation I've been using lately is Chanel with SPF in it. I like that one—I feel like it covers really well. And I love the Benefit Sun Beam highlighter."
Since you have a fair number of tattoos, if you decide to get a tattoo in the summer, how do you care for it?
"If it's a stick-and-poke, I feel like it's safer for the healing process if it's in the water rather than a machine [tattoo]. It also depends on how big it is. The first time I got this [tattoo on my foot] done, I was at the beach like right after. It's a tough spot anyway, so it rubs off. I don't have that many big pieces, but if I do have a fresh tattoo and it's summer, I'll put sunscreen on it and try not to put it in the water. But if you want to swim, then just dry it off after and put Aquaphor Healing Ointment on it."