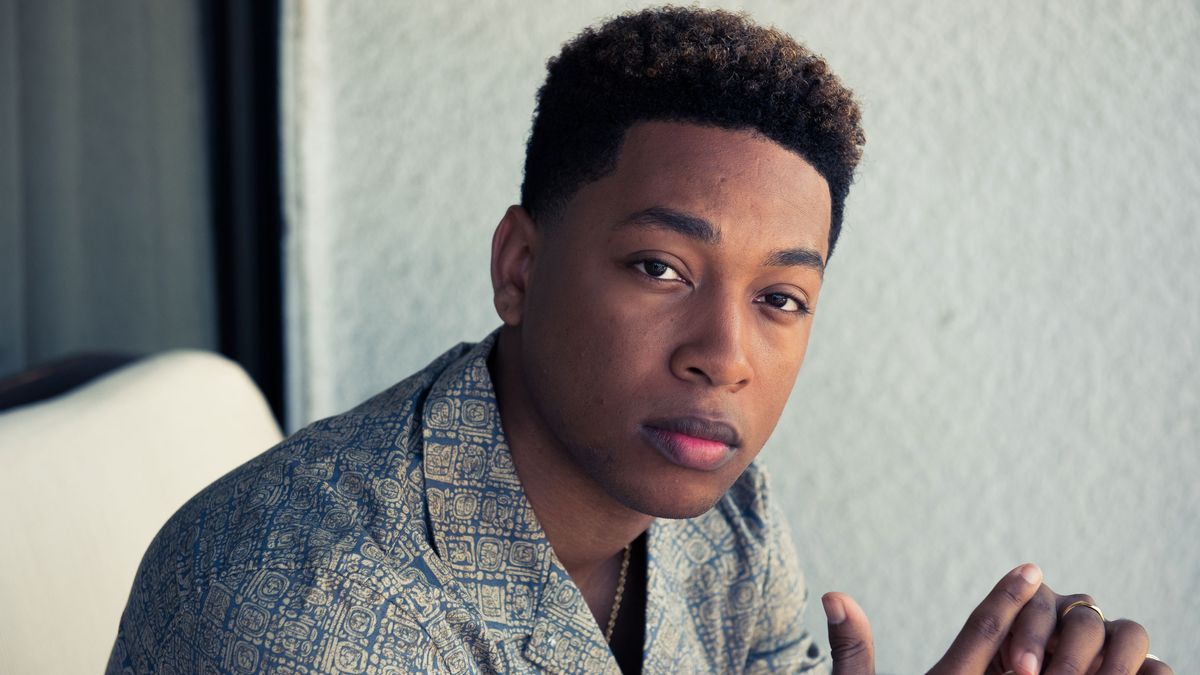 Celebrity
Detroit Star Jacob Latimore Agreed to Star in the Film Before Seeing the Script
And so did the rest of the cast…
Anyone who has seen Detroit, Kathryn Bigelow's film detailing 1967's oft-overlooked riots that left 43 people dead, will tell you it's tough to watch. Rolling Stone prepares audiences to be "moved" and "scarred"; Variety calls it a "hair-trigger historical nightmare [that] you can't tear yourself away from." But what most people don't know is that—according to one of its stars—Detroit was as difficult to make as it is to watch.
"We never saw the script," 20-year-old Jacob Latimore, who plays Fred Temple, remembers in his room at the London Hotel in West Hollywood. "I wanted the part because I wanted to work with Kathryn [who also directed The Hurt Locker and Zero Dark 30], but I had no idea, beyond the base story of the riots, what the movie would be about."
---
Actors were asked to audition with unrelated sample scenes that evoked a similar mood and feeling. They eventually learned what character they'd be playing, but the script was kept under strict wraps until cast and crew arrived in Michigan. Needless to say, an unusual way to make a movie—especially when actors are used to receiving scripts months in advance.
"I don't think I saw a single line until I showed up on set," Latimore explains. "And even then, we only got scenes on an [as-needed] basis… Kathryn didn't want us to know what would happen the next day."
And while Latimore recalls it was a "frustrating way to shoot," he understands the method behind Bigelow's madness.
"We were exhausted; we were uncomfortable; we didn't know what we would film next," he continues. "But it was that difficult mental circumstance that [elicited] raw, real reactions out of our performances… It made the movie what it is."
We know Bigelow has two Oscars under her belt, but we were still surprised to learn she convinced Hollywood's biggest actors—including Star Wars' John Boyega and The Office's John Krasinski—to take on a script they'd never seen.
"Kathryn is a perfectionist with this amazing track record, but we haven't heard from her in a while," Latimore confides. "I know I wanted to be a part of that comeback, and I think the rest of the cast felt the same way."
Detroit, which is already generating some pretty serious Oscar buzz, is an undeniably amazing opportunity for Latimore (who has not only appeared in films like Collateral Beauty and Sleight, but also released a debut album, Connection, just last year). We expect his performance, in what is sure to become an award-winning movie, will only further seal his fate as an emerging movie star for Generation Z.
"It's funny because when I started performing at the age of nine, all I wanted was to get my feet wet," he recalls. "Truthfully, I accepted just about any part I could... But now that I'm a little older, and a little more established, I want to tell stories that have real meaning and depth. I want to make films where people can see themselves."
And while, yes, Latimore is a bit older now than when he first turned heads in The Maze Runner, he's still only a few days shy of his 21st birthday.
"It's funny: I really do feel so old, because I've already been acting and singing for so long," he finishes with a smile. "But then I remember to pinch myself and say: You're only 20, there's already so much left to be done."