New Wave
The poet from Chicago would marry herself if she could, plus her braids levitate (well, in music videos anyway).
Weston Wells
The name Jamila Woods may sound familiar, and that's because you've probably already seen it—between parentheses, after the words "Chance The Rapper–Blessings." Jamila met Chance at the Young Chicago Authors, where she was performing a poem and he was performing a song. They stayed in touch, and when he was writing "Blessings," she received a phone call. You actually hear her voice come onto the song before his, in a tone reminiscent of a gospel: "I'm gon' praise Him, praise Him 'til I'm gone." When she finally decided to put her own poetry to music? It was Chance's turn to help her, and it's his name in parentheses on Jamila's "LSD."
Jamila's love for Chicago evidently runs deep, and not just in her music or her creative collaborations. Her music videos often feature women she's inspired by from the city she grew up in. In "Holy," she finds herself at the end of the altar of her wedding, and in "Blk Girl Soldier" she dances alongside two young girls from a hometown dance crew. With lyrics like "See she's telepathic / Call it black girl magic" and "Woke up this morning with my mind set on loving me," Jamila's music about self-love and empowerment isn't just what we want to listen to—it's what everyone needs to hear.
We were lucky enough to do both this past weekend at Panorama on Randall's Island. Although the music festival is only in its second year, we're convinced it's the one to attend if you're looking to spot up-and-coming musicians that you can brag about to your friends for discovering first. After her performance, Jamila spoke with us about how poetry helped her find her voice, the importance of self-love and her creative collaboration with the world's favorite rapper.
---
On being a poet before becoming a musician:
"Before poetry, I used to sing in a lot of choirs, like my grandma's church choir and Chicago Children's Choir. And then in high school I got introduced to Louder Than A Bomb, it's a youth poetry festival in Chicago. It taught me a lot about how valuable my individual voice is and to not compare myself to other people. Because it's poetry, it's all about writing what's under your nose and writing what you already know. That helped me because I always doubted my voice as a solo singer and I thought it's not as powerful or as strong as other people's. But poetry taught me if you only focus on what you are lacking, you'll never be able to experiment and play with what you already have."
The importance of learning to love (and marry) yourself before anyone else:
"['Holy'] really came from a place of, after a relationship, just wanting to feel affirmed in myself and not validated by other people. I was thinking about how I was never taught about self-love when I was growing up. I don't think anyone really talks to young people about what that means and how to manifest that in yourself, so I was thinking that's just a very important reminder for myself that I hope can echo to other people who need to hear that."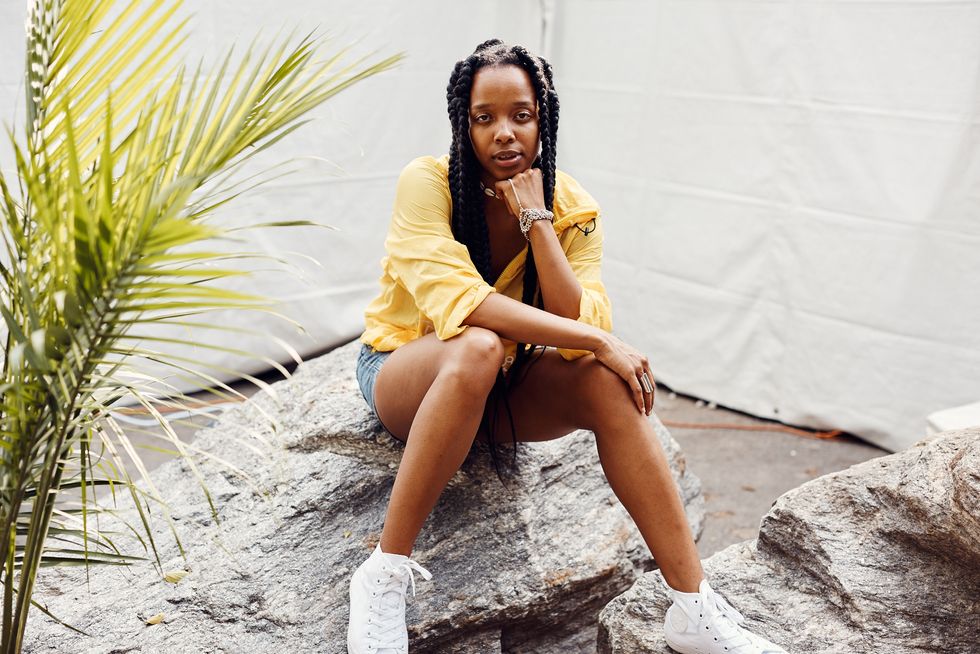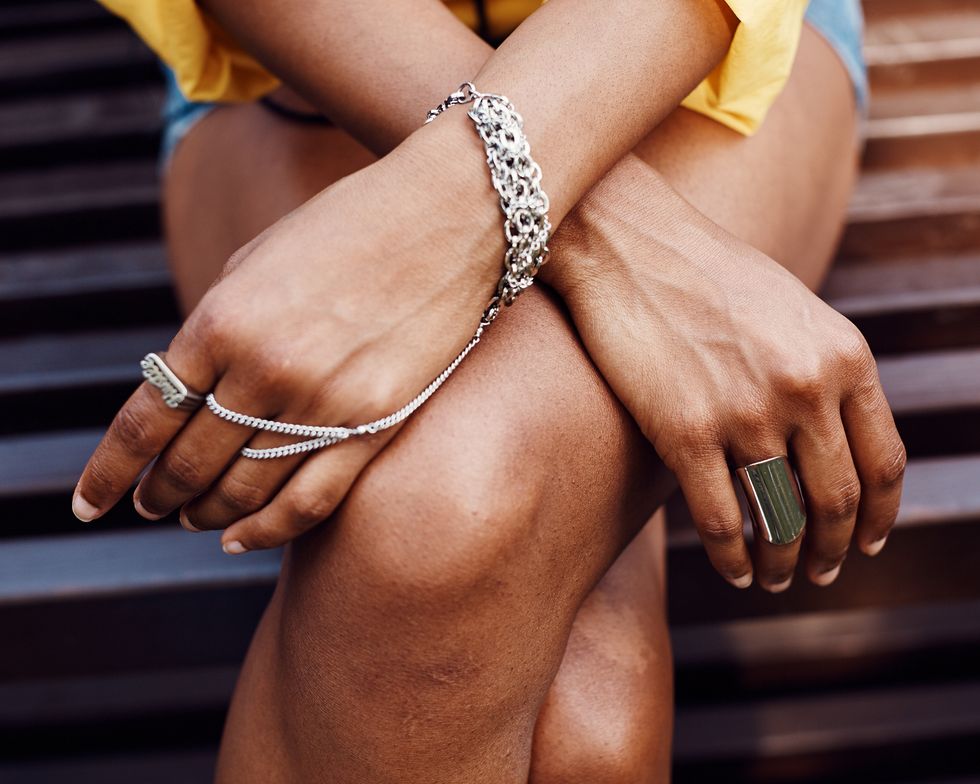 How her hair got the starring role in her "Holy" music video:
"It was in collaboration with the director, Sam Bailey, who is part of Brown Girls. I had the image—because to me, my hair is a big part of self-care. It's kind of a representation of how I'm doing internally, how my hair looks. So I just had this image of my hair floating up around me and she made that happen, she figured out how to make it work. Also the idea of water, playing off of the idea of baptism, but for yourself with a bathtub. The praise dancing and the church imagery was because obviously the gospel influences my music, and that song riffs off the gospel song. But similarly on the radio you hear love songs, in church you hear 'praise God,' which that's important to be in church to hear that, but also I think God wants us to love ourselves too! 'Holy' was my addition to that."
On creating an anthem for Black women with "Blk Girl Soldier":
"The 'Blk Girl Soldier' video—that song was inspired by a lot of the Black women organizers and activists in Chicago, so I wanted to have a really community feeling, so every aspect of the video is speaking to that. The little girls with me are part of this dancing crew in Chicago led by a Black woman, and at the end scene it's all these Black women who have personally inspired me. We're all holding pictures of Black women who have inspired us, so it's really supposed to be kind of an anthem for Black women. Also I worked with the director with that room in the beginning and it splits open and it's kind of thinking about what are the internal spaces that we have? The ones where we kind of feel safe and what armor do we have for when we're not in that space? The stuff I'm wearing is armor made out of beauty supplies. It was Whitney Middleton, she's a stylist. She styles Chance the Rapper and she made all that stuff."
What it's like working on music with Chance:
"Chance worked on 'LSD,' which the video's about to come out. He's been doing a lot of stuff, funding Chicago public schools, so I held a competition for high school students to submit ideas for the video treatment. I picked my favorite one and we did this whole video that was conceived by a high school student named Ashley. She's a senior. There's going to be a documentary coming out about that and the video's coming out next month."
Why Chicago is the creative hub more people need to talk about:
"I think, especially because in Chicago there's not very much industry like there is in New York or L.A., so a lot of the attitude of artists there is we have to work together to make things happen. I think that's been really important for me to grow as an artist because for example, some of my first music shows were in poetry venues because whatever you have, you make it work. I think that's really helped me to grow as an artist. It's the same thing again, like not thinking about 'Oh what do we not have here?' but 'What can we make ?'"