A Fashion History Obsessive with a Closet of Archival Prada to Match
Colby Mugrabi on productivity secrets, the on-the-go supplement she swears by to stay healthy, & the morning ritual that keeps things in check. In collaboration with Prada.
Fashion
"Location, location, location" is a real-estate adage for a reason—and as much as we don't mean to invoke Carrie Bradshaw, there's no denying that in a city like New York, it's truly *everything*. No one knows this better than Colby Mugrabi—founder of the soon-to-relaunch Minnie Muse. With a seemingly endless to-do list and fully stacked calendar keeping her running from appointment to appointment, she's no stranger to the New York hustle, and her Gramercy Park–adjacent home serves as the perfect home base between meetings. We're not exaggerating, either. As we spent one morning getting ready with her before a typically busy day, one instance of a commute involved Mugrabi's approximately 30-second walk to the Gramercy Park Hotel's Rose Bar; another, a brisk 5-minute walk to Lady Mendl's, Prada Velvet Cahier bag in hand. We hate to say we told you so—so instead, here's everything we learned about a day in the life of Colby.
---
What an average day looks like:
"I start my day with an iced coffee, I exercise, maybe have a smoothie. I start doing some research, sometimes I'll meet friends for lunch, other times I'll just order in. I do my creative pieces, some writing, some emails, do research. Once a week, I go up to the Met and research in their library. They have a bunch of resources, both in terms of lookbooks and fashion books, but also you can access a number of online resources on their WiFi. The more I discover, the more ideas I have, so for me, research is key. I kind of get lost in it."
What you'll find inside her Prada Velvet Cahier bag while she's doing all of the above:
"I always have headphones, because I listen to music everywhere I go. I always have a million hair ties. I could probably give every woman in New York a hair tie. I always have a Vaseline or lip gloss for my lips, a Biologique Recherche face spritz, my tiny wallet, a notebook and 500 pens, and five pairs of sunglasses. It's organized chaos!"
Plus, the most quizzical thing you'll find in there (it's her secret to staying healthy on the road):
"I carry Lypo-Spheric Vitamin C packets with me. They're these vitamins that my friend showed me like a year and a half ago—ever since then, I haven't been sick. I take two every morning."
Why she *really* starts her morning with exercise:
"I start my mornings every morning by exercising, which gives me a nice energy and creativity boost. I do Muay Thai, I'm a runner, and I also do a lot of core work. I love exercising! I may be one of the few people, but I love it." [laughs]
Her motivation to relaunch Minnie Muse and what the state of fashion has to do with it:
"I launched Minnie Muse when I was in high school, writing for Teen Vogue for Fashion Week. I wasn't in love with the term 'blogger,' because I didn't really put myself on the site, it was more content-driven and focused on historical connections [in fashion]. Recently I've had an itch to relaunch it as a digital digest focused on the cross-pollination of creative fields throughout history: art, fashion, design, and architecture. The site should be live in late October, early November."
The kind of content she's most passionate about:
"Rather than making direct connections, I look more at artistic intent and try to find similarities through the intent of the creator. I'm doing a piece on upcycling, the process of taking an existing product or good and reusing it in a way that elevates its value—Margiela did that a lot, especially in the couture division of his brand. Pablo Picasso also utilized upcycling in his sculptures."
How her archival pieces allow for getting ready faster:
"I'm not the kind of person who has to wear everything from the current season. What I love about Prada so much is that you can wear a piece from the early '90s, a piece from 2002, a shoe from 2008, and a dress from today. I think that says so much about a brand when they stay consistent with who they're designing for."
The productivity trick she uses to keep projects interesting:
"I create my content in stages. I'll work on five or six things at the same time, and do them in tandem, so not one of them gets stale. Then, eventually I have to get to writing, which I don't mind, but research is my favorite."
Her go-to fix for transitioning from day to night:
"I definitely love a smaller bag, especially when I'm running around and I don't know if I get to change a bag to wear out at night. I love the large Prada Cahier bag for day, but I think the small ones are great to go from day to night. And I love that trompe l'oeil design. I just did a piece for my site on these trompe l'oeil dresses, and through some research I found in the early 1930s, Schiaparelli launched her line with trompe l'oeil knit sweaters, so I've kind of been obsessed."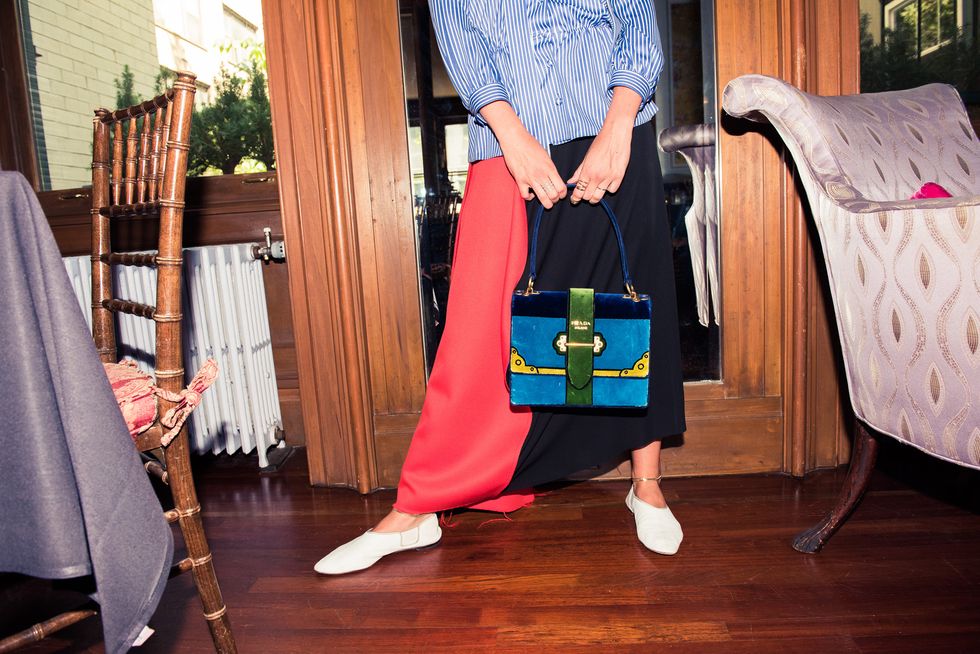 What you'll find blasting from her speakers:
"I love old-school Outkast, Kanye, old Eminem, the new Kendrick Lamar album, Jay-Z. I also love Red Hot Chili Peppers when I run. Through the day, I like more old-school rock: the Stones, the Beatles, Neil Young, I love LCD Soundsystem, Sonic Youth."
How she unwinds (despite always looking for inspiration):
"We go to dinners every night, which is fun, but it doesn't feel like you're working if you love what you're doing. I'm lucky in the sense that everything feeds into each other. Even if I'm on a trip in Europe, we'll go to museums, and I'll see something that'll spark an idea pertinent to what I focus on for my website."