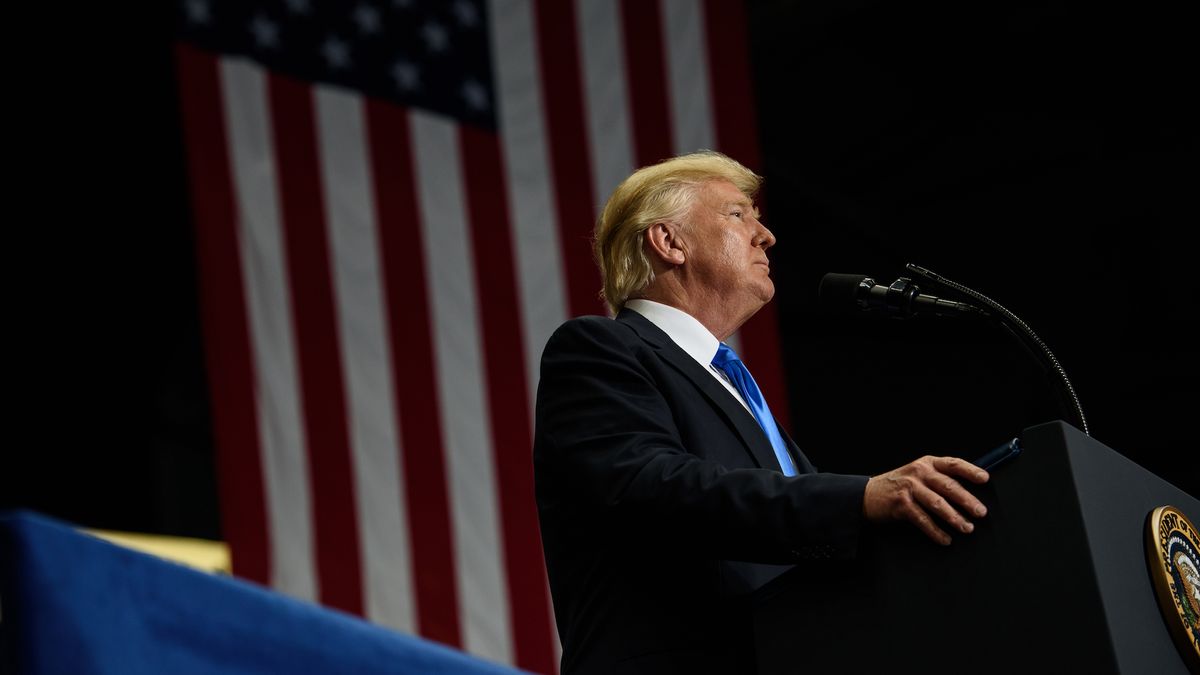 Getty
News
Donald Trump Announces a Ban on Transgender People Serving in the Military
He's in for a fight.
Getty
In what continues to feel like a never-ending march towards the firing squad, President Donald Trump has announced further plans for his political agenda on Wednesday. The New York Times has reported that with his newest mandate, "the United States will no longer 'accept or allow' transgender people in the United States military, saying American forces 'must be focused on decisive and overwhelming victory' and could not afford to accommodate them."
The President revealed this surprise statement via his favorite medium: Twitter. He wrote in a series of tweets that "our military…cannot be burdened with the tremendous medical costs and disruption that transgender in the military would entail." Trump also alluded to several generals and military experts who advised him to make this policy change, although no one has been named or stepped forward to take credit for aiding his decision.
Of the 1.3 million active military members in the United States, an estimated 1,320 to 6,630 persons identify as transgender, according to a study by the Rand Corporation. In order to cover the health care costs for transgender personnel, there would need to be a spending increase of 0.04-0.13% annually, or an additional $6 million per year. Considering the annual military budget is $598.5 billion, or 54% of our gross federal budget, that figure seems particularly inconsequential given the damaging social implications of this declaration.
In the years since the "don't ask, don't tell" policies of the Clinton era, there has been a slow and subtle transformation of our military. President Barack Obama repealed the ban on transgender people openly serving in the military in 2016 just before leaving office, and favorable public opinion of gay men and women service members is at 70%, according to a 2010 Gallup poll. Trump's  reversal is a major setback in the eyes of multiple advocacy groups—including the American Civil Liberties Union, the Palm Center, and OutServe-Servicemembers Legal Defense Network—and risks coalescing defense policies with politically contentious social issues.
The executive director of OutServe, Matthew F. Thorn, issued a statement calling the White House's decision into question. "To choose service members on other grounds than military qualifications is social policy and has no place in our military. There are already transgender individuals who are serving capably and honorably. This action would also send the wrong signal to a younger generation thinking about military service."
The group, which represents gay, lesbian, bisexual, and transgender people in the military, threatened to sue, and will likely result in Donald Trump ending up in federal court—again. Given that his original travel ban was blocked by a federal judge after just one day, there is hope that this order will never make it past the Supreme Court. Regardless of political agenda, it is unacceptable that the president continues to disregard the basic humanity of American citizens, especially those who have sworn to protect the country and ourselves.
Photo: Getty