Meet the Woman Who Has Made a Career Fighting for Gender Equality
Get ready to feel empowered.
Career
"Feminists got style," laughs Sonia Ossorio, the president of the National Organization for Women -NY, as her staff crowds around an elegant turquoise couch for a photograph. And indeed, the women who have gamely interrupted their workday to pose for our photographer are all fashionable and upbeat, chatting with Ossorio and their peers as the camera clicks away. There is a sense of comfortable camaraderie to the office, and an ease that is rare in the hectic world of non-profits. You'd never guess that this small team is responsible for everything from engineering new legislation that criminalizes child marriage in New York State, to helping change chain-of-custody protocol for rape kits. But that is exactly the kind of work happening inside their New York headquarters, with Ossorio proudly at the helm.
---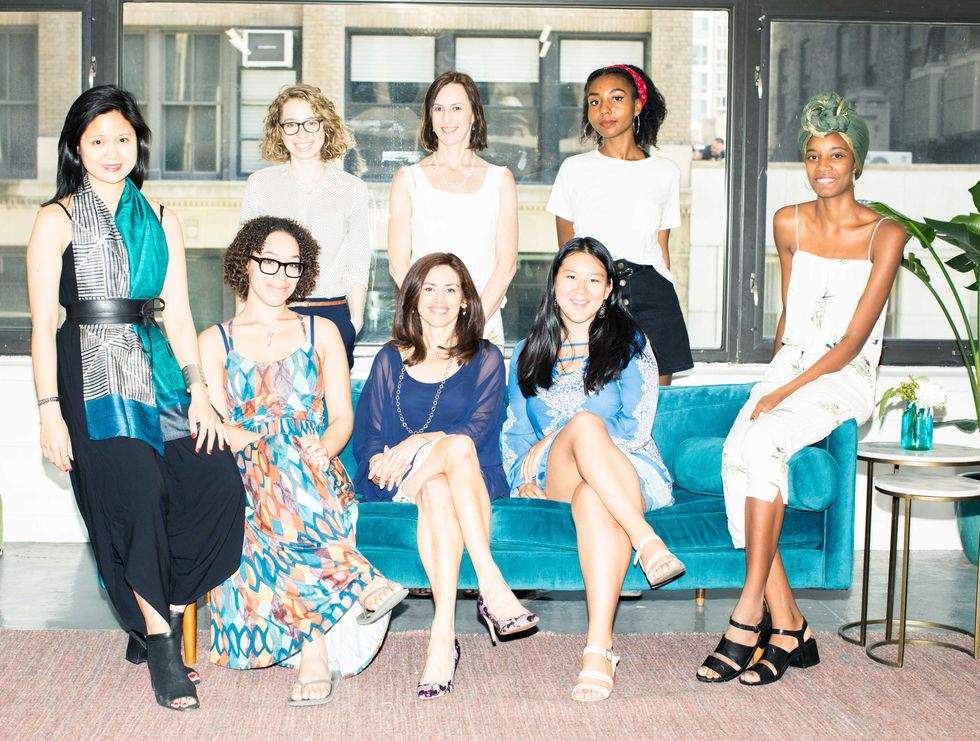 Before climbing the ranks to become President of NOW-NY, Ossorio spent nearly a decade as a reporter in New York. "I was a business writer," she reveals as we chat inside her stylish office. "I started noticing we didn't profile a lot of women in our coverage, so I would seek out women entrepreneurs." After one of her frequent sources, Catalyst, hired her as director of public affairs, she came across a Warren Buffet quote in Smart Money magazine. "[After the] crash in October '98, they were quoting him for something he allegedly said twenty-five years ago about another down market. It was something to the effect of 'It's like being a sailor in a whorehouse.' It was so offensive and ugly and gratuitous, it made me look at who they were sourcing for the cover story. Out of thirty people, not one woman was brought to the table for that discussion about the economy." Ossorio ultimately wrote a response letter expressing her contempt, which the periodical eventually published. "That was the moment of activism, and it brought me to NOW."

Over her eighteen years with the National Organization for Women-NY, twelve as president, Ossorio has witnessed its transformation from a grassroots group to a major non-profit effecting real political and social change. "The fundamental mission is to be a source for women and men who want to be civically engaged," says the NOW-NY president. "So, that's at the core of everything that we do—to be a place where people can come unite, network, meet like-minded people, [and] learn skills." She emphasizes that each day is different in terms of creating a plan of action for the organization's resources. "It's kind of like, 'What's happening?' 'Do we have to put a feminist lens on something?' 'Do we need to speak out?'" When rumors of sexual harassment suits against Fox News were circulating, NOW was at the forefront, taking action against the board of directors and demanding change. "We did all we could to put the pressure on [them]."
Unfortunately, instances like those unfolding at Fox News are still commonplace, if less so than in 1966 when NOW was founded. Ossorio understands that many people might feel defeated, especially given the president's own remarks towards women, and so offered some sage advice. "Join the National Organization for Women! Or any organization that is close to [your] heart. You have to seek out like-minded people, otherwise it can be very isolating and demoralizing. There is no question that there's strength in numbers."

Ossorio glances around her bright office. Feminist literature and newspaper clippings cover most of the available surfaces. A drawing of her daughter's is signed, "Congratulations, Mommy!" She mentions how she, like many of us, is looking ahead to the 2020 election with hopes that more young women will enter the fray. "We need more women running for office. That can be anything, whether it's a school board or a community board. It all starts somewhere. It's all going to be a learning experience. I'd like to see women younger just going for it. I think in your 20s, you don't have anything to lose." She glances toward her dedicated staff, now back at their computers post-photo shoot. "I feel that so many things are just pointing in the wrong direction. I come to work, and these young women give me hope that our future can be one of progress, because they're so smart, well-informed, so grounded. They do a lot for me."
Go to NOWNYC.org to find your closest chapter and get involved today!