Pat McGrath's New Lipsticks Will Definitely Sell Out
So we tried them on for you.
Makeup
Like every Pat McGrath launch that comes with as many elements of surprise as possible—last-minute announcements, layers of packaging, and always a product we never saw coming—this edition is no exception. Pat McGrath Labs Lust: MatteTrance is a range of nine matte shades (three nudes, three brights, and three darks) which can be bought individually ($38 a pop), as sets of three in their color families ($95), or as a complete set in a coffret ($275).
The surprise this time? These lipsticks are solid by every measure. Heavy, black metal packaging with molded gold lips that scream retro Salvador Dali makeup; a firm, insanely saturated bullet; and no-joke performance (this editor didn't need to reapply once between 11AM and dinner). The shades also have hefty histories behind them, as McGrath chose to manufacture specific colors she had been otherwise customizing for her celeb clients over the years. Case in point: Elson, a pure blue-red, mimics the culmination of 4 different shades McGrath used to blend together every time she had the redhead model in her chair. Oni for Naomi Campbell and McMenamy for Kristen McMenamy are others (yes, they got to weigh in).
Possibly most dear, however, is a brown-nude shade called 1995. "That was the color to wear that year, and it was also when things really took off for me as a makeup artist," said McGrath at the press reveal this week. She's not alone in her affection. We asked our editors to test out the new shades, which go on sale July 13. From the mouths of babes:
---
Noah Lehava in Obsessed!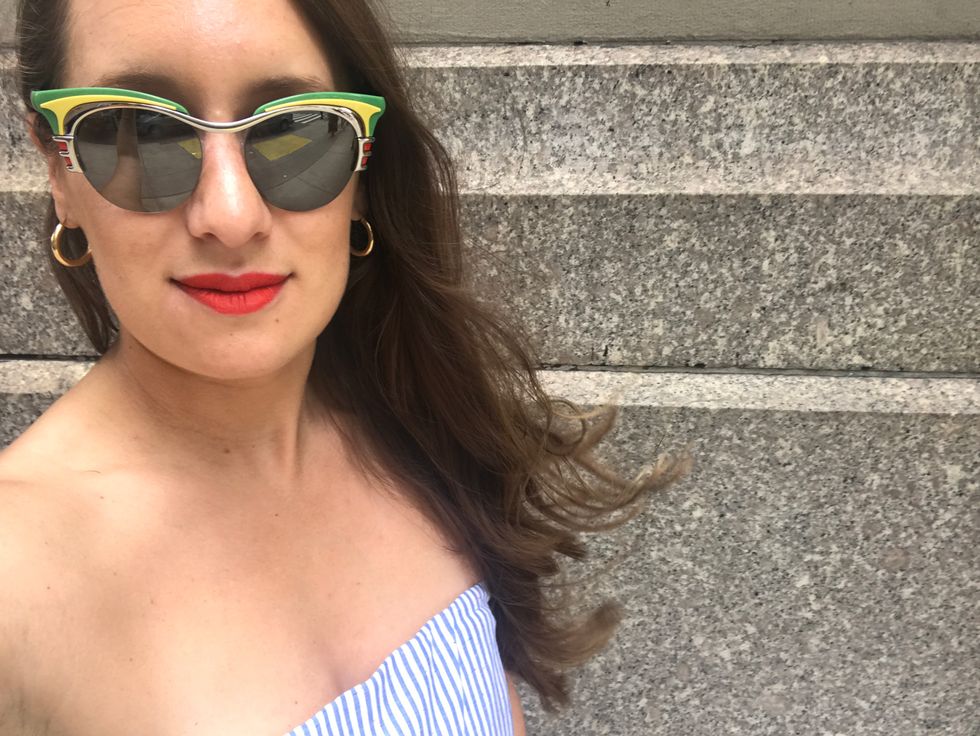 "I consider myself a hoarder of sorts, but only when it comes to lipsticks—glosses, crayons, pencils…you get the picture, fall under that category, too. But I've always swayed towards the creamier or liquid-y variety because my experience with matte colors has always been dry (quite literally). Yet, when I twisted open the bullet of Obsessed! and swiped it on, that color payoff was instant (no double swipe needed), and it didn't feel chalky at all."
Hannah Baxter in Elson
"If there is one person I trust to shape my lipstick instincts, it's supermodel Karen Elson. Girl knows how to rock a red. I usually gravitate towards more orange and pink tones, but I cannot get enough of this shade's cool, vampy vibes, especially for a daytime pop of color. Fun fact—McGrath used to custom-make this red for Elson when she was in her chair on set! Also, for being a matte application, it's surprisingly moisturizing and stays locked in place."
Laurel Pantin in Obsessed!
"I'm a massive sucker for anything orangey-red, and Obsessed! is the perfect shade. In the tube it looks almost like it was rolled around in red/orange loose pigment, and that's exactly how it feels on, too. It feels so matte it's almost dusty, but somehow it doesn't feel thick or drying. It went on super smooth and feels like it's really on to stay, but it also feels light and comfortable."
Stephanie Mark in 1995
"While I normally shy away from lipsticks because they dry my lips out, I love this one. I can't get over how moisturized they make my lips feel, plus I don't think I could say no to anything Pat McGrath."
Caryn Prime in Elson
"I almost only wear moisturizing tinted lip balms, but this feathery, light but highly pigmented, matte red lipstick may just make me change up my go-to lip product. It's surprisingly pretty moisturizing for a matte lip color."
Katie Becker in Elson
"Having tested many a lipstick in my career, one of the most striking things about this tube was how easy it was to apply—no simple feat for a high-pigment, matte color. The bullet is fairly dense and firm, which meant I could be very precise, and the color payoff was immediately B-O-L-D. Around 5PM Noah asked me if I had reapplied, but I had not since my first application at 11AM. It looked great until 8PM when I took it off at home."
Ezinne Mgbeahuruike in Obsessed!
"I loved how light this lipstick is. It's very moisturizing, which is very rare for most lipsticks I use, and the color blends with my skin color, which I LOVE."
Jodi Taylor in Omi
"I own a few colors from Pat McGrath's Lust 004 collection, but if I'm honest I'm more of a matte lipstick kinda girl, so when I got word of the MatteTrance collection, it felt as if the infamous makeup artist was after my own heart. The second Omi touched my lips, I felt the intense amount of hydration that the stick held, and at the same time my eyes lit up with excitement over how beautiful the color was. Not only that, but it quite literally glided on and didn't get on my teeth once throughout the entire day. Talk about a miracle."
Samantha Sutton in Full Panic
"I put on lipstick nearly every morning…only to (accidentally) eat or drink it off by 11AM. So the thing I personally loved about Full Panic, aside from the in-your-face, dark pink color? It stayed put past lunch and multiple glasses of water *without* looking like a lip liner experiment at the end of the day."
Tara Gonzalez in Flesh 3
"I gravitate towards dark purple lipsticks, but they aren't very wearable for most daytime events, which is why I was so excited about the family of three nude lip colors called Skin Show. Flesh 3 is the perfect nude; it had just enough color to add a little something to my lips without drawing too much attention to them. I also ate lunch right after applying, and it stayed on until I left work, which is also when I received three compliments on my lip shade. So, I'm going to call that a win."