We Discovered This Model on Insta and Got All Her Bomb Beauty Secrets
A perfect selfie is actually all about having amazing hair.
Summer Beauty
From all the awesome women on Instagram we stalk follow that manage to always look incredible, we've discovered that the perfect selfie doesn't have that much to do with lighting or angles. It's actually just about nailing the ideal skincare and haircare regime. If you look good, you look good–which is exactly what Tyla-Lauren Gilmore taught us. We found her on Instagram, immediately wanted to know all of her beauty secrets, and met up with her at Washington Square Park for a perfect summer day to discuss our new favorite topic–summer beauty! Tyla gave us her ten tips for managing oily skin, embracing natural curls, and aspiring to look like the best version of yourself instead of anyone else (no matter how Instagram makes you feel!).
---
How do you keep your skin so gorgeous?
"I have combination skin in the fall and winter, and oily in spring and summer. I have done so much research on specifically buying products that focus on controlling oily skin which has helped tremendously. I'm obsessed with Palmer's Face Oil and Kiehl's Ultra Facial Cream. 
In the summer I use less oil just a simple moisturizer. I also use a Garnier Skin Active Clean Pore Purifying 2-in-1 Clay Cleanser/Mask for Oily Skin once a week."
Do you use daily SPF?
"I like to use SPF daily in the summer because my skin is super important to me and I want it to always be protected. I wear Maybelline's BB Cream for my face instead of foundation and it has an SPF 30. My Kiehl's Facial Cream also has an SPF 30."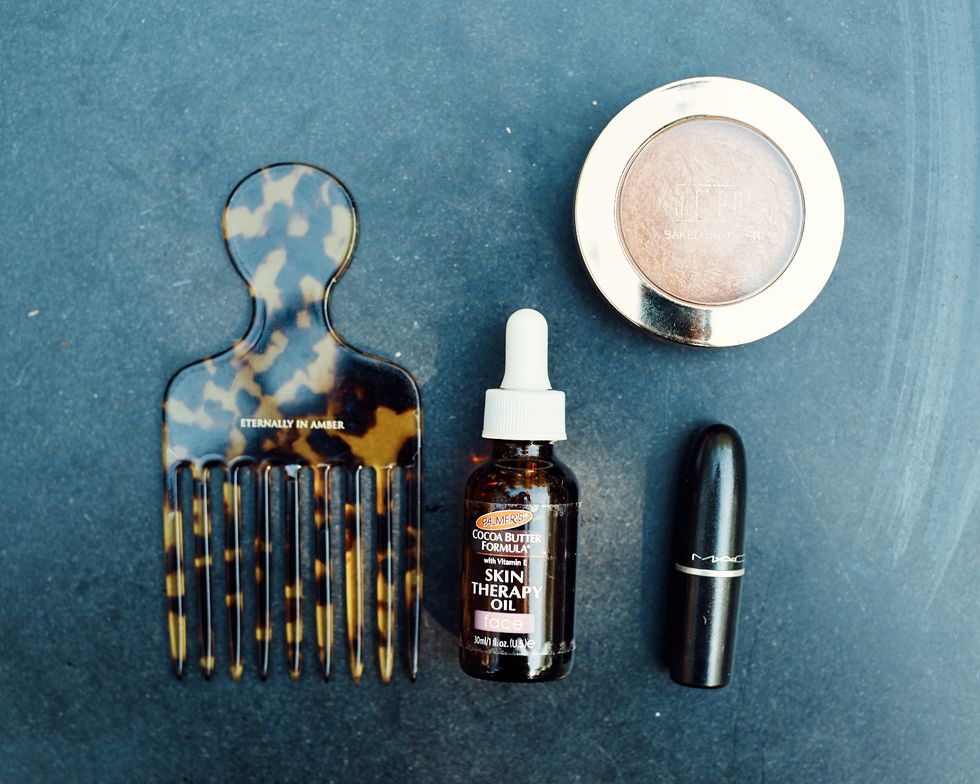 How is your hair so perfect?
"Going natural with my curly hair is the most dramatic beauty change I've made. I spent 10 years straightening my curls until one day I decided to trash the heat and embrace my natural hair. I usually have my hair up in a pineapple ponytail or a top bun in the summer because my curls are super heavy and I'm always hot. When I do a wash n' go I use Shea Moisture Curl Enhancing Smoothie, Cantu Leave in Conditioner and Cantu Curling Creme. I usually diffuse to quick dry. Deep conditioning treatment for my curls twice a week!"
What's in your makeup bag?
"For my summer routine I cut out color correcting, concealing, foundation, and contour and just use Hourglass Veil Mineral Primer, Maybelline BB Cream, Kat Von D Tattoo Liner, Too Faced Better Than Sex Mascara, and Mario Badescu Facial Spray."
How does your it change in the summer?
"All winter and spring I try to perfect my skin to make sure I am ready to be bare faced for summer. 
I try to wear the least amount of makeup because my skin is super oily in the summer and tends to break out a lot more in the heat if I use a lot of makeup. Also I hate sweating and knowing I have a ton of makeup on because my skin feels heavy and sticky!"
 
What's the most recent beauty product you bought and why?
"Mario Badescu Facial Spray because it's a staple in my skin care routine! I use it to set my skin and also to hydrate throughout the day."
Do you have any desert island beauty products?
"Vaseline, I've used it since I was super young. I use it on everything–my skin my lips and even my body! It's a cure all for me, dry skin, dry lips, makeup remover and even to keep my eyebrows in place."
What's your summer fragrance?
"I'm obsessed with Philosophy's Amazing Grace, it's my go-to for summer!"