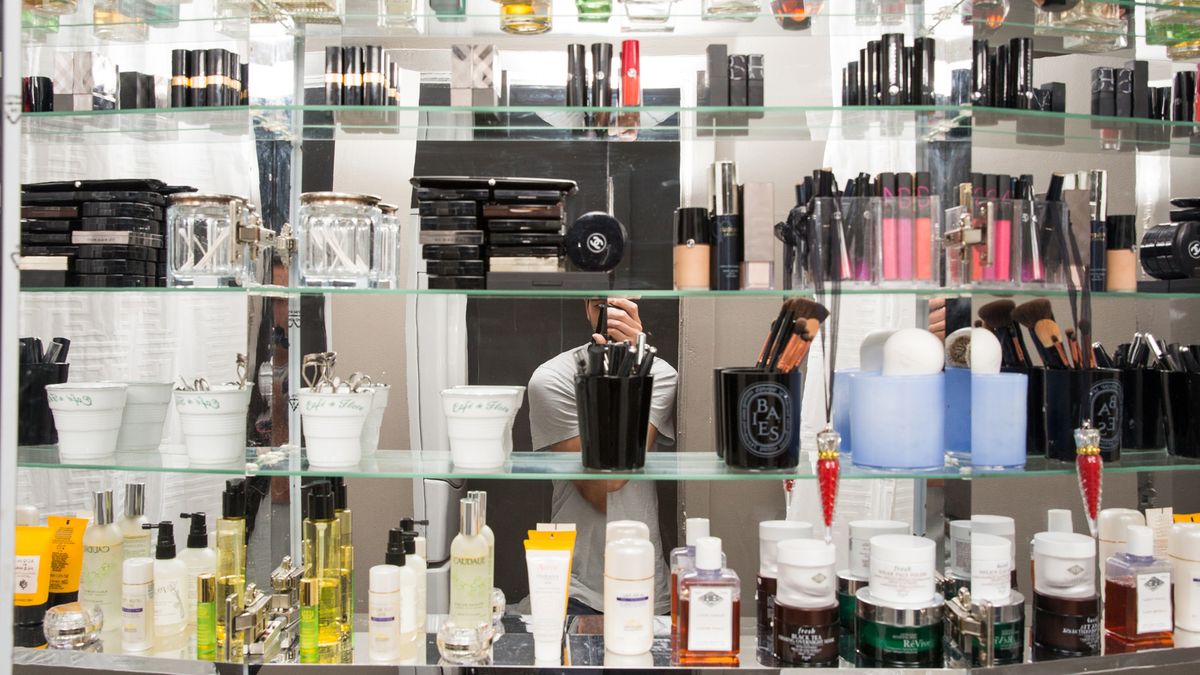 Summer Beauty
The Most (and Least!) Expensive Beauty Products We Swear By
14 absolute must-haves from $399 down to free.
One of our favorite things about peering into the closets and medicine cabinets of amazing people is that even among the fanciest of clothes and creams, in the dreamiest of luxury apartments, there's always some cheap gem our subjects can't live without. We're the same way. When we asked each editor to comb through her beauty stash, we found that our all-time favorites range wildly in price: from free spoolies to a smudge-proof drugstore eyeliner that costs pocket change, to a Dyson hair dryer with all the bells and whistles–and a $399 price tag. Here we go, high and low:
---
---
Laurel Pantin
Editorial & Fashion Director
1/2
HIGH:
Vintner's Daughter Serum
, $185
Vintner's Daughter Serum is hands-down one of the best products I've ever tried. Ever. My skin looks about a million times better and three years younger after using it consistently. It's also entirely green, which makes me love it even more. However, it's insanely expensive! But still, it's worth it.
Caryn Prime
Managing Editor
1/2
HIGH:
Frederic Malle Bigarade Concentree
, $215
I love a sort of masculine-soapy-citrus-scented anything, and when I found Bigarade Concentree by Frederic Malle, it was the perfect mix of all those things. Though it's the opposite of affordable, I just couldn't not get it! I could go without any makeup, have third-day curls and still feel like my best/most presentable self with just a few spritzes.
Tara Gonzalez
Assistant Editor
1/2
HIGH:
SK-II Facial Essence
, $229
Don't lie! There are certain products you constantly hear about that you secretly want to find out are terrible because the price tag isn't ideal. For those of you who want to hear that about SK-II's Facial Essence—I'm terribly sorry because this stuff is magic. Which shouldn't come as a surprise considering Cate Blanchett has used SK-II for 13 years and really, have you seen that woman's perfect face?
Noah Lehava
Senior Editor: Health and Wellness
1/2
HIGH:
Fueguia Agua Magnoliana
, $335
I first discovered this delicate floral fragrance in Buenos Aires and it quickly became my signature. I have been stocking up on bottles every time I return for family visits, sometimes buying two at a time. It's expensive, but to me, totally worth it! Luckily, they just opened their first North American boutique right around the corner from our offices in Soho, so I won't have to wait all year to restock.
Jodi Taylor
Assistant Editor
1/2
HIGH:
Clarisonic Smart Profile
, $349
Not entirely sure how I survived pre-Clarisonic—this device has truly changed my skin. I use the exfoliating brush head twice a week, typically at night, and it cleans my skin like nothing I've used before. The body brush is a miracle worker for shaving, and in regards to the massage head? A dream for applying moisturizer on a daily basis. So worth the investment.
Hannah Baxter
Assistant Editor
1/2
HIGH:
La Mer Creme de la Mer
, $310
This cream was my longtime unicorn of beauty products, and now that I've finally gotten my hands on it, I can confidently say it's worth all the hype. Sure, it's decadent times a million to even have it in my bathroom, much less slather it all over my face, but I always wake up looking rested, glowy, and hydrated. Beauty products should always make you feel extra special, even if they drain your bank account in the process.
Katie Becker
Contributing Beauty Editor
1/2
HIGH:
Dyson Supersonic Hairdryer
, $399
Blowing out my hair is usually a total pain. I'm terrible at it. But this dryer–like all Dyson inventions–makes it so much faster and easier. Its motor goes so fast, most of the sound it generates can't be heard by the human ear (that is true!), a thermometer inside measures 20 times a second to keep the air at a steady temp, and all the heaviest components are in the handle, so it doesn't get uncomfortable to hold. But what I like most is that neither the air nor the casing ever gets super hot, so you can hold it however you want or get it as close to your head as you want and not hurt yourself. Which is something I somehow otherwise always manage to do.