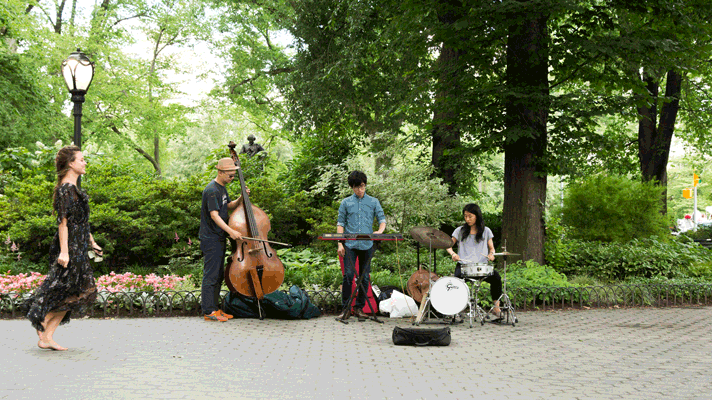 Skin
How to Replicate Model Josie Maran's Dewy Summer Glow
Her growing family of cult-favorite argan oils might be the only skincare you need.
Alec Kugler
When it comes to natural summer skincare, there's no person better-equipped to guide us through the beauty landscape than model and entrepreneur Josie Maran. When we met the founder of Josie Maran Cosmetics in Central Park, she was every bit the idyllic earth mother we expected as she gamely climbed over fences and danced barefoot around a three-piece band. Her excitement about her newest product launch is equally playful. "It like a unicorn pooping on you," she laughs while applying a few drops of her Moonstone Makeup Priming and Highlighting Oil to her cheeks, and we have to admit we agree. The pearlescent version of her signature argan oil is perfect for achieving that enviable summer glow, while still nourishing the skin with vitamin E. Anything that makes us look dewy and sunkissed is a definite must-have for our summer routines, but until it is released in August, we had to ask what else Josie uses to keep her skin glowing all season long.
---
She's super picky about sunscreen.
"I live for the sun. I'm probably a sun child, but I've seen the damage it can do. [My favorite SPF] is mine. I have an SPF 47. All-natural, and it [has] argan oil [and antioxidants], so it's good for you. So many sunscreens can break you out or make your pores look large. When I was on photo shoots, we'd always be outside in the sun and makeup artists sometimes wouldn't even use it because they said it would just make your skin look weird. Mine is really good for soothing your skin."
She adds fabric to her favorite summer hairstyle.
"I like a milkmaid braid. Me and my girlfriends like to braid in a scarf. So, you do two and then you tie it in on top with the scarf going through the braid. You can just find a fabric you like and it's just fun to have pretty colors up in your hair. You can even stick flowers in the braid; you can deck them out with things you find."
For summer parties, she likes her skin "juicy."
"It's just super glowy, but not powdery glow. Like juicy skin, glowy with my moonstone oil. A good brow and lately I've been doing black or brown eyeliner in my inner rim and just beautiful, light foundation —something about that makes my skin pop. No mascara or any other real makeup."
She uses the same three skin care products year-round.
"Honestly, my skin care stuff, argan oil products, I feel like it just keeps it pretty balanced all year round. I do the same thing— Argan Milk, Argan Face Butter, and Argan Oil to finish. Those are the three I do in the morning and at night every day. It's all less maintenance in the summer. I'm lucky because I don't mind the humidity. I feel like it makes my skin prettier. The humidity is my skincare."
But she gets her hair care at the drugstore.
"I've made products for every drugstore product I liked. Like for Vaseline, I made Infinity Cream. It's more for hair stuff. I still can't find a good natural shampoo and conditioner, so I need to make one one day. It's really hard! But I really like Pantene."