Rebel Wilson Created Clothes That Will Take You From "Nine to Wine"
And apparently they'll hide your "koala pouch," too.
Celebrity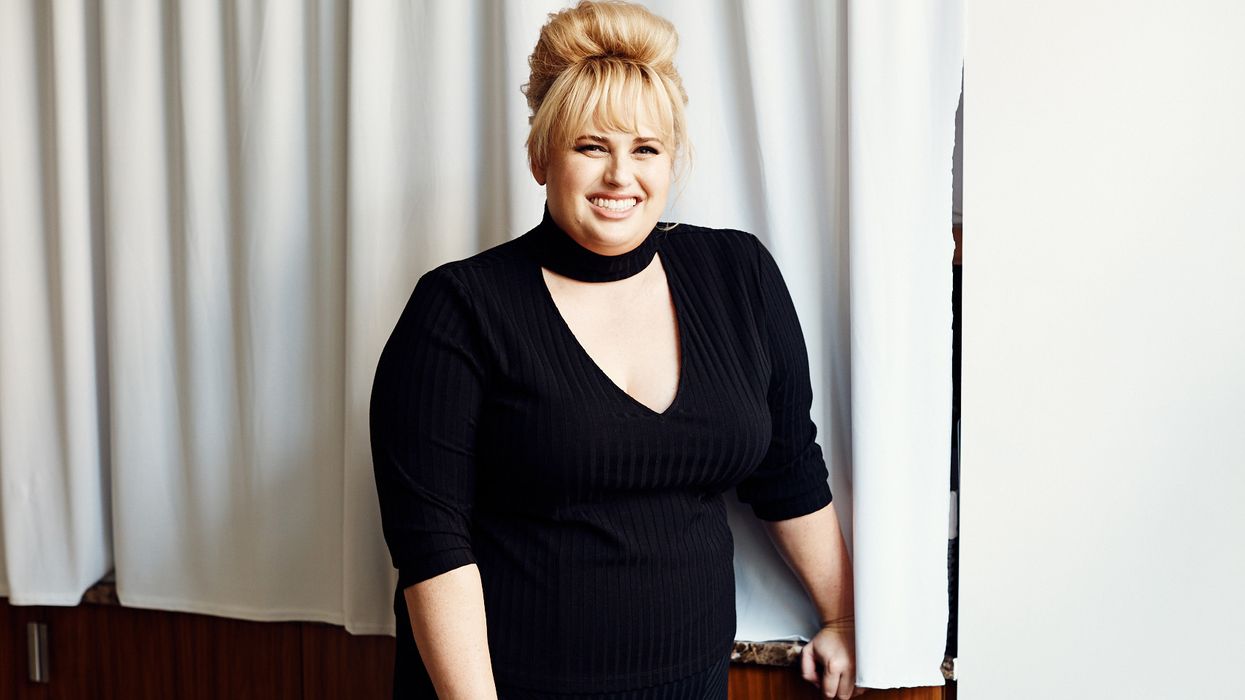 When I sit down with Rebel Wilson at an event hosted by Dia & Co., I have about 10 million questions to ask her...and only a few short minutes to get them all out. So I ask the actress to spill on the reason we're all here: her new fashion line, REBEL WILSON X ANGELS, which will range from size 14 to 24 and soon be sold at Nordstrom, Lord & Taylor, and other department stores.
"I don't think I would've had the credentials to have a fashion line back in the day," she tells me, referring to the timing of the launch. "I came from Australia, from an area that I wouldn't say valued fashion. If something fit, you would just wear it."
It wasn't actually until Rebel worked with some of Hollywood's top stylists and costume designers that she developed more of a passion. Later, she collaborated with popular plus-size store Torrid—"I learned a lot from that and got the right feedback"—before realizing it was time to do her own thing.
"The good thing about having your own line is that every six weeks, the product will be updated in stores. My stylist goes to fashion shows around the world and is a consultant on the line, so we know what's trending and what we can give plus-size girls that's youthful and confident."
---
Rebel Wilson Photographed by Weston Wells for The Coveteur
We both agree that the cutout dress Rebel has on is the right choice for this not-too-hot summer day. "It's a classy day-to-night situation," she tells me, adding that it reminds her of something Adele might wear. "Or 'nine to wine,' as the girls like to say."
Despite what her name suggests, Rebel describes her style as classic. "I love bodycon stuff that doesn't hide the figure and shows it off," she reveals. "But there are ways of doing it so that you show off your best assets. Sometimes, you might want to hide your little koala pouch, but you definitely want to show décolletage as a plus-size girl. You definitely want to show a little skin in pretty much all outfits."
After discussing clothing, I segue into another topic: acting. Aside from starring in Pitch Perfect 3 later this year, I personally *need* to know if any Disney lies in Rebel's near future (especially after she nailed "Poor Unfortunate Souls" at last year's Hollywood Bowl).
"I mean…the smoke signals are out to play Ursula in the live-action The Little Mermaid," she hints. "But I'm about to film a movie here in New York called Isn't It Romantic, which is a rom-com that I developed for New Line [Cinema production company]. Then, I'm doing a Dirty Rotten Scoundrels [remake titled Nasty Women] with Anne Hathaway, which is also a project I developed and am producing."
Rebel Wilson Photographed by Weston Wells for The Coveteur
Once she brings up Isn't It Romantic, I'm reminded that she recently cast Betty Gilpin—who currently plays Debbie Eagen in Netflix's GLOW—in the film. So I ask her if she's watched the show yet.
"I just watched episode one and two last night," she tells me excitedly. "I was like, I'm lucky I saw [Betty's] casting tape and thought, you know what? She's actually brilliant. This is like, Betty's big kind of featured role in a film, so it'll be great."
When I point out that perhaps the funny lady is a good luck charm, she disagrees. "I think I have an eye for finding talent, definitely."
*Sigh.* An eye for talent and an eye for style? At the moment, it seems like Rebel Wilson most definitely has it all.