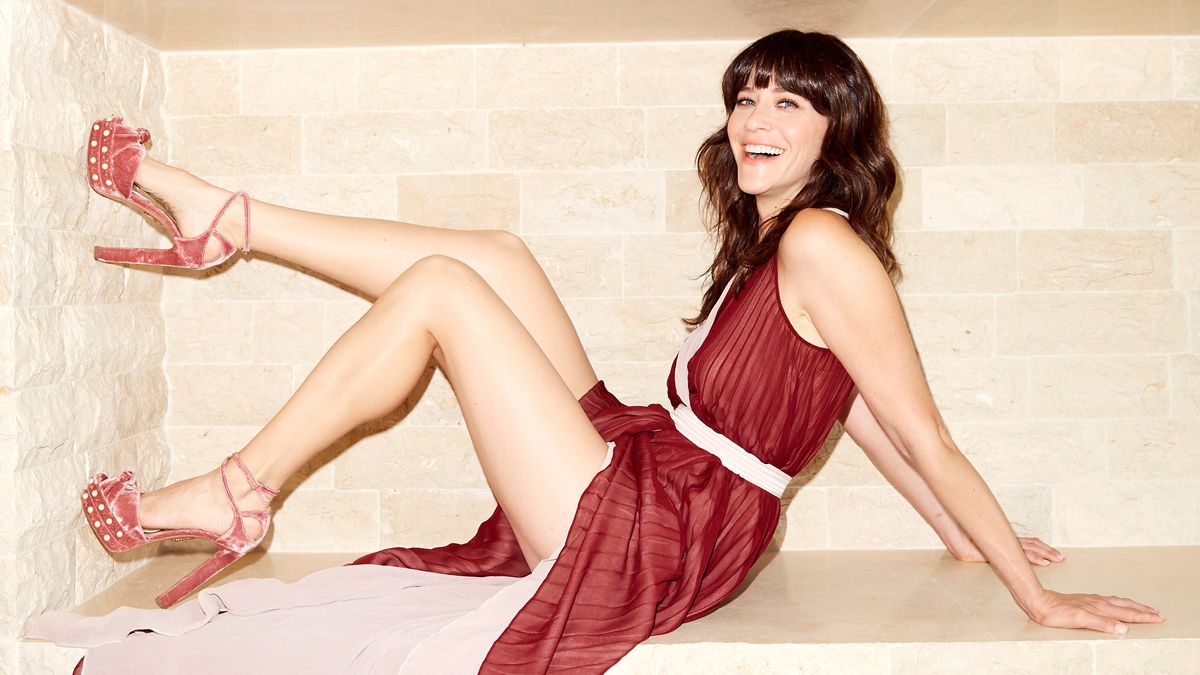 Celebrity
Jackie Tohn talks to us about getting into the ring, learning to fight (with big hair), and why you should binge-watch the show this weekend.
Tristan Kallas
Jackie Tohn plays party girl Mel Rose on Netflix's newest show, GLOW, which takes place in Los Angeles in the '80s, stands for Gorgeous Ladies of Wrestling, and is based on a very real show. Carly Mensch and Liz Flahive's reincarnation involves a group of women who for one reason or another ended up at an audition for a TV show about female wrestlers. Melrose drives a white limo, changes in public parking lots and does not give a damn what anyone thinks.
Our favorite Melrose line would have to be when she calls herself the "the Cézanne of bullshit artists." Jackie's personal favorite is when director Sam, played by Marc Maron, tries to alleviate Alison Brie's character Ruth's anxiety over the new script he's written. He looks her straight in the eyes and says, "Relax. The devil gets all the best lines." Jackie pauses briefly on the phone, and I can hear her grin as she laughs, "I mean, he's right. They do."

In GLOW it isn't just the devil that gets the best lines, it's all of the women on the set of a show also run, created and executive-produced by women. When Jackie was young, she recalls watching WWE with her brothers: "The only women in the ring were the girls that were like trophies carrying around the round number." In GLOW the roles are thankfully reversed, and it's the women who kick ass. Jackie spoke with us about training to fight, what her signature move would be, and why you should watch the show immediately.
---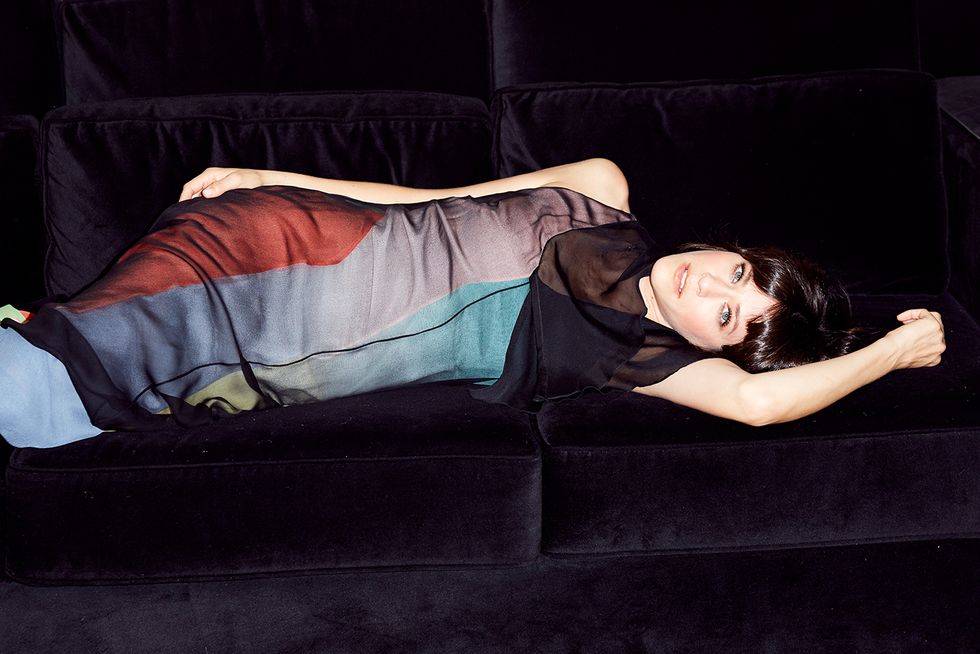 If she was a professional wrestler she'd be…
"The Neurotic Tsunami! I have felt my whole life that I relate to the Tasmanian Devil. I'm just like going, going, going, going. She would keep running into people with her arm out, and if people were standing on all sides, she would just run in a circle and just bash everybody down with her forearm into their chests."
She'd describe getting into the ring for the first time as….
"Intimidating! Day one, we just stared at the ring! Here we are in a room with one of the legends of wrestling, Chavo Guerrero, whose uncle actually coached the ladies in the original GLOW, which is insane. And none of us girls even know how to get in the ring! We're just like, 'Alright, so do you go over the top rope? Do you go under the bottom one? Like what do you even do?' By the end of our four weeks of training, we were all looking around like, 'Is there anyone's ass I can kick?'"
The most surprising thing that happened on set was...
"None of us knew who Kia [Stevens] was, and she is a professional wrestler. She is Awesome Kong from WWE, like, she is a 100% badass bitch professional wrestler. Chavo [Guerrero Jr] was like, 'We're learning how to lock up,' which is where you grab each other's arms and that's how you start the match. We're learning, and he goes, 'Kia, come on and try what we just learned.' And he and Kia just start beating the shit out of each other. All the girls were screaming. I mean we were absolutely losing our minds because we had no idea that was coming, we didn't know who Kia was!"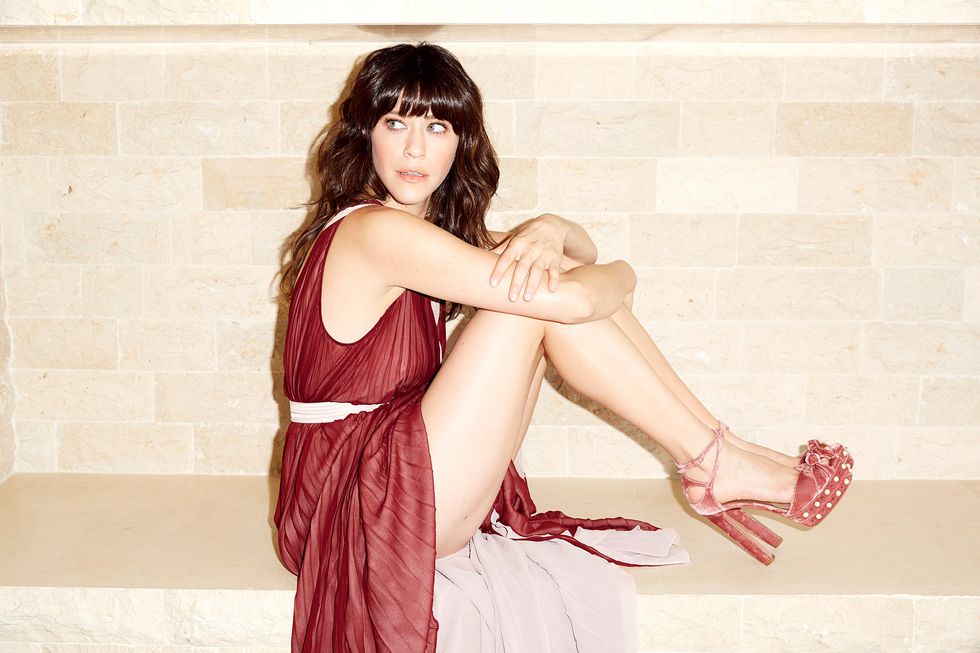 She'd describe Melrose as….
"A party girl and a big-time troublemaker who is not scared of confrontation, in fact she invites it. She's kind of like a music video girl, she's just one of those old-school '80s girls on the hood of a Corvette just whipping her hair back and forth and wanting to be seen as a sex object. She doesn't look at it as being objectified. But I also think that inside she's a girl who has struggled with drugs and has been to rehab a bunch and overcompensates for her insecurities by being maybe a little too loud or trying to be a little too funny and a little too much for the situation she's in."
She considers the show empowering because…
"It showcases not just one girl, but a pile of women! Something I'm really noticing that makes the show so powerful is in almost all the shows I've auditioned for in my life, you're trying out to be the one girl on the show. On our show, you're trying out to be one sister among this amazing group of women! Women of every color, every shape, every size, every religion, coming together and trying to make a thing happen together."
You should watch GLOW this weekend if…
"You're into empowerment, friendship, camaraderie, insanely, insanely good writing and a good story arc. Oh, and just badasses in general. Andddd just some good old-fashioned ass-kicking."
Hair: Karina Vega; Makeup: Emily Cheng; Stylist: Susan Winget; Dresses by Jill Stuart.