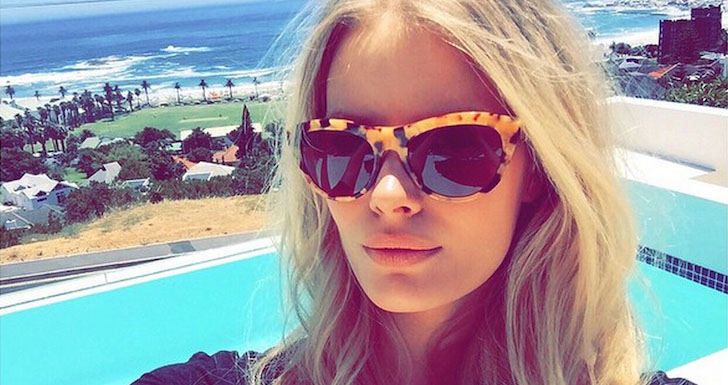 5 Supermodels' Tips on Taking a Perfect Selfie
The pros break down getting that Explore page-worthy shot.
When it comes to the weird, wonderful world of selfies (we know—the word still sends a shiver down the spine, doesn't it?), there are a few camps. There's the Purposeful Selfie: a shot used to show off one's surroundings/new haircut/the fact that yes, you have dragged yourself out of bed and are en route to brunch.
There's the Sneaky Selfie: the one meant to look as though a friend snapped it when it's actually the handiwork of a discreetly angled selfie stick (note: scan room for reflective surfaces to avoid a "bae caught me slippin'" fiasco).
And then there's The Model Selfie: a meticulously art-directed, unapologetically hashtagged portrait perfected by the likes of Anna Speckhart, Alena Blohm, and Ashley Smith. These ones may be the hardest to perfect, but once these ladies schooled us on lighting, angling and filtering 101, we were ready for a selfie sesh redolent of Kim K's Super Bowl commercial.
Warning: Use of such portraiture could result in an onslaught of Tinder dates, coffee table book deals and unsolicited messages from James Franco. (We kid.)
---
On the merits of different angles...
"The from-above angle makes your face more slender and your eyes bigger; that's a standard to go to. Tilting your head to the side also helps to show off your cheekbones.
"But using an angle from below to take the picture gives you a sleepier look, so here it's easy to get the sexy bed head vibe. It also is a great angle for showcasing eyeshadows if you have amazing makeup on."
On "happy and positive" filters...
"I use filters that fit my Instagram vibe. I tend to want bright, vibrant, and high contrast, so that the subject matter really pops. Mostly happy and positive vibes in my pictures, since I'm a happy girl! I also rarely use the preset filters because I love adjusting the color and shadow tones with Instagram's own tools such as brightness, contrast, vignette, etc. It makes it more fun and allows me to let some creativity out!"
On experimenting and owning it...
"I'm so lucky with my job: I get to try on so many different kinds of makeup looks every day. Makeup and trying new things with it always makes taking a selfie more fun because it can create a uniqueness to every shot and look. Don't be afraid to experiment and take risks! To be honest, though, most often I just love going with an all-natural look. Every girl is beautiful in her own way! She just has to be confident and not afraid to show it! Own it!"
On knowing the difference between good and bad lighting...
"Lighting is so important—it's everything in pictures, and it creates the whole mood. If it's a close-up, I prefer straight on my face to catch the side shadows of my cheekbones, or for a more dreamy, beachy look, straight sun from behind to showcase a silhouette.
"The most important thing is to make sure there is a lot of light, no matter the angle! I'm not a fan of grainy pictures you get from low lighting because our phones aren't good enough yet to capture it without flash. Also...NEVER have the light come from under you! That's a big no!"
---
On the selfie as an ever-changing thing...
"I just take it picture by picture. It depends what I'm trying to highlight; a choker, a braid, a cute butt shot…"
On the best group selfie accessory...
"Get a selfie stick!"
On her filter and app secrets to success...
"I just use X-Pro II and bump up the contrast. I like using two apps for mostly being silly with my pics and putting fun stickers and words on them—Decopic and Pic Collage. I also use VSCOcam, which has a lot of amazing filters, and the app itself is just really cool."
On her selfie spot...
"Natural daylight is the best selfie light I've found, but mostly it depends on the time of day and where it's coming from. I shoot a lot of selfies by my window in my apartment!"
---
On the elusive "perfect selfie angle"...
"I don't think that there is a universal 'perfect selfie angle,' but once you start playing around you will find out quickly what looks good and what does not. What works best for me is: chin slightly down, a little head tilt with the camera above eye line, and pointed down. There is a universally unflattering angle, which is chin down, camera low, and pointed up... You automatically look like you have a double chin! If you want a good laugh, send these to your girlfriends. Or, if you need to ditch a guy, send him one with a caption that says, 'Thinking of you.'"
On going #nofilter (kind of)...
"I hardly ever use the pre-set filters and have no specific app. I adjust brightness, contrast, saturation, etc. for each photo via Instagram."
On the perfect selfie time of day...
"I love natural front light—mornings seem to be the optimal selfie time. The lighting is soft and not too harsh, which makes #IWokeUpLikeThis a little easier on the eyes."
---
On knowing your angles...
"Models know their perfect angle from their own experience; for me it is my three-quarters-to-the-left profile. I would recommend taking pictures from different angles and picking the best one among them. I hold my phone as far away as my hand allows; even if I zoom it in later, it helps to avoid slight changes that the iPhone camera makes when you go too close."
On the secret to maxing out your Like potential...
"It is all about mood. I believe that the more positive energy you give, the more likes you get."
On the best filter and "mini photoshop"...
"I am sure a lot of people will agree with me that Valencia is one of the best. It gives you a soft, warm mood and gives the illusion of perfect skin. I like just the black-and-white option from the iPhone—it always saves any kind of picture and makes it more artistic. There is a great app called Facetune that is like mini Photoshop. You can clean up anything you want: pimple, wrinkle, skin shade."
On the ideal selfie beauty look...
"Beautiful skin and some mascara is more than enough. Sometimes I like red lips. I use Laura Mercier skin, Nars mascara, and Jungle Red from Nars is my fav lip color."
On finding your light...
"Natural light falling straight is perfect: light from the window, or professional makeup table light. It shouldn't be too sunny, otherwise you get a lot of shadows."
---
On finding that sweet-spot angle...
"I think that I like my head turned a little bit to the side, but I wish I would have figured this one out already."
On her secret-weapon app...
"I really like the app PICTASTIC to put my photos together!"
On the many ways going natural is better...
"I like it natural, just a bit of concealer and that's it. My favorite products are from RMS (especially their concealer)! The best lighting is always natural light—standing in front of a window always makes for a good selfie."