Summer Beauty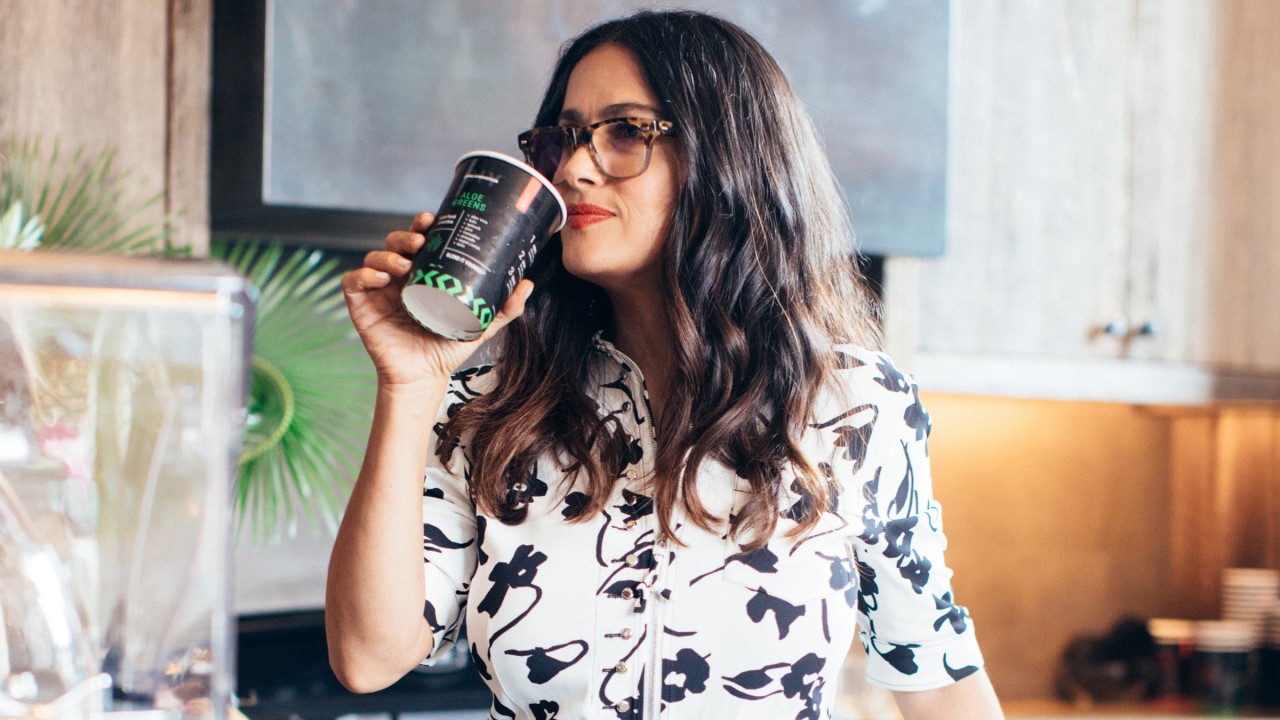 The New DIY Beauty Products You Can't Help But Instagram
Including a smoothie Salma Hayek puts on her face.
At-home DIY beauty treatments are good fun for all of 5 seconds, but most are a royal pain-in-the-ass in practice: fiddly packaging, non-existent instructions, and they're messy as hell. That said, the demand for tailor-made beauty products is booming—Google search is up by 8% for DIY treatments—and beauty companies have listened. Fortunately, the latest wave of at-home beauty concoctions are as effective as they are clean and easy to use. Hurrah! We've sifted through the best of the bunch and given each a mess rating (with 10 being the messiest).
What it is: We don't normally recommend drinking your face mask, but this is the exception. Created by Salma Hayek, who has been using these recipes for years (and we want what she's got), Juice Generation sources and preps a cocktail of superfood ingredients in one neat tub. There are three to choose from: Aloe Greens is high in vitamin A, which helps heal and hydrate; Watermelon Hibiscus is as refreshing and rich in antioxidants to rid skin of toxins from stress, pollution and sun damage; and Papaya Avocado is full of enzymes that help exfoliate to brighten.
How to use it: Add a touch of water or nut milk and pop in a blender to make a paste for a face mask. Or for a smoothie, add the dose on the ingredient card and blend.
Mess rating: 8/10. The results are instant, but you do have to wash up the blender and the paste gets all over your hands and hair if you're not careful.
What it is: There's a false assumption that charcoal is for oily, blemish-prone skin only. While its detoxifying properties are brilliant for those concerns, every skin type can benefit from a deep cleanse. The perk of mixing this mask yourself is you can tailor how you want the charcoal to act by mixing it with different ingredients other than water (see ideas below).
How to use it: It comes with a little cardboard tray and plastic spoon. Pour the charcoal powder into the tray and mix with water until it forms a paste. Depending on your skin type, substitute water with orange juice if you want to brighten, honey to smooth, green tea for redness, and lemon juice to energize.
Mess rating: 6/10. Although the neat tray can be chucked away after, there is no getting away from charcoal mud redecorating your bathroom sink. Still, we'll take the hit for how personalized and effective the results are.
What it is: This cleansing ball of joy is hands-down the coolest new launch of the year. Charcoal is known as the Black Diamond of Asia for its dazzling effects on skin. It works much like a sponge, sucking up impurities. To make it work, the black bamboo charcoal is injected with steam to create thousands of tiny air pockets so it can absorb even more bad stuff than usual. Even better, it looks and feels like a ball of Jell-O.
How to use it: It starts out looking like a water balloon, covered in an outer layer, which you pop with the included plastic needle. Pull out the jelly ball and rub over wet skin like a cleansing brush. Finish by rinsing skin with water. It also comes with a plastic stand to keep it from rolling around your bathroom cabinet.
Mess rating: 2/10. The tidiest form of charcoal ever!
What it is: You may have seen this lighting up your Instagram feeds recently, but it's actually not a gimmick. As with all innovative skincare ideas, it comes from South Korea. Initially it looks like any old sheet mask, but transforms into a rich, airy foam all over your face so it can penetrate deeper. And give you a great selfie op. Oxygen works like gas for skin cells to increase their metabolism. Hello, brighter skin!
How to use it: Apply the sheet mask and wait for the bubbles to cover skin, which takes about 15 minutes. Peel off the mask, but before you rinse, massage the bubbles into skin to help push the product into pores.
Mess rating: 1/10. Surprisingly neat!
What it is: Another social media sensation, this deeply hydrating mask instantly plumps up and brightens skin by injecting it with hyaluronic acid, increasing skin's ability to hold on to moisture. Speedy hydration also triggers an increased oxygen exchange which literally breathes life back into skin.
How to use it: Mix the Hyaluronic Cushion Gel with the Activating Powder in a bowl (reminiscent of an at home hair-dye kit) and spread over skin with the spatula. It's immediately cooling, as it reacts with the heat of your skin. It forms a jelly texture which, after about 7 minutes, you can peel off. V satisfying.
Mess rating: 2/10. As it's a peel-off, you don't even have to do this in a bathroom.
What it is: Skincare cocktailing is when you mix different beauty products together before you apply, but if you're not sure where to start, this is the beginners' alternative. With 10 targeted serums to choose from, ranging from hydrating to acne-preventing and everything in between, all the ingredients are designed to work in synergy, so it's impossible to get it wrong.
How to use it: Take a quick online test, and you're recommended up to three serums. You can either use them separately or combine the serums in an airtight bottle to create your own personalized skincare.
Mess rating: 0/10. The most mess-free option there is.