Celebrity
And here are five reasons why the film's rising star is no different.
Emily Knecht
In Sofia Coppola's latest film, The Beguiled, upcoming actress Emma Howard told us that good manners only get you so far (and she admits to knowing very little when she first took an etiquette class to prepare for her role.) The story is set at a southern girls school, and although all the female characters barely show off their shoulders and gladly curtsy in long white lace gowns, there is a darkness that's palpable as the film progresses. It's what has people so drawn to the story line–well, that and Coppola's re-interpretation of the 1971 film, which puts the female gaze front and center. The theme of 2017 is nasty women after all, right?

Although we won't spoil anything, one thing can be said about all the women in Coppola's Civil War-era world: They are not to be messed with. Emma Howard is fairly new to the big screen (although you may recognize her from Transparent) but just like her co-stars, Nicole Kidman, Elle Fanning and Kirsten Dunst, Emma Howard is a girl to know. Here are five reasons why you probably shouldn't cross her either.
---
1. She took playdates seriously as a kid. Very seriously.
"On a playground once, my friend was like, 'Do you want to pretend to play pirates?' I was like, 'No, we can pretend, it has to be real. If we're going to pretend, it needs to be real.' I can't believe I'd say something like that looking back at it. I guess I always just wanted to perform for people. I took it very seriously."
2. Crying on demand is more her speed than laughing.
"Crying on demand comes easier to me than laughing on demand. When people ask me to laugh on demand, I'm like, 'Oh, that's a lot harder than crying.' I remember thinking that. I think there have just been real-life situations–this sounds really messed up, but whenever something bad happens to me, I think to myself, 'How can I channel this to my acting?' It's definitely not something you should do, but I do it anyways. I guess it helps me."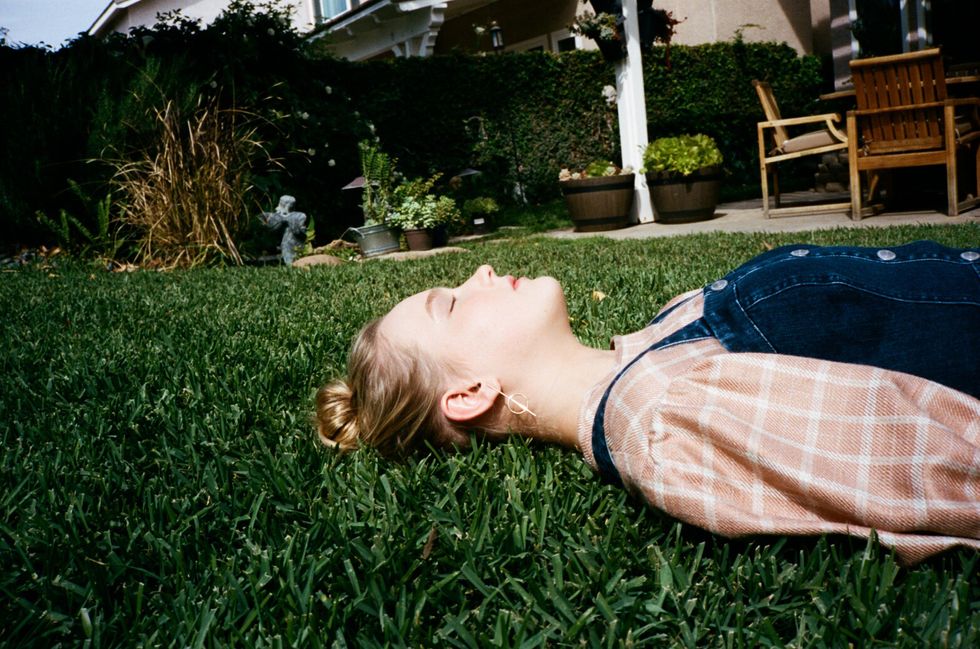 3. Her favorite thing about The Beguiled is the dark twist it takes.

"Oona Laurence's character brings [an injured solider] in, and we are all terrified because we hear all of the horrible things about the Union Soldiers. It's a real threat, like an enemy coming into our house. The women had been deprived of a man for so long that all of them get excited and they started rivalries against each other. It takes a really interesting turn in the end, actually. It's very twisted and dark, but I love dark and twisted things. It's very exciting. I love the story so much."
4. She loves horror films and would like to be in a remake of Carrie.
"I do like horror movies. But I have PTSD from seeing The Conjuring 2, so I need to stay away from ghost related stories because I have a major fear of ghosts. I have to stay away. I would love to be in another remake of Carrie. I know that's never going to happen because there have been so many. I would have loved to have played Carrie."
5. She gets nervous, but she isn't intimidated by big names.
"The first day, right when I walked in, I was terrified. We talked, and she really went through our characters and the girls in the civil war and their everyday lives and how it's a lot different from us. She was so laid-back, and I think that's what I loved–I expected her to be really strict because she is really well-known and my favorite filmmaker too. As nervous as I was, I wanted to give a good performance. She gave us all of the resources to do that. We got to improv with each other, all of the girls and I. I have been a big fan of Elle Fanning and Kirsten Dunst since I was so young."
Styled by Veronica Graye and Natalie Toren; Hair by Patrick Chai for Exclusive Artists using Living Proof; Makeup by Elie Maalouf