Celebrity
Is Cazzie David the New Larry David?
She's got a lot in common with her famously funny father—and can wear the heck out of a pouffy dress.
Laurel Pantin, Tara Gonzalez
Chatting on the phone with Cazzie David, I couldn't control my laughter. It should be noted that, on a normal day, I am a laugh-y kind of person. But it should also be noted that Cazzie is really funny. Her deep-ish, fairly monotone voice is the perfect complement to her dry, sarcastic humor. So there I was, chuckling and cackling away—even when the girl wasn't telling any jokes.
---
If you're wondering why Cazzie's name sounds so familiar, it's because, yes, her dad is comedian Larry David, and she also dates Pete Davidson, a cast member of Saturday Night Live. But if you're wondering what makes her special on her own, aside from that standout name? ("I was named after a basketball player on the Knicks. My dad is that much of a Knicks fan that he had to give me the craziest name ever.") That answer can be found by watching her YouTube series, EIGHTY SIXED, which not only showcases her writing talent, but also her acting skills.
"I never really thought I would be acting because I had really low confidence," she tells me. But there was always an interest in writing growing up. "I would write stories sometimes and they would end up being unintentionally funny. When you're miserable, it can be funny. That's something my dad told me."
He's right. Cazzie's series focuses on a girl obsessing over a breakup, in both an extreme way (she's concerned with "winning" this split), but in a relatable way, too (who doesn't want to look better off post-breakup?). Cazzie says she was inspired by an experience she had with some friends, but also looked toward the younger generation when making Remi obsessed with social media perception.
"The younger you are, the more obsessed you are with social media," she says. "They just have really funny priorities. When you're at a restaurant and seated next to a group of young girls, it's funny to overhear them discussing such idiotic things."
There's no *real* judgement here, though: "I talk about all that too. I'm not innocent." (Same.)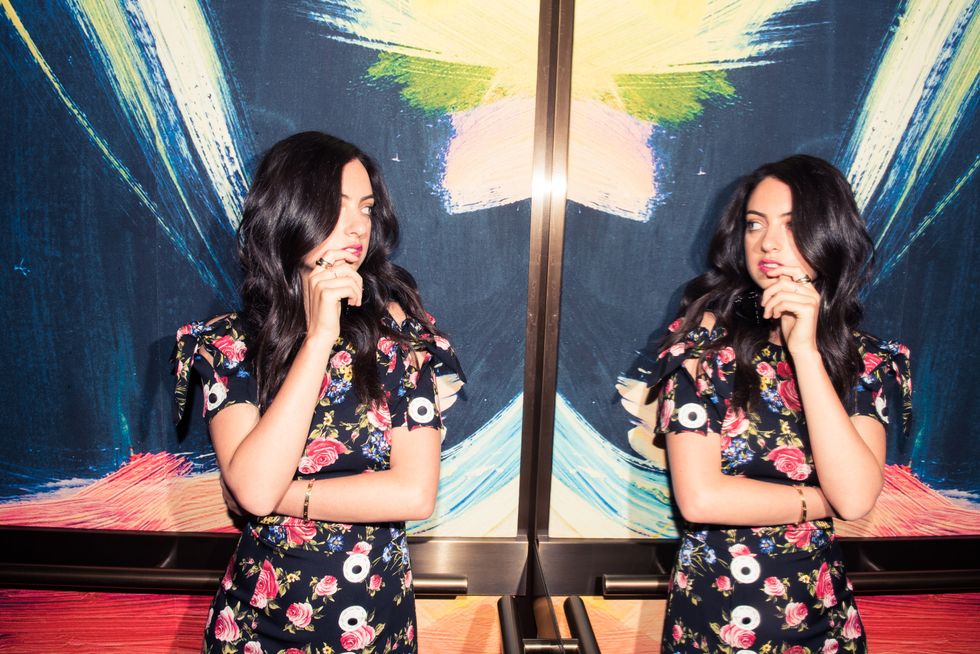 Despite her growing fanbase, Cazzie's not big into being in the spotlight. "I'm barely in the spotlight," she says. "And even that barely terrifies me." The main concern for her? Being misjudged as someone she really isn't.
"When my Instagram first gained a little bit of attention, people were like, 'Oh, this rich kid of Instagram.' It was uncomfortable because that's so not what I want anyone to think about me. But I was like, what am I supposed to do? Instagram me taking out the trash?"
Cazzie even admits that trying on fancy dresses for Coveteur's photo shoot at The Whitby Hotel was very much out of the norm for her.
"I'm always really ashamed to wear dresses in my day-to-day life because I never have," she tells me. "When I do, someone will be like, 'Oh, you're wearing a dress! You never wear dresses!' It's too much attention for me. It was nice to have an excuse to wear one and not feel weird about doing it."
But Cazzie vows not to let any sort of self-consciousness stop her. "I'm going to do a few more of these [videos] and see what comes next and feels right for me to do." She also has some ideas brewing for even more content.
"I write down any time someone does something that bothers me but might not bother most people…which is most of the time," she says of her inspiration. "One really funny quote can come in handy and just be turned into a funny situation. When you're always looking out for that stuff, you can kind of get a good amount of ideas."
It seems like Cazzie has a true passion for this type of work, and a natural talent for it, too. So does this mean that the world has another hilarious, must-see David on its hands? Between my chuckling and cackling, all signs point to yes.