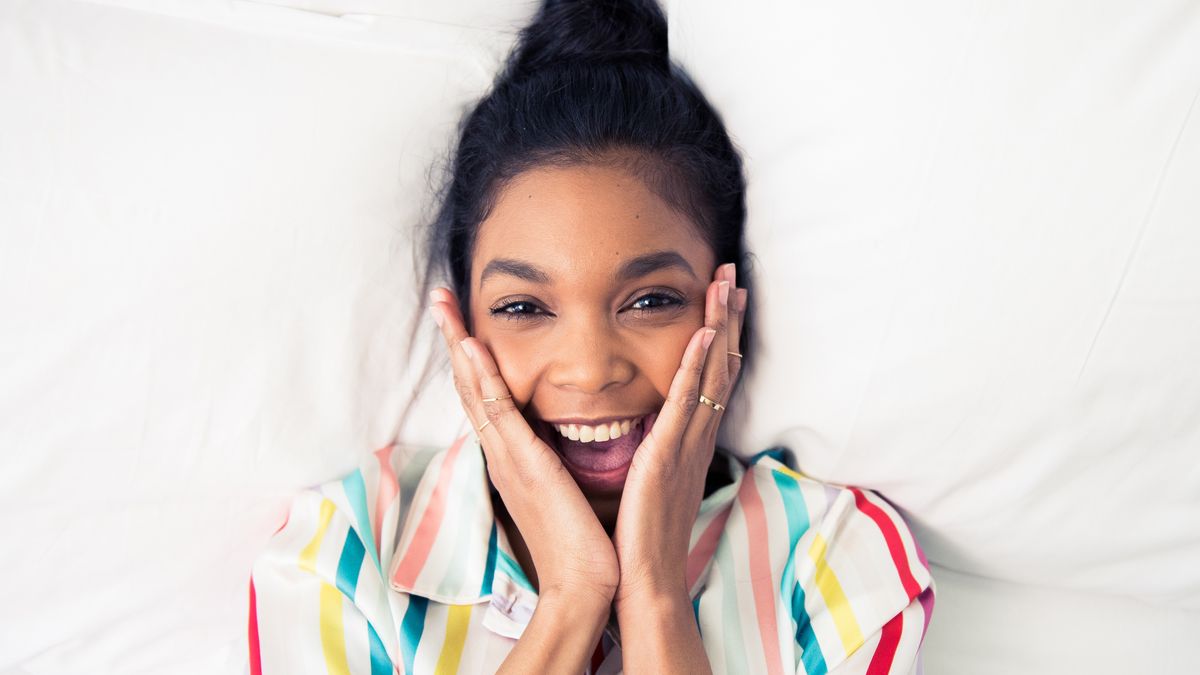 Beauty
Science points to yes!
Meagan Wilson
"If you're sad, add more lipstick and attack," Coco Chanel infamously declared. While inspiring, she was possibly unaware that there was hard science behind her encouraging advice. Whilst many of us can vouch for the transformative confidence boost a made-up face instills, it's due to much more than just vanity.
Research supports the idea that certain beauty products actually make you clinically happier. Floral fragrances trigger a stimulating effect in our brain to release more positive thoughts, aromatherapeutic sleep aids reduce depression, and restorative facials relax a stressed mind. What's more, because they're so encouraging for our mental well-being, it means you can gleefully buy to your heart's content, guilt-free. Now, that's the kind of advice we'll take.
---
Sleep Aids
Why: You likely already know that a good night's sleep has a myriad of positive impacts on your mood; the difficult thing is *actually* getting enough sleep. That said, it isn't just the quantity, but the quality of sleep, too. Having a deep sleep as well as a long one means you're less likely to experience depression and anxiety from sleep deprivation, as well as being better able to cope with stress.
Product: This Works Sleep Plus Pillow Spray is a lavender- and chamomile-infused spray you spritz on your pillow. It not only helps you fall asleep faster, but aids a restless sleep by slowly releasing the scent throughout the night.
Floral Scents
Why: Studies have shown that floral scents, jasmine in particular, can boost your mood significantly. Inhaling the scent of jasmine has a natural stimulating effect on the brain by increasing cognitive-emotional responses, which, in turn, increase positive thoughts. The result is that you feel more energized and better able to deal with stress.
Product: Jo Malone White Jasmine & Mint Cologne is a fresh floral with a citrus twist. D&G Light Blue and See by Chloé also have fruity floral notes that come alive in the heat of summer.
Red Lipstick
Why: Turns out, Chanel was onto something. Studies have shown that red lipstick boosts confidence. A study by cosmetics giant Procter & Gamble came to the conclusion that women who wear lipstick post twice as many selfies as women who don't and are therefore (theoretically) more confident. The study also found that women turned to a statement red when wanting to make an impactful presence in meetings or presentations and, interestingly, were perceived to be more competent than those bare-lipped.
Product: The key to finding the perfect red lip for your skin type is matching it to your undertone. If you have cooler skin tones, look for blue-based lip colors in your desired finish. Alternatively, if you're warmer-skinned, go for orange-based shades.
Facials
Why: Most who've been lucky enough to experience one know a restorative facial feels uber-relaxing, but it's not just the sweet-smelling oils that do it. Research has shown that the human touch alone improves positivity, as it's the first sense we develop in the womb and therefor a source of comfort. It's the primary language of compassion and has positive emotional benefits.
Product: Look for massage-based aromatherapy facials rather than equipment-led ones to get the full benefit of touch and invigorating scents.