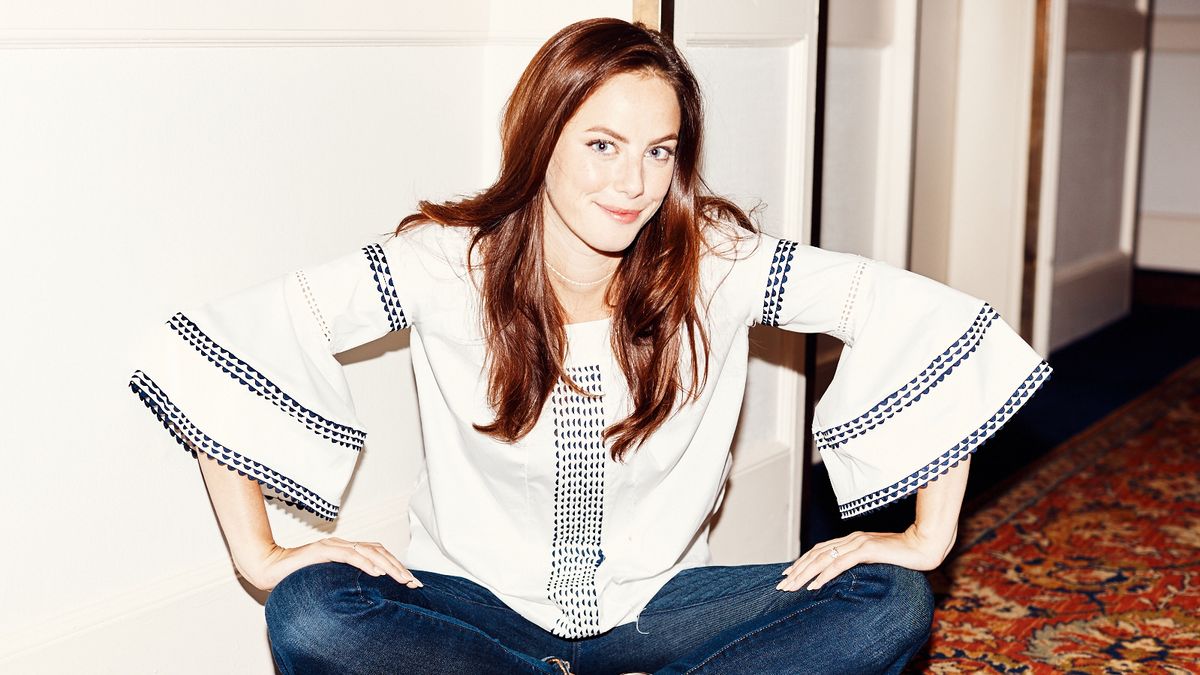 Celebrity
Kaya Scodelario says she re-wears it all the time.
Weston Wells
Kaya Scodelario may be the star of summer's big blockbuster, Pirates of the Caribbean: Dead Men Tell No Tales, but she's surprisingly chill at our photo shoot and interview. As the actress casually strikes a pose in the hallway of her hotel, she gushes about her family, admits she loves a good lager, and says she can't wait to fly back home for a friend's wedding tomorrow. It's as if we're just hanging out, laughing with one of our pals or coworkers—who also just happens to be pals and coworkers with Javier Bardem and Johnny Depp, too.
Perhaps the best way to describe Kaya's laid-back-ness? She has no problem re-wearing the Urban Outfitters dress she wore while getting married at her town hall, and says she ate pasta in between takes for the film. Naturally, she's a girl after our own heart, so we put together this handy primer on reasons to love her, below.
---
On the Movie
---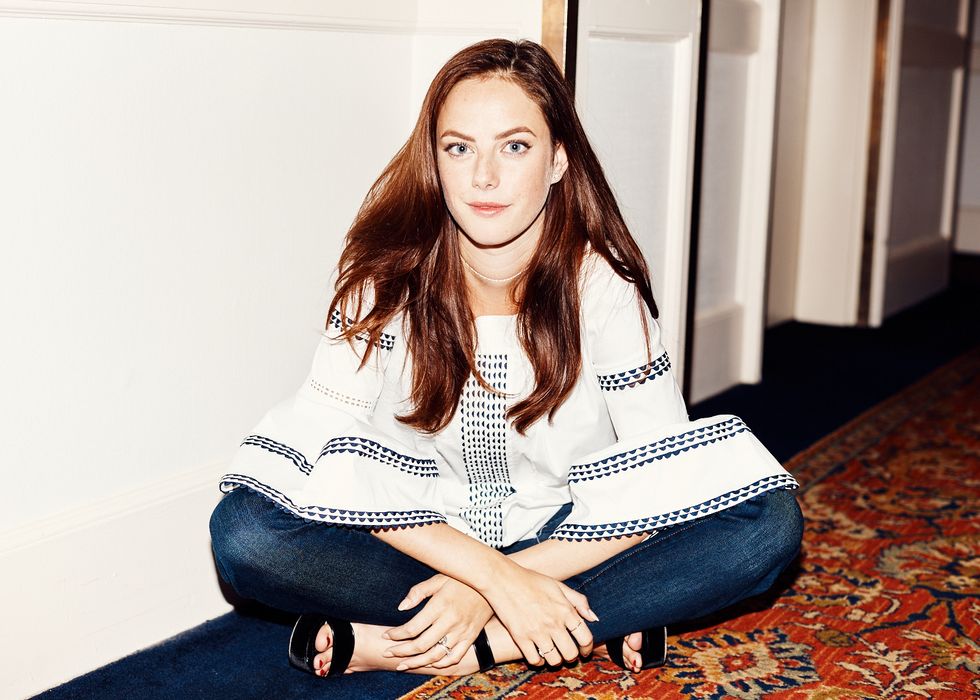 Kaya Scodelario photographed by Weston Wells for The Coveteur
She doesn't believe in ghosts:
"I don't believe in ghosts necessarily, but my mom is Brazilian, so she's super superstitious. They have all these, like, weird little things, and she taught me this little rhyme that you do if you lose something. Then if you find it, you then have to jump up and down three times afterward. To this day if I lose something, I will say the rhyme and jump up and down three times. I make my husband do it. I make my friends do it. I, like, take it very seriously."
It wasn't that scary seeing people in costume:
"They're dressed really scarily, but then you see them eating a sandwich or drinking tea, and that kind of throws you off, and you're like, 'Ok, that's just bizarre.' Or like FaceTiming home, which is my favorite thing to watch extras do."
Her husband now knows how to tie a corset:
"[Costume designer] Penny Rose is a genius—she's been with the Pirates franchise from the very first film, and she really knows what she's doing. But you cannot avoid the feeling of, you know, wearing a corset all day for six months. It's not fun. I used to get my husband to secretly loosen it in the back at lunch time so that I could eat pasta. I was like 'Babe, do it, quick!' So he now knows how to lace a corset, which is very impressive because he's worn the same t-shirt for four years, so it's like his big takeaway from Pirates."
Some Tidbits About the Star
---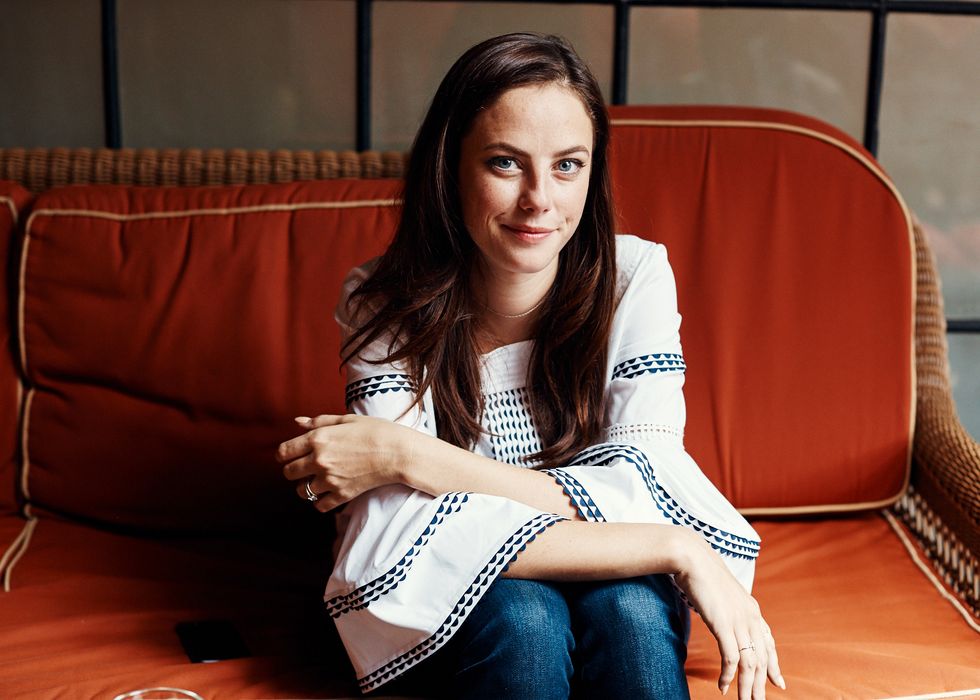 Kaya Scodelario photographed by Weston Wells for The Coveteur
Her dog is her best friend:
"I have a French bulldog who's my world. He's four, and he's just like my best buddy. He's been through everything with me. We've moved apartments three times, we've moved countries, he vetted my husband, he's okayed the baby. He's my go-to guy."
She was accidentally an extra once:
"I was, accidentally. They shot Notes on a Scandal, the Judi Dench film, at my secondary school, and I was randomly in the back of the scene and had no idea. I was just at school in the canteen eating, and then I was in the movie! The back of my head, but still. At 14, it was very cool. They were just filming around the school and we were told to ignore it, but apparently they caught me in the back."
She re-wears her town hall wedding dress (which was from Urban Outfitters!):
"I love it, I wear it all the time. Just, like, to lunch. It's just a nice summer dress. It's kind of light and a shift dress, so it was great in the summer in New York. I was not prepared for how hot it gets."
Her perfect 3-course meal is a delicious mix:
"My appetizer would be a prawn cocktail, even though that's, like, simple, but I love a good prawn cocktail. And the main dish would be adlfja, a Brazilian black bean stew with pork and rice. And the dessert would be...oh my god...a Twinkie. I love Twinkies."