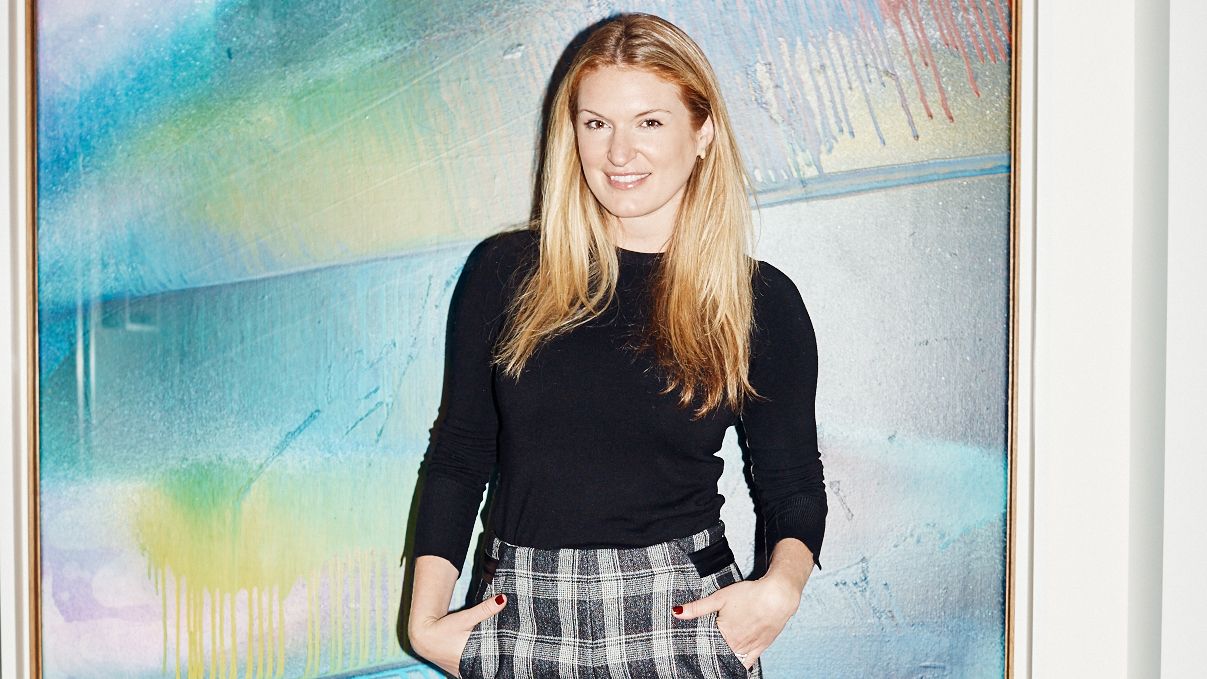 Career
Her family's organization helped Moonlight get made and Viola Davis, Andrew Rannells and Anna Gunn start their careers.
Weston Wells
Sarah Arison never wanted to follow the path of her grandparents. They loved art, and she just didn't get it. When her grandfather died, she went to France to help her grandmother cope. They found themselves at the Musée d'Orsay and saw Monet. They traveled to Giverny and saw Cézanne's studio, and went to the attic where Van Gogh spent the last 69 days of his life. It was there that he poured all of himself into 71 paintings before ending his own life.
Arison wanted to be a geneticist up until that moment in the attic surrounded by art, affliction, and passion. "Being around that and learning more about the lives of these artists...I really started to love and appreciate art," she tells me while sitting under a Taryn Simon photo, a room away from a John Baldessari. She talks about up-and-coming artists Zoë Buckman and Shantell Martin. Her bookshelves are filled with books on Frank Stella, Alex Katz and Cindy Sherman.
Sarah is the president of the Arison Arts Foundation, which provides support and grants for emerging artists and the institutions that help cultivate them. She sits on the board of MOMA PS1, The Brooklyn Museum, Americans for the Arts, the American Ballet Theater and the New World Symphony.  She is also a trustee for the The National Young Arts Foundation, which was founded by her grandparents. It's dedicated to identifying and nurturing the best creative youth in the country. Out of the annual 9,000 applications, 170 students ages 15-18 will be chosen as finalists.

---
Those who are lucky enough to stand out from the rest will find themselves whisked away to Miami for a week. Sarah describes the YoungArts week as a creative haven. "This is a week where Plácido Domingo will teach voice and Baryshnikov will teach dance and Frank Gehry will do design, and Redford will do film."
At a gala, a mother came up to her and told her about her own son. "'I used to yell at my son when he would come home from school and sit on the floor and draw! Seeing him surrounded by all the kids here, I realized that his art is his real work.'" Sarah felt the impact of her work in that moment, and she's since dedicated her time to discovering and nurturing the young artists, filmmakers, and actors of tomorrow.
YoungArts winners learn from luminaries in their respective fields. They're introduced to other artists, encouraged to collaborate, and given the resources to take their work a step further. They are put in front of colleges and offered scholarships. They are told that they are valuable, that their work is needed, and that art and real work are one and the same.
Sarah Arison photographed by Weston Wells for The Coveteur
When Arison watches an artist reach his or her potential and the art continue to develop, she can't contain herself. "Watching their careers...helping where I can. Every time I see them it makes me cry." She is similarly affected when thinking about the opposite end of the spectrum, where art is seen as an extracurricular, where arts funding is being cut, and where art school and classes aren't given weight. Where children are told to be doctors and lawyers and accountants instead. Where nothing else matters and where art is extra.
She doesn't understand those who think tax money shouldn't go to the arts and who suggest buying tickets to a Broadway show is enough. "My response to that is, okay, look at the outfit you're wearing—fashion designer, artist! The television show that you're watching—that's a writer, a filmmaker, an actor—artists! The house that you're living in—architect, artist! Every single moment of your life is touched by an artist." Sarah grabs at a pillow on her couch, frustrated, starting and stopping different sentences before letting out a heavy sigh instead. "I just don't get it."
Sarah Arison photographed by Weston Wells for The Coveteur
YoungArts is actually partially to thank for Moonlight. Tarell Alvin McCraney, whose story was the basis for the script, Nicholas Britell, the composer, and Andrew Hevia, a producer, are all YoungArts alums. Director and screenwriter Barry Jenkins also met them through Borscht Film Co., a group founded by Youngarts alumni in Miami.
Even though Moonlight won an Oscar and other YoungArts alumni range from Viola Davis to  Andrew Rannells, Sarah and the organizations she works with are focused on what's next and the names you don't know. Yet.
Sarah Arison photographed by Weston Wells for The Coveteur
When she gets up from the couch, she talks about all the artwork with which she surrounds herself. A majority of them are by artists who aren't household names–unless of course you're part of the Arison household.
"Every piece here, I know the artist, have been in their studio, have spent time with them, and that's how I like to collect." She points to the walls and the coffee tables and the bookshelves. "I love her!" "She's incredible!" "You have to check him out!" In case you couldn't tell, Sarah Arison believes in the arts, and she's helping everyone else, one soon-to-be-discovered artist at a time, believe in them too.