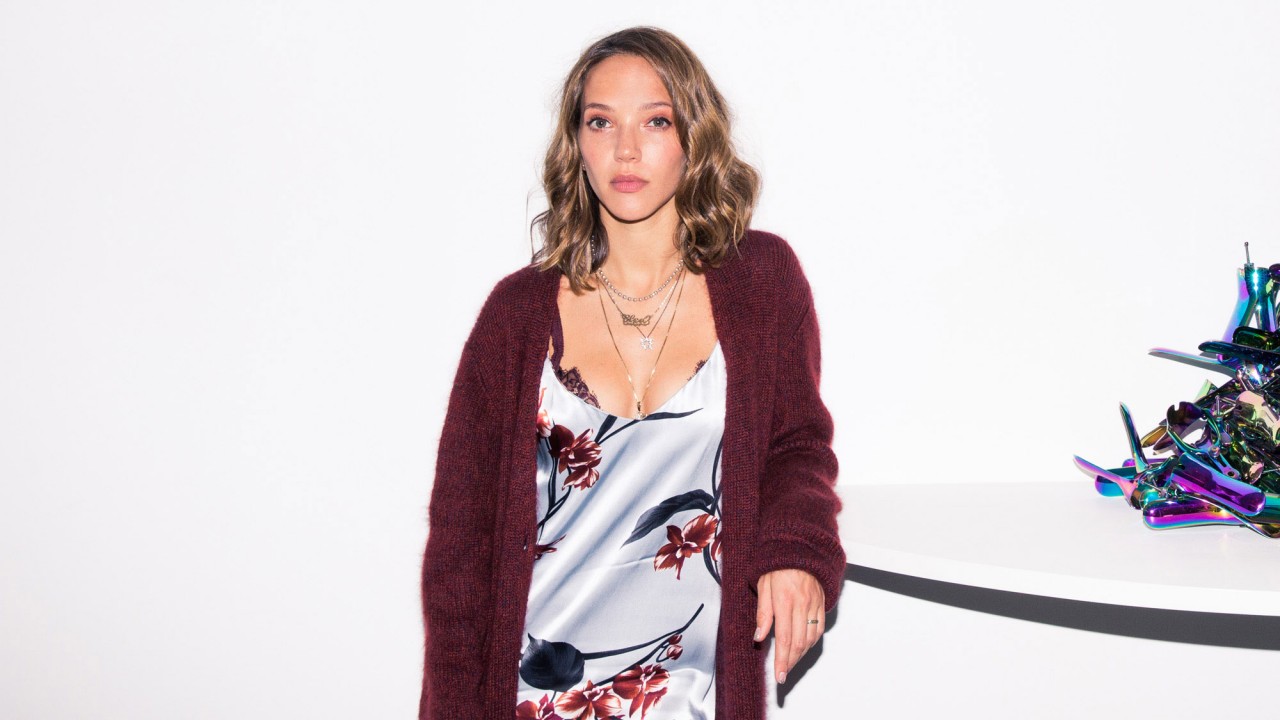 The Four Piece Outfit That Will Have You Looking Effortlessly Cool Always
These items will make you look as great as the endlessly creative and very british Zoe Buckman.
Zoe Buckman is one of the people you want to be more like immediately after meeting her. She's an activist artist who stands by her feminist ideals (you may have seen a billboard of hers leading up to the election that read: "Grab him by the ballots.") She also has a British accent and exemplary style.
When we first met her, before changing into an incredible red two piece, she was wearing something "she just threw on." The thing is most people who say they just threw something on also manage to look incredible in it and make you realize you couldn't have "thrown" that outfit on—never the less actually put it together if you tried. Which is why we had to ask exactly how she gets that effortless perfection. Her go-to look is surprisingly easy and predictably funky yet fashionable. Here's how to get it in just four steps (one of them even involves sleeping in).
Sleep in the perfect silk slip...and then wake up and wear it out
Nothing is better than sleeping in clothing that you then wear out. And if you haven't tried it before, do it immediately. One of Zoe's exhibitions, "Every Curve", used lingerie as a medium but it's also something she's been searching for on Ebay and in thrift stores for years as a base for an evening look.
Layer with a kimono for some coverage and added cool
Zoe has four kimonos that she rotates through. She likes to have a little silk slip or mini dress underneath to feel sexy and confident but this staple helps her feel protected and covered. They also add that extra something to every outfit; whether it be a pop of unexpected color or pretty embroidery.
Layer on gold chains– the more nameplates the better
It's hard to pick just one favorite piece from Zoe's closet. And although the Marc Jacobs platforms with a leopard strap on top and a sparkle fire on the bottom is incredible we'd have to say her gold chains are impossible to beat. They solidify her opinion that the '90s were the best. They are also stacked with meaning from the Cleo nameplate for her daughter to the #1Mum charm she found on Ebay.
Throw on a sweatshirt or a hoodie to really look like you just "threw this outfit together"
We're not putting "threw this outfit together" in quotations because Zoe didn't actually look like that. She very much did and we are very jealous. We put it in quotations because the reality is that we will never look as carefree and as perfect as she did which is why we are sitting here writing this list. But throwing on a hoodie over everything will make other people think you just rolled out of bed looking incredible. And isn't that what we're going for anyway? Plus, comfort!!