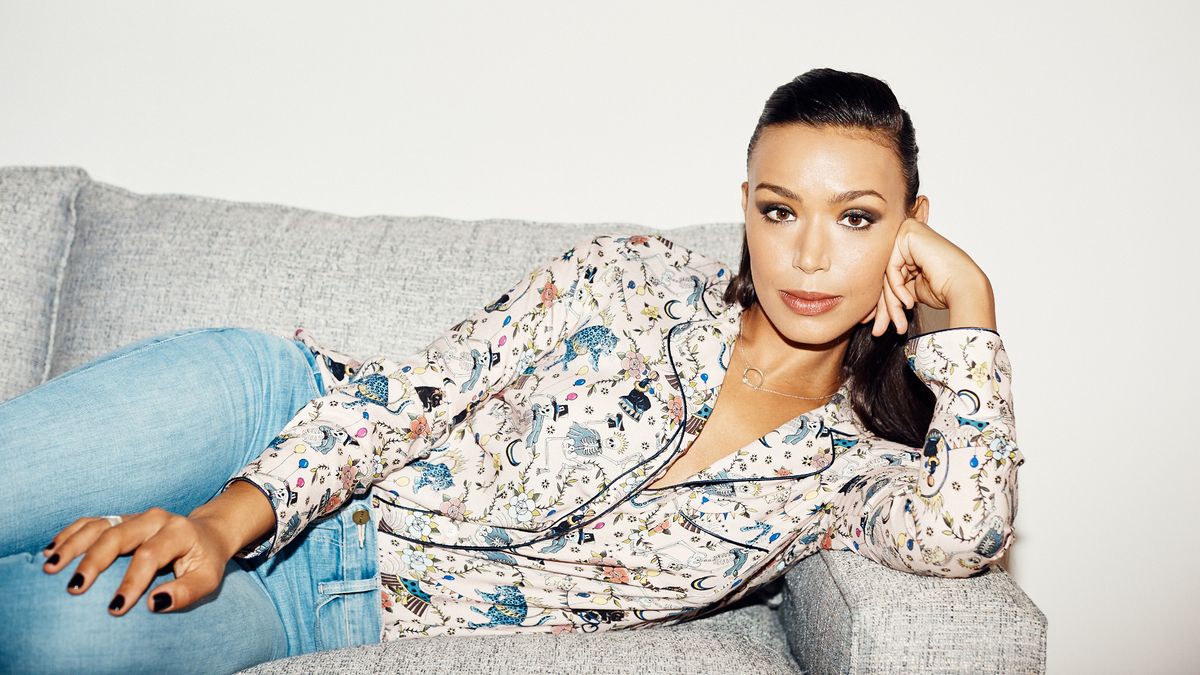 Celebrity
Ilfenesh Hadera Waitressed for 10 Years before Her Big Break
Plus 9 other fascinating facts about the Baywatch star.
Weston Wells
It was more than a year ago when we first saw Ilfenesh Hadera pop up on our Instagram feed, appearing in a sweet post by her Baywatch costar Dwayne "@therock" Johnson. "She's a 5'11 walkin' smokestack with legs for days," the caption read, while announcing that she'd been cast as his love interest. "Smart and tougher than new rope...just the way we like 'em."
It was cute. And intriguing. Obviously, we needed to know more.
But Ilfenesh—a born-and-bred New Yorker that you might also recognize from the show Billions—says she was surprised to get such a glowing shout-out. "Dwayne made me sound like the best version of myself," she told us when we met up at The James New York - NoMad, explaining that people started looking at her differently after that. "He was so complimentary and supportive and excited about [me being in the movie]."
Still, Ilfenesh is more than her good looks, and while she has a résumé full of fun projects, you'll likely see a lot more of her after this summer. Read on for 10 facts about this season's breakout star—this way you can say you knew her when.
---
1. She Prefers Bikinis Over One-Pieces
"I like a bikini. I'm very long-waisted, so I have trouble finding one-pieces. They are not the most flattering."
2. But Isn't a Fan of the Current Swimsuit Trends
"Everything is like, a thong. There are children around, you know? I'm not comfortable standing up on a beach with my butt out and my grandmother there next to me. Well, my grandmother is fine, but my uncles don't need to see my butt at the beach. Luckily, Dayna Pink designed our [Baywatch] costumes. She used almost a wetsuit material, so it was really good at holding you in where you need to be held in."
3. She's Into Working Out
"I like a mix of cardio and light weights. Whatever we can do in an hour to make me feel as good as possible. [My trainer is] like, 'Should we focus on any body part today?' I'm like 'Yea, why don't we do legs, abs, and arms?' They're like, 'Okay, we only have an hour…'"
Ilfenesh Hadera Photographed by Weston Wells for The Coveteur
4. 
And Hopeful for a Baywatch Sequel
"It's been a year now since we wrapped, and we've kept in good touch. It's not like my restaurant job, where it's like, 'Oh my god, this is my best friend,' and you move on to another restaurant and you never talk to them again. We see each other whenever I'm in L.A. or whenever they are here. I am very much looking forward to shooting a Baywatch 2 with them, if that happens. I'm ready to put that bathing suit on and get with my friends again."
5. 
She Attended a Theater High School
"I think that is part of why there was no plan B. I spent those years—13 to 17—devoted to acting for four periods a day. I didn't even stop to think about anything else I [might] rather do."
6. 
She Once Considered DJ-ing
"When I wasn't working a lot, I went to DJ school at this place called DubSpot on 14th Street. I had a great time. I wasn't very good, but I was like, 'Alright, well, if acting doesn't work, I love music and I love introducing people to new music, so I could be a DJ.' It was when all of these hot female DJs were playing Marquee and all of these wild mega-clubs and making thousands of dollars a night or something."
7. 
She Was a Waitress for 10 Years
"You pay your dues. You meet some great people, and it teaches you how to deal with long hours and grump[y] people. It is definitely not glamorous work. I was the low man on the totem pole at The Standard for a year, so I was closing every night that I worked. The things people would say to me if turned away…I can't even repeat. You take a real bashing."
8. 
She Lived with Her Parents Until She Was 30
"They have a huge apartment on a great block. We are so close. I was like, 'If I'm going to be living with roommates, I may as well.' Financially, it lifted a huge burden, and that allowed me to focus in a way that I wouldn't be able to otherwise. No shame in living at home. If it propels you to where you need to go, you do what you've got to do."
Ilfenesh Hadera Photographed by Weston Wells for The Coveteur
9. 
Now She Lives in Her Childhood Home
"My dad—God bless him—it's not easy to sublet a place for 15 years. I'm sure the landlords were looking for an excuse to get him out because the rent is still so reasonable for New York, it's insane. It's a huge apartment. I'm trying to figure out how to fix it up. We don't own, we rent, so how much money do you want to spend on a place that's not yours? It's all of these lovely New York City predicaments."
10. 
She'd Rather Take the Subway Than Uber
"Subway, all the time. It's just the fastest way to get around the city. If I'm not taking the subway, it's a yellow cab. I still haven't come around on the Uber thing."