WWWRN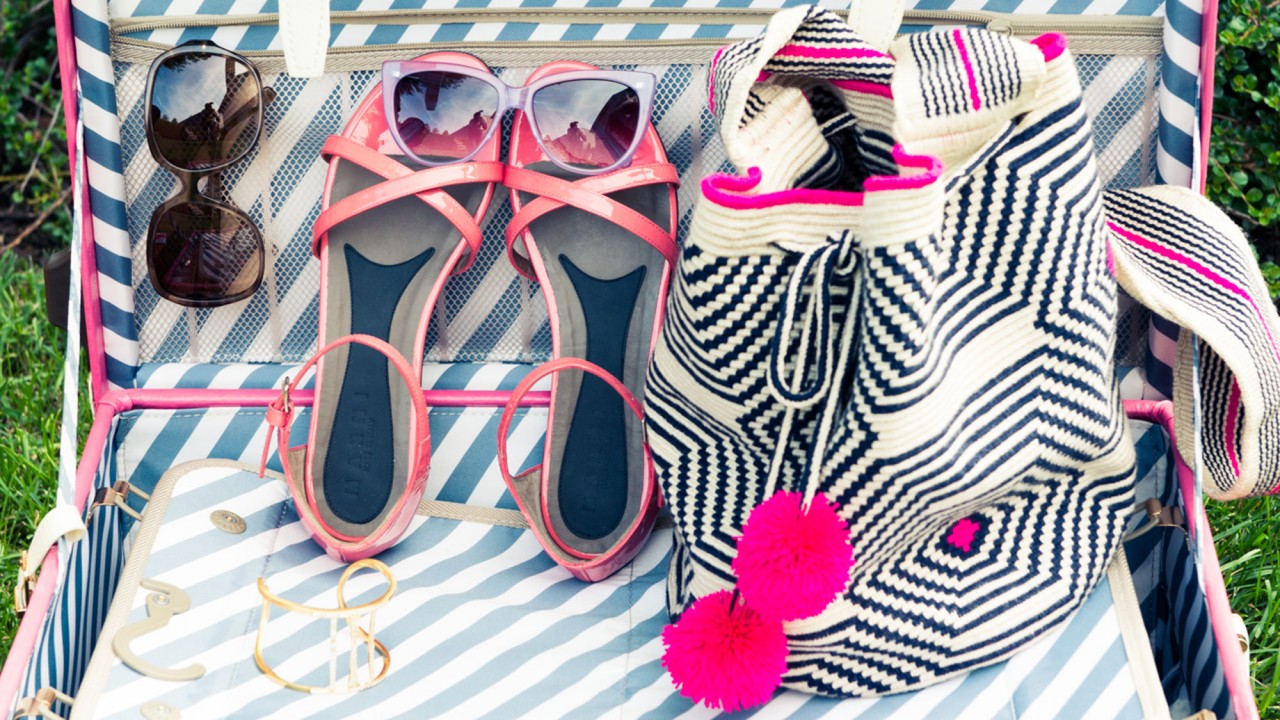 What We're Packing for Memorial Day Weekend
You can never have too many bikinis, right?
Memorial Day weekend is here, and that means it's the unofficial start of summer, finally! We're getting ready to celebrate the extra time off work by taking a mini vacation, lounging around a friend's backyard, and generally basking in the sunshine. Warmer weather also means our wardrobes are in need of a little refresh, so here's everything we're packing in our (admittedly overstuffed) suitcases.
---
Hannah Baxter
Assistant Editor
1. Thierry Lasry Cat Eye Sunglasses: I'm determined to up my sunglasses game this year, and I think the holiday weekend is the perfect excuse to invest in this Thierry Lasry cat eye pair. The striped blush edges make for the ideal vintage throwback. Now I just need to borrow a convertible to complete the look.
2. Everlane Japanese GoWeave Mini Dress: I cannot wait to live in '90s-style minidresses all summer long, and this classic black version from Everlane is a must-have for showing off my in-need-of-self-tanner legs. Plus, the price won't break the bank, so I can stock up in both black and white.
3. LOQ Altea Patent Sandals: THESE SHOES. My chunky heel and patent leather dreams come true. They'll keep me from sinking into the grass as I sprawl out in my friends' Brooklyn backyard, sipping a vodka gimlet or three.
---
Jodi Taylor
Assistant Editor
1. Sensi Studio Frayed Straw Clutch: When on an island, ditch the leather and go for straw instead.
2. Mara Hoffman Striped Terry Bikini: This long weekend I'll be in St. Barth's which naturally means that I'm going to have about five to six bathing suits coming along for the ride. I'm currently lusting over this Mara Hoffman set, and I'm thinking it's probably in my best interest to add it to the mix.
3. Acne Studios Silver Mirror Sunglasses: Tell me that these aren't the most perfect lounge-by-the-pool and tan-on-the-beach sunnies?
---
Meagan Wilson
Editorial Manager
1. Celia Dragouni Kaftan: The ultimate luxurious perma-vacation getup.
2. Gucci Sunglasses: Please point me to literally any *other* pair of sunglasses I am expected to wear this summer?
3. Balenciaga Denim Jacket: You know how everyone loves to roast fashion people for wearing jackets propped up on their shoulders? Something about spending $1,000 on a denim jacket that deliberately sits off the shoulder feels like a really delightful middle finger to that.
---
Noah Lehava
Senior Editor: Health & Wellness
1. Made by Dawn Bikini: I stockpile bikinis like lipstick—a different shade for every day. I love how girly but not-too-sweet this one is.
2. Karen Walker Babou Cat Eye Sunglasses: I also hoard sunglasses, so give me a reason, and these will be mine.
3. Yasmine Bamboo Bag: Big bags are like the antithesis to summer. I love how I can carry this bag and its minimal capacity for contents—phone, credit card, lip gloss, what else do I need?—looped between my thumb and middle finger.
---
Laurel Pantin
Editorial Director
1. Theo Fennell x Gemfields Ring: Since this long weekend isn't actually long at all, I'm trying to pack as much punch as I can into a teeny weenie bag. Jewelry ticks the "pack a punch" box nicely, and lately I've been really interested in fine pieces made from Gemfields gems. They're as ethically sourced as it gets for colored gemstones, and all extremely high-quality. I love this Theo Fennell ring because it looks like a classic Italian hunk of gold-and-emerald perfection...period, I guess. I just love it.
2. Missoni Bikini: Weather gods permitting, I'll be spending the entire weekend in a pool in East Hampton wearing this.
3. Louis Vuitton Overnight Bag: In the fantasy version of my life, I pack for everything in this.
Part of the series:
WWWRN