WWWRN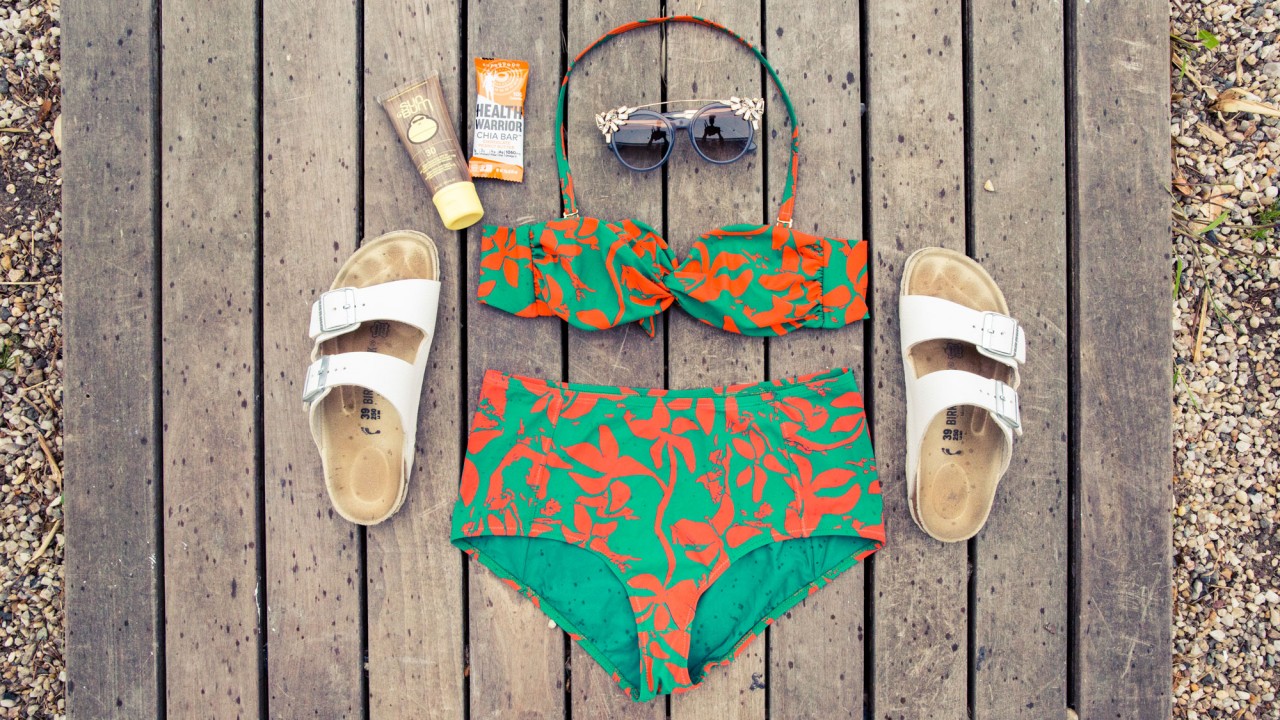 7 Editors Share Their Summer Wardrobe and Beauty Essentials
The shopping list that will get you through to August.
Summer isn't all ice cream cones and denim shorts (although we could go for both right now). Summer is also the unwelcome sweat stain on your t-shirt and the fact that you aren't as tan as you want to be just yet (because you've been applying SPF like a crazy-person, obviously). So even though lazy summer days sounds like a lovely cliché, getting ready for the hottest time of the year just isn't that easy. You have to buy pieces that are cute and comfortable. You have to find a way to wear less clothing that is also enough clothing. And on top of all that, you have to find beauty products that won't melt off, but will conceal the unfortunate reality that you yourself may actually be melting. See what we mean when we say it isn't that simple!? Here are the breezy dresses, comfortable shoes and stay-in-place beauty products we can't get enough of as the temperatures get hotter and our dresses and beauty routines get shorter.
---
 Tara Gonzalez
Assistant Editor
1. Pamplemousse Venus Dress: When it's incredibly hot there is nothing more satisfying than just throwing on a dress and being done with an outfit. I love this one because it has so much going on but it's just one piece!
2. Marni Leather and Canvas Flatform Sandals: I only have closed toed shoes in my closet and they are definitely not the most comfortable thing to wear in the heat. I don't particularly like flats (they make my feet feel weird) but I love opened-toed platforms more than anything. They make me feel like I'm at an outdoor disco. I want to throw on these Marni ones with everything (and go dancing, too.)
3. Glossier, Invisible Shield SPF 35: The only time I wear sunscreen is when I'm at the beach, which I always thought was what everyone did, until recently. In an effort to start protecting my skin now, instead of worrying later, I'm going to start with this Glossier Invisible Shield. It smells like lemons, feels like nothing and is tiny enough to fit in every bag I own.
---
 Laurel Pantin
Editorial Director
1. Cornetti Sandals: After dozens of seasons of over-the-top pom-pom-embellished, bells and whistles, everything but the kitchen sink sandals, I'm really feeling something a little more minimal. I love how these kind of disappear into my legs.
2. MUN Anarose Hydrating Rose Toner: I love everything in this mostly-green line, but the Hydrating Rose Toner and the Toning Body Serum are musts for summer. The toner is a light, rose-scented spritz, and it cools me down by about 200,000%, no matter how disgusting it is outside. The body serum is perfect after a shower—it smells amazing and gives my legs that slick look that makes them seem miles longer.
3. The Sleep Shirt: The Sleep Shirt, or, as my husband calls it, "the swim dress" (because I always wear it when there's going to be swimming!), is my absolute top must-save-in-a-fire pick. I wear this dress nonstop in the summer—I'm wearing it right now, as I type this. It's a great city dress, beach cover up, I've even worn it to fashion week. And to think it's pajamas!
---
 Hannah Baxter
Assistant Editor
1. Kara Small Backpack: I feel like a chic teenage dream with this bubblegum-pink Kara backpack. It's the perfect grab-and-go accessory when the temperature in New York makes it unbearable to be outside for anything other than festivals, food markets and trips to the beach.
2. Birkenstock Arizona Leather Sandal: Any Birkenstock haters out there just haven't experienced the joy of these old school slip-on sandals. They have a Cali, surfer vibe, aka my entire summer wardrobe goal, and they honestly go with everything from cutoffs to sundresses. Come over to the dark side with a pair in white leather, my fave.
3. Certain Dri Roll On Antiperspirant: Nothing ruins a cute summer outfit faster than pit stains. Since I sweat like an Italian mobster even on a good day, I stand by this *clinical strength* roll on. If you're looking for natural ingredients, this is definitely NOT the choice for you, but if you just want to keep your t-shirts dry, then this is a must-have.
---
Jodi Taylor
Assistant Editor
1. Nike Air Max 97 OG Silver Bullet: Part of the beauty of warm weather is that you can walk everywhere, right? For this reason, shoes are the most important accessory to me in the summer. I can see these Air Max's taking me anywhere and everywhere that I want to go, while keeping me stylish and comfortable. Win-win.
2. Kat Von D Everlasting Lipstick in Petal Pink Nude: My makeup becomes pretty minimal this time of year—a little bit of highlighter and lipstick is all I need. I kid you not when I say that these Kat Von D Everlasting Lipsticks do not budge. They'll even stay on throughout an entire lobster dinner (I may or may not be speaking from experience here.)
3. Gucci Printed Silk Blouse: I'm currently working on adding color and prints to my wardrobe and let me tell you, it's no easy feat. But thanks to Gucci, I can get both in one go with this incredible silk blouse. Garden parties, here I come.
1. Laura Mercier Tinted Moisturizer Broad Spectrum SPF 20: Once the warmer weather rolls around, I really can't be bothered to put on any makeup—but I *do* like to have a little coverage (unfortunately, summer equals sweat equals blemishes, which I then need to conceal). I've already begun using this tinted moisturiser in place of heavier powders and liquid foundation, and honestly, I'm so pleased with the result (and the time I shaved off my routine).
2. Isolda Tropical Playsuit: The thing I love about summer? Getting dressed is sooo much easier for me. You can throw on something as simple as a romper—like this colorful option, which I might even layer over a ruffled shirt!—and be d.o.n.e. 
3. Tabitha Simmons Leather Perforated Sandals: There may be about 20 pairs of shoes in my closet, but I still tend to wear the same ones over and over again. I'm thinking a white sandal with little laser cutouts would make a great everyday pair of summer shoes.
---
 Andee Olson
Head of Technology and Site Director
1. Three Graces London Maxi Dress: I am headed to Spain in a few weeks and am stocking up on light, airy dresses to wear around town. This dress fits that perfectly, plus it's white, and my motto is you can never have too many white dresses.
2. Oseree Triangle Bikini: Every summer I search the internet for the perfect bathing suit and this year was no different. I took a cue from Bella Hadid and picked up this red bikini from Oseree. Bonus: it has a little sparkle to it, too!
3. Anastasia Beverly Hills Brow Gel: Makeup is simply not an option during New York summers—it would be completely melted off by the time you even make it to the office. So I just swipe on a bit of Anastasia Brow Gel each morning and head out the door.
---
 Noah Lehava
Senior Editor: Health and Wellness
1. Poolside Bag: I have been on a perpetual lookout for a great beach/pool/super-summer-y bag for what feels like forever. Then I met Ashleigh in the Bahamas last week on a retreat and she was toting around the most perfect rendition—turns out they were from her personal brand. I placed an order on the spot right on the beach.
2. Khaite Striped Dress: No sock, no bra! That's my MO all summer long.
3. Paula Cademartori Sandals: First off, Paula is one of my favorite humans ever, so she can do no wrong in my books. Secondly, these follow my no sock rule and are so cheeky and cute.
Part of the series:
WWWRN