Celebrity
The multi-talented musician gave away his go-to karaoke song and told us about his love for interior decor.
What do you do when the multi-talented singer-songwriter and producer JMSN comes to town? You go bar-hopping, of course. Born in Michigan, the indie R&B artist now resides on the West Coast in L.A.
If you've been a fan of his since day one (Hi, that's us!), you'll know that he was signed to Motown Records for a short stint before breaking ties with the label. "You get more freedom, artistic freedom, everything," he said on being a solo artist. "When you want to put something out, you can put it out whenever you want. You can get your own tour going whenever you want, you can decide when albums come out." JMSN has been putting out music for about five years know, but he has always known that he wanted to be in the music industry. He was writing music and learning guitar from a very early age. "I took a couple of [guitar] lessons and [learned] from buying tab books of Jimi Hendrix and trying to learn those and other songs," he told us. "That's the best way, I think."
With a name taken from an infamous Irish Whiskey (without the vowels, of course), and a tour called Drinkin' With JMSN (which he is currently on), it was obvious that we needed to visit a few bars once we linked up with the musician in NY, so we hopped around the Lower East Side drinking JMSN's second drink of choice (the first being Jameson): old-fashioneds (and a few vodka sodas, because variety). He hit us with a few facts we didn't yet know about him (hint: he's quite the interior decorator) and even humored us by playing a round of Never Have I Ever. Don't act like you're not interested in hearing exactly what a touring musician has and hasn't done. Keep scrolling.
---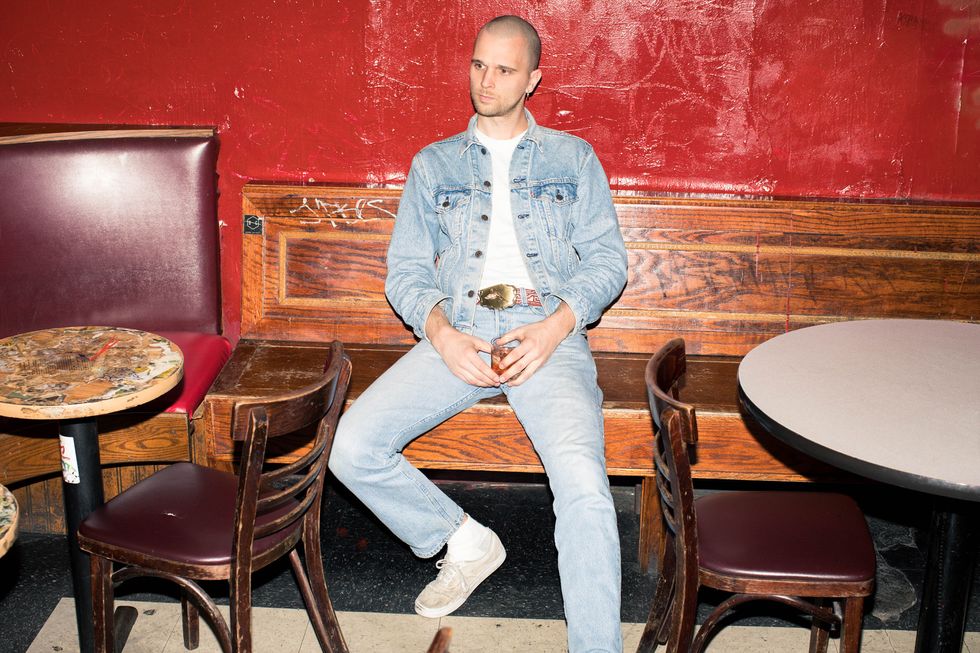 On how there are no favorites when it comes to cities to perform in:
"I like them all—I just like playing, and I like how different each place is. It's all the same to me because I get to play. You know, you can't pick your favorite child. It's the same idea."
On if he gets nervous to go onstage:
"I think I get more anxious. I'm like, 'Can we just get this going already?' [Pre-show] I don't like to talk to anybody. I just need time to not be bothered. I drink after."
On his favorite song to perform:
"'Patiently'. It's on the new album. It's just my favorite song I've ever written."
His only talent isn't music:
"I do paint every once in a while. I usually paint, I've noticed, when I get off tour and I just want to have anything to do that isn't music for a little bit. I'll paint, and I get into redecorating my place. Interior decorating is the most fun thing. It is an artistic thing."
On his dream collaborators, dead and alive:
"Dead would be Prince, for sure. Alive, R. Kelly. We could do something very character-driven. Like him and Usher doing the 'Same Girl' thing, that was so good. Or him and Ron Isley, when they did the 'Contagious.'"
How religion keeps him grounded:
"I think day-by-day is just knowing something is there that you have. I don't know exactly what it is that's there, but there's something. There is something that connects us all. For me, it keeps me grounded—you don't get too ahead of yourself and you're not overwhelmed by everything going on around you, and there's a lot going on. If you don't have some kind of rock in the center, you might get lost real quick. As I got older, I had a better understanding of [religion] and how I dealt with it, I guess you could say, because everyone has their own way of what they believe in. We are all just trying to make sense of what is going on, and we have to tell ourselves, 'Okay, this is what I believe in. This is my foundation.'"
The meaning behind his "Space" tattoo:
"Musically, I think about space a lot. Keeping space in my music, it's a reminder for that. Space in life. Space in general, with everything. Having space is very important so you have room to breath. It's the same with music, give it room to breath."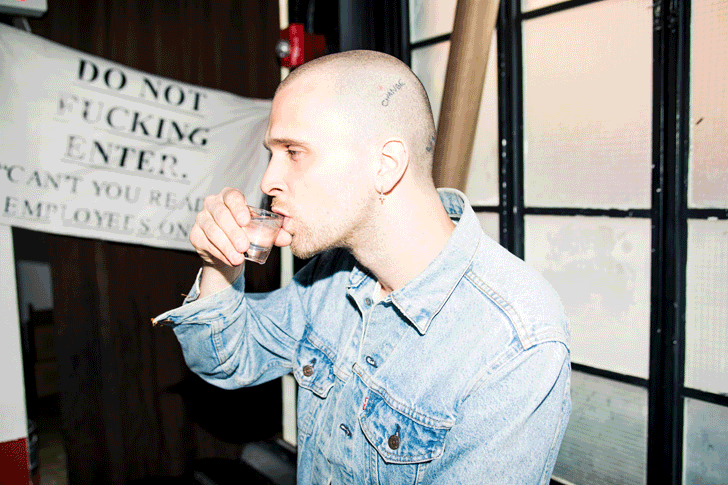 Where we decided to play a round of Never Have I Ever…
Sang Whitney Houston at karaoke: "Yes, I've probably done 'I Wanna Dance with Somebody.'"
Ordered enough takeout for three people when it's only you eating: "Hell yea. I do that often."
Let someone braid my hair: "Yeah. I didn't do the even one. Wait, no. I did do the even one because I didn't want one in the middle. So I did three [braids]."
Had something thrown at me while onstage: "Somebody has thrown a bra at me. Somebody else has thrown a drink, like a plastic cup."
Gone crowd surfing: "Yea, I've done it a couple of times at my own shows, and I also used to go to a lot of punk rock concerts."
Been arrested: "I definitely have been arrested."