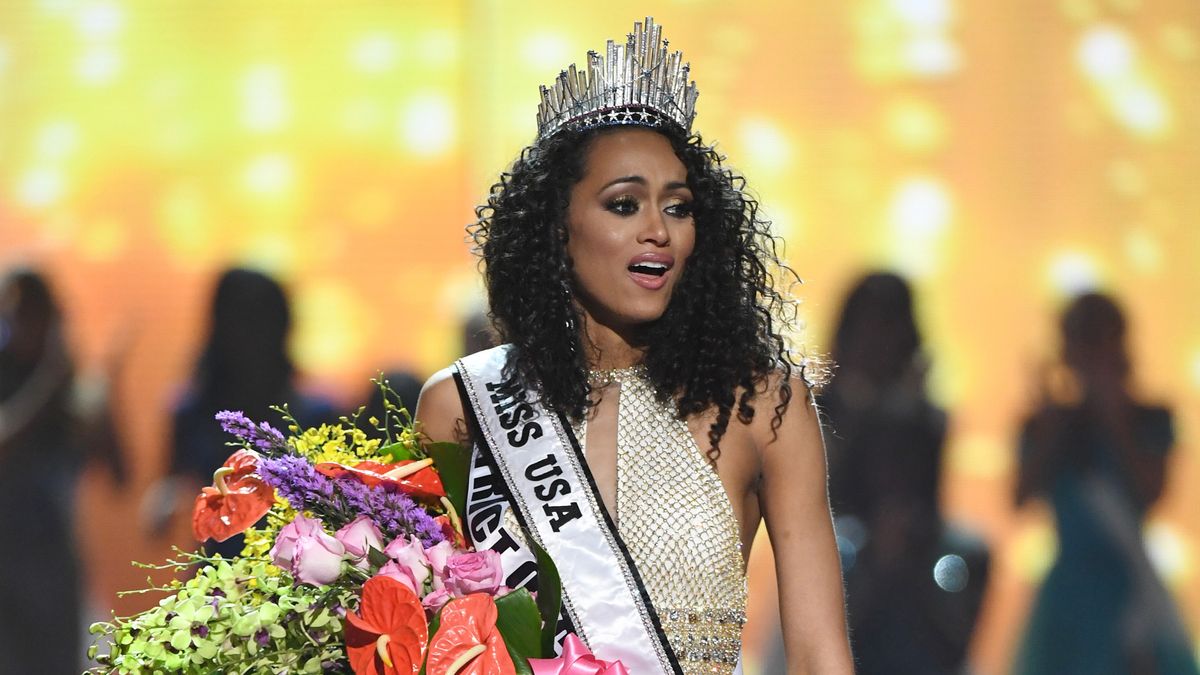 Opinion
Why the New Miss USA's Interview Answers Have Us Worried
Yikes, yikes, yikes...
Every so often we're able to binge-watch, brunch, and fall in a baby animal Instagram hole so deep, we're able to momentarily forget the world isn't all dog videos and Netflix. But then, there are moments that yank us back into reality. Like, say, any time we get a news alert about 
what's happening in politics
 or hear someone's outrageous social views or actually talk to anybody or read just about anything right now. And now, those sobering moments apparently happen while watching the Miss USA pageant, too.
The most recent winner, Kára McCullough, Miss District of Columbia USA, made headlines (and Twitter feeds) on Sunday night, after two of her answers—one on feminism and one on healthcare—went viral. Kára explained that she doesn't consider herself a feminist (she's actually for "equalism," instead of what she refers to as "die-hard, 'I don't really care about men,'") and that she thinks healthcare should be a privilege for the employed rather than a right for everyone. (She later explained her answer on 
Good Morning America
, saying that she, personally, feels privileged to have healthcare.)
Watch her responses in full, below.
---
Sure, it would have been easy to write Kára off as just another person who doesn't seem to "get it." Or even make the argument that no one even cares what Miss USA has to say, because this is the competition solely based on looks—there's no scholarship or even a talent portion involved (that's Miss America). But the truth is, Kára's answers reflect the opinions of a large portion of the country, and while everyone is entitled to his or her own views, it begs the question: Is this what the USA is turning into under President Trump? A place where women don't believe their struggle for equality deserves to be prioritized, because men might also face injustice in the workplace, be catcalled on a daily basis, and constantly pitted against each other? (That's what the word "equalism" implies, after all.) Where people think healthcare shouldn't be provided to everyone, despite the fact that universal coverage has been proven successful in other countries (even the president knows that), and that it's crazy that someone could be struggling to literally live on top of struggling to get a job and paying for housing? 
It's definitely scary to think about, and hearing Kára's answers, out loud and on live TV, served as a good late-weekend/early-week reminder that while it's fine to kick back and relax, it's never good to get lazy. Our work—making our voices heard and fighting for basic human rights (because that's what women's rights and universal healthcare are)—is really just getting started, and there's still a long, long way to go.