Health
What A Ballerina Eats For Breakfast
How New York City Ballet Principal Dancer, Tiler Peck, starts her day.
Weston Wells
We can't quite put our Catbird-stacked finger on it, but there is something about the life of a ballerina that has us wishing we knew about every last minute of it. Like the healthy meals they use as fuel during a gruelling 12 hours of dancing (PSA: after shadowing more than one dancer, we can attest that ballerinas are in fact athletes), or their beauty routines, and hoping that through osmosis we'd somehow get ~that~ gracefulness just by being in their presence. In other words, we'll take any opportunity to tailgate a New York City Ballet Principal Dancer, like say Tiler Peck, to find out just how she starts her day, what she has for breakfast, and why every ballerina takes 30 minutes to pick out shoes. You see, they are just like us!
---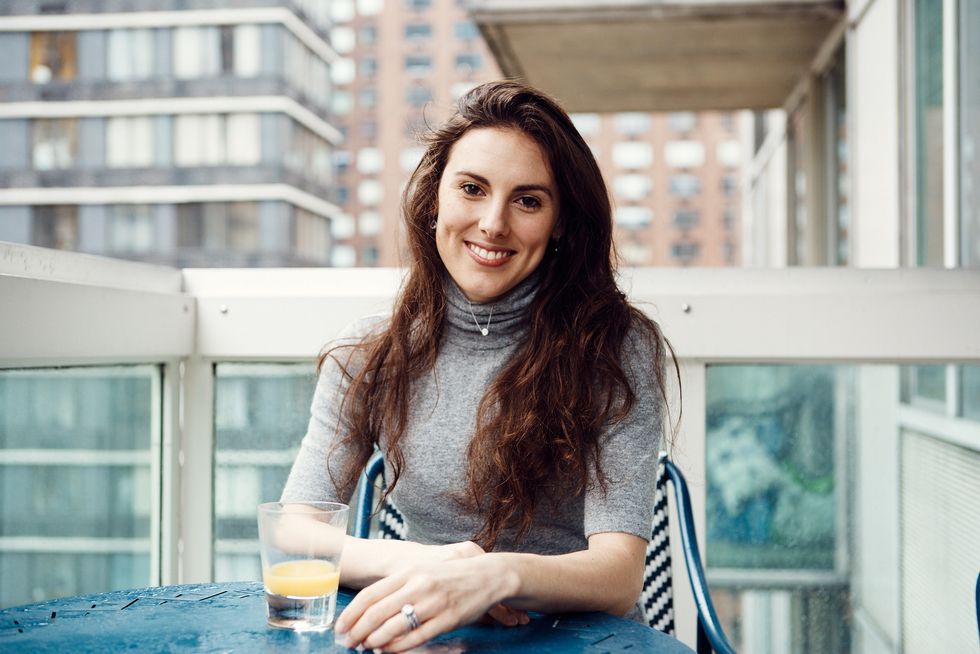 9:00 AM: I typically don't get up very early because I live half a block away [from the studio]. I'm lucky.
9:15 AM: I'll feed my dogs, and feed myself. I either have peanut butter with banana on toast or yogurt with berries and orange juice.
9:30 AM: Then, I sit down and sew my pointe shoes. I pick out my shoes the night before because that's what takes me the longest. Sometimes it takes me 30-minutes to pick out the right pairs of shoes. Every part [in a performance] is different and needs something else. One may need a harder left shoes or a better right shoe. Our pointe shoes are handmade, so they are all slightly different. Even though they are made for my specifics, out of ten shoes, five will really be the ones I wear on stage; and the other five will be ones that I use for rehearsal. Then, in the morning, I'll sew on the ribbons.
9:45 AM: After I sew my shoes, I get ready; put a little makeup on, and get dressed. I just put a moisturized on—I just switched to this amazing brand called Youth Corridor. I wear very little makeup but I put a little bit of Cargo [One]Base on certain spots. I don't wear full pancake makeup, I just put a little bit on. I put a little shimmer, normally NARS Alhambra, on my eyes, mascara, a little lip gloss, and that's it.
10:15 AM: Then I walk with my dog across the street to take class. She comes with me every day to rehearsal. I get to the dressing room and I put on my dance clothes, put my hair up, and head to the studio to stretch before class starts at 10:30am. I really only have an hour and a half before class starts from when I wake up.
The healthy snacks she always keeps on hand for fuel:
I always keep nutrition bars in my room, like Kind bars or Cliff bars. I always have water. Greek yogurt for a snack, or a banana. I normally like a turkey sandwich for lunch, I don't know why. Whenever I have a show, I am a creature of habit and always get a turkey sandwich. I will always dinner after the show, which is sometimes so late, but I hate dancing on a full stomach. I always wait to eat after the show.
Her late-night meal of choice:
I love pasta. I could probably have that every day. I normally get pasta with some kind of protein, like grilled chicken in it. I love penne alla vodka or bolognese. You really can't give me a bad pasta. I eat pasta a lot, but I like to switch it up. I like Thai food. Sometimes I'll order Chinese food. I love pizza. I think that everything in moderation is fine. That's how my food habits have always been and I've been pretty good.
How she recovers:
On my own, I always go home and I'll elevate. I'll lay on the floor and I'll put either pillows or a leg rest, so my legs are at a 90º angle, and I'll put a heating pad under my back, so that I can decompress from the day. Also, I love an Epsom salts bath—I take one of those like four times a week. If my feet are really bothering me or something, I'll have to do an ice bath. That just takes the inflammation down so that the next day I won't be feeling it.
Her favorite restaurant in NYC:
I love Pomodoro, which is an Italian restaurant. It's a family-owned place that I have just loved forever. We love Land for Thai food. I really like Marea. That is kind of a place you go when it's a fancy occasion.