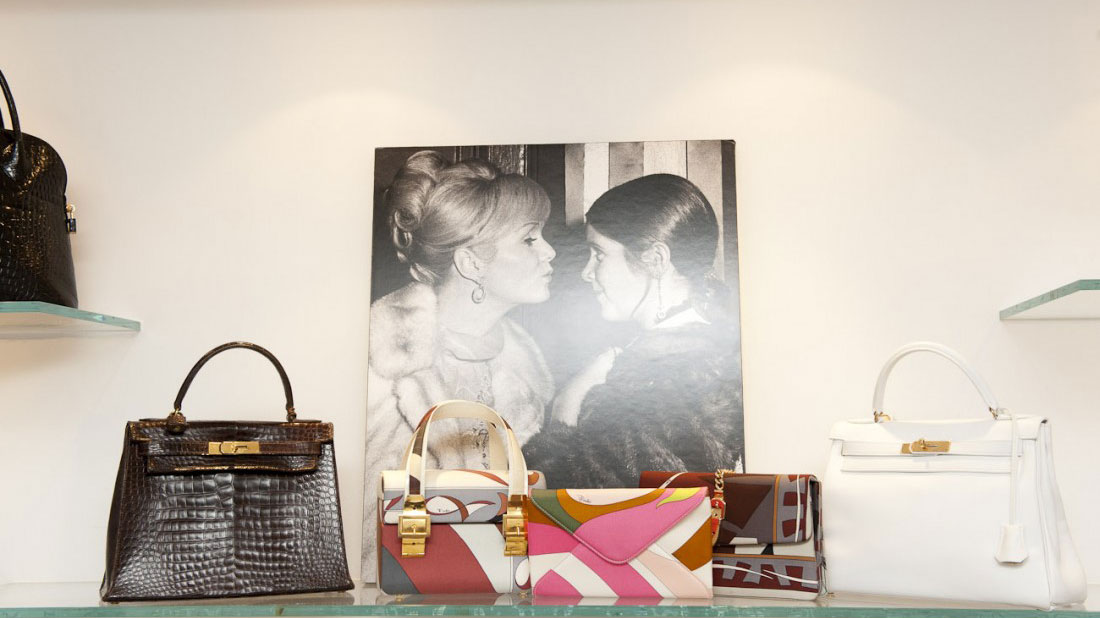 When Your Mom Is Your Style Icon
Six Coveteur editors on their original fashion inspiration.
Freud said we would wind up marrying our fathers—not literally, but someone very much like him. Our theory? That we become our mothers. And while we can't back up the claim with any psychoanalysis, we can give you stylistic evidence—and by stylistic evidence, we mean looking in the mirror and seeing our moms. You too? Told ya. Here, six Coveteur editors on the fashion and beauty lessons and realizations brought upon them by their maternal figures.
"My mom really made me want to invest in myself—not so much buying nice things, but taking care of myself in ways that feel luxurious. She's always been an advocate for sunscreen and skincare, and exercises religiously. She has definitely influenced the way I care for myself, and I pray that I look as great as she does when I'm her age!" —Laurel Pantin
"I wouldn't exactly describe my mom as a beauty guru—she wears zero makeup and lives on a horse farm in Missouri—but she's always taken great care of her skin, a habit I luckily picked up as a teenager. She also has gorgeous, long silver hair (like a wizard!) and has never felt any pressure to color it. Although I don't love my occasional gray sprouts, it's amazing to watch her age so gracefully and unapologetically. Thanks for the stellar genes, Mom!" —Hannah Baxter
"I'll never forget the day I realized what an absolute stylish woman my mom is. It was during a binge-watching marathon of Sex and the City when I noticed Carrie running through the streets of Manhattan in a fabulous white silk dress. It's one of those pieces that is unforgettable, and I immediately recognized it from my mother's closet. She had it well before this episode came out, which makes me wonder, is my mom SJP's fashion icon?" —Maddy Lyon
"The older I get, the more I realize just how much my mother influences all areas of my life. From taking care of my skin (if I had a dollar for every time my mom told me to put sunscreen on, I would most definitely be a millionaire) to being comfortable and confident to wear whatever I want, whenever I want (probably why I walked around the house in her heels when I was young and absolutely adored every single outrageous dance costume I ever owned). She's always been my number one fan, and I can't thank her enough for making me feel beautiful always. Now here's hoping I age as well as she has." —Jodi Taylor
"There are some images that stay with you forever, that you'll never forget no matter how hard you try. For me it's the face my third-grade teacher made when I told her that my favorite store was Bloomingdale's. It was for a 'your favorites' assignment—a list of things we loved. Next to favorite restaurant I wrote, 'Forty-Two Carrots…on the seventh floor of Bloomingdale's.' I was nine. I'm convinced she must have wanted to slap me. But it wasn't my fault! It was my mom's! She loves shopping so much she made me love it too, and up until fifth grade, I was convinced the subway's only purpose was to shuffle people to stores, specifically Bloomingdale's on 59th and Lex. My mom taught me all about where to shop and when. She taught me how to pair things together unexpectedly and what styles were timeless. She taught me to always lay out my outfit the day before and how to express myself through style, and that fashion is more than just something you wear or buy in a store. So even if my third-grade teacher remembers me as a crazed shopping-addicted child, it doesn't matter. I have my mom and her love of fashion to thank for where I am now, writing for a site about style!" —Tara Gonzalez
"For a long time, throughout my childhood and into my early 20s, I turned up my nose at everything my mom stood for when it came to fashion and beauty. While I obsessively churned through Vogues in search of style cues, my mom wore next to zero makeup, used a basic Kiehl's cleanser, drugstore shampoo, and, while well-dressed, put no premium on labels or shopping of any kind. While it's true that I still love *stuff* far more than my minimalist mother (my closet size and product hoarding speaks to that), I wear clothes that look almost identical to those my mom would call 'staples' (jeans, sweaters, t-shirts), and some of my most-worn pieces were hers. There was a reason she never had to shop—she invested in quality over quantity. Okay, so I'm a little surprised as my style shifts more and more towards that of my mother, but I admire her minimalism and her comfort in just being her—without all the bells and whistles." —Emily Ramshaw