Caroline Ventura's Favorite Spots to Eat, Drink & Play in NYC
We got the jewelry designer & shop owner to open up that Little Black Book. In collaboration with Emporio Armani.
Travel
So you already know how Caroline Ventura (also known as the name behind our current jewelry obsession, BRVTVS; and boutique Calliope, which we promptly make a beeline for anytime we find ourselves in the West Village) likes to navigate the whole work-life balance thing. But when it comes to the latter half of that equation? It turns out Ventura is just the person you want around when it comes to plotting your ultimate dream afternoon off—whether that be a lowkey Saturday afternoon, or just playing hooky from work (what? We said work/life balance!). Here, everywhere you'll find her out and about during those precious hours—ideally accompanied by people-watching through a pair of Emporio Armani shades, of course.
---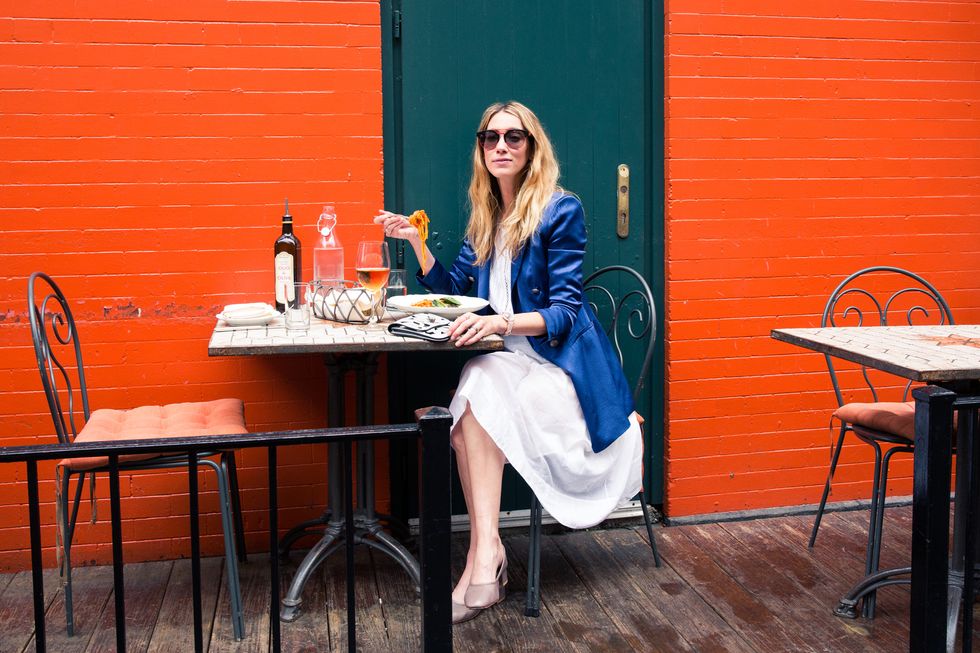 For those afternoons where you need to get acquainted with a big bowl of pasta:
"We shot at Sant Ambroeus (265 Lafayette St.). I always get their pasta: their ragu, the meat sauce that they do there, is really good. I'll go there for a quick lunch, maybe with a salad and a glass of wine."
The best dog-friendly al fresco dining:
"I also like Cafe Altro (234 Spring St.). That's a really good one when they set our their patio tables. I really like the food there, but it's smaller portions; so you can order more of a variety, instead of being stuck with one giant dish. Everyone that works there is great, they are all really friendly. Their wine list is really good. Any place that lets me bring my dog, I'm A-OK with. I like to take him with me to as many places as possible. In the spring and summer it is really nice because I can eat outside and bring him with me."
The best coffee with a side of shopping (even if you have a fancy cappuccino maker at home):
"I got a cappuccino machine for Christmas, so I've been neglecting all of my favorite coffee spots recently—that used to be my morning ritual. I do really like The Elk (128 Charles St.) in the West Village. They also do food, it's just a cute cafe. The inside is flooded with natural light. They sell a few different magazines, some self care products like face oil, a sea salt spray for your hair... just cute little things. The cafe owner, Claire, is a friend of mine. It's all things that she's pulled and loves, and that she uses herself. It is everything that you didn't realize you needed. I'll go there for lunch sometimes when I just need to get a quick bite to eat and need to get out of the store. Their stuff is really great."
The best spot for a glass of (organic!) wine:
"There's a place on the Lower East Side, The Ten Bells (247 Broome St.). It's a cute little wine bar. They have a really great wine list, and they do a lot of natural wines that are hard to come by."
The best vibes (the food is delicious, too):
"I really love De Maria (19 Kenmare St.) right now. It's such a nice place to be when the weather is warm, because they open up all of the windows. It's just so bright. That place to me is so feminine but so inviting at the same time. Their food is fantastic and they have really great wine too."