Kaia Gerber Let Us In On Her Entire Beauty Routine
The face of Daisy Marc Jacobs on the secret to *those* brows, her favorite no-fail beauty hack & the best tip she's learned from her mom, Cindy.
Celebrity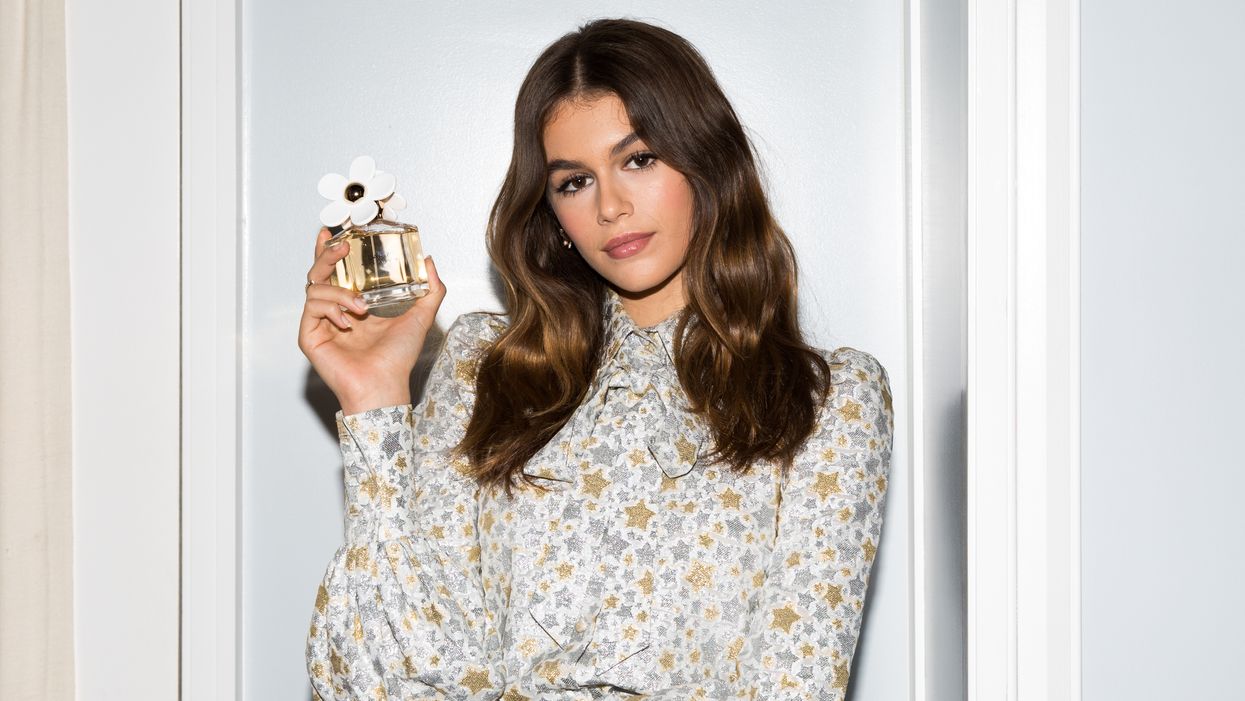 We already know what you're thinking—and we get it. What beauty tips could there possibly be to take away from Kaia Gerber—who, at 15, has seemingly sailed straight through any semblance of an awkward stage? But the moment we sat down to discuss just that (after she'd tucked into a cheese quesadilla for lunch—we knew we liked her for a reason) at the Bel Air Hotel with the latest face of Daisy Marc Jacobs, any hesitation we held at the back of our minds melted right away—as we learned, she, too has found herself elbows-deep in ill-advised applications of blue eyeshadow. Comforting, no?
---
As it happens, there were plenty more takeaways (that had nothing to do with, oh, say, genetics...) to be had—Gerber even let us in on the best beauty trick she's learned on set, and the do-anywhere DIY she turns to to get skin to chill out after a long night or day of traveling. We can only hope you're taking notes.
Her reaction when she learned she was the face of Daisy Marc Jacobs:
"I was so excited when I first heard I was going to be the face of Daisy Marc Jacobs, but I didn't want to say anything to anyone. Even after I shot it, I was still waiting for it to come out before saying anything. Then, after I saw it everywhere, I was like, 'this is actually happening!'"
Why she connects with the brand:
"That's what I love about Marc Jacobs—it's not just one Marc Jacobs girl. It's every different kind of person embodying what they love to do. There's no one person. It shows girls they don't have to be defined by one thing. I would describe the fragrance as really feminine, really girly, youthful. It smells really clean. It's just young, free-spirited."
Her favorite way to wear fragrance:
"I wear it everyday, just because it's become part of who I am. It's not really just a setting—its how you want to feel. When you put on Daisy, you feel girly, cute. That's the main purpose of putting it on. I put it directly onto my skin—I feel like when people spray it onto their clothes, it has a different scent."
Yes, her beauty routine is as maintenance as you think:
"My beauty routine doesn't consist of much! [laughs] I keep it super simple. It's very much 'less is more'. If anything, I just make sure to wash my face, and wear sunscreen."
How her approach to beauty has evolved over the years:
"When I was younger, I felt pressured to wear make-up, even though I wasn't wearing it in the right way. I just thought it was something everyone did. I'm still learning, but I realized make-up is something you play with, it's not something you need to wear. I've learned that no one should feel pressure to do a certain thing just because other people are doing it. You can have so much fun with it, but I don't feel pressure to wear it everyday, because it's just unrealistic."
The beauty moment she regrets most:
"I would be, like, 8 years old and go into my mom's makeup and put on blue eyeshadow and stuff. But I'm glad that I did, because I learned from it when I was young enough to say, 'oh, I didn't know.' Now I'm through it, which I think is a good thing."
On how growing up with Cindy Crawford as your mom is exactly what you think it'd be:
"I feel like she always looks beautiful, even if she's just waking up, and she's really taught me that natural beauty is what's actually important. Just being yourself, not worrying about what everyone else is doing."
The best beauty trick she's learned on set (aka the key to *those* brows):
"[My favorite trick I've learned on set] is learning to brush my eyebrows up. Not all the way to the side, but leaving them a little bit messy. I think it looks really cute, and young. That's the thing now, full brows. No, [I've never done anything to my brows]. And that's the trick! To leave them full, because they never grow back. I've just left them."
Her favorite unconventional beauty trick:
"I put ice on my face. [laughs] It works! If you have a red spot, if you just want to wake up, if you're traveling, it helps just wake up your skin."
Why she feels like she was born in the wrong era:
"I feel like I'm a different era everyday, depending on how I'm dressing, but I definitely gravitate towards the '70s. But I also love Audrey Hepburn, so it really depends on my mood. If I was to live in a different era, it would be the '70s."
What you'd be most surprised to learn about her:
"I can't whistle! I've really tried, and I can't. Nothing. [laughs]"