Troian Bellisario "Creepily" Learned This Beauty Tip From Jessica Alba
The "Pretty Little Liars" alum takes us through her morning and nighttime beauty routine, as well as how she gets off her excess eyeliner.
Celebrity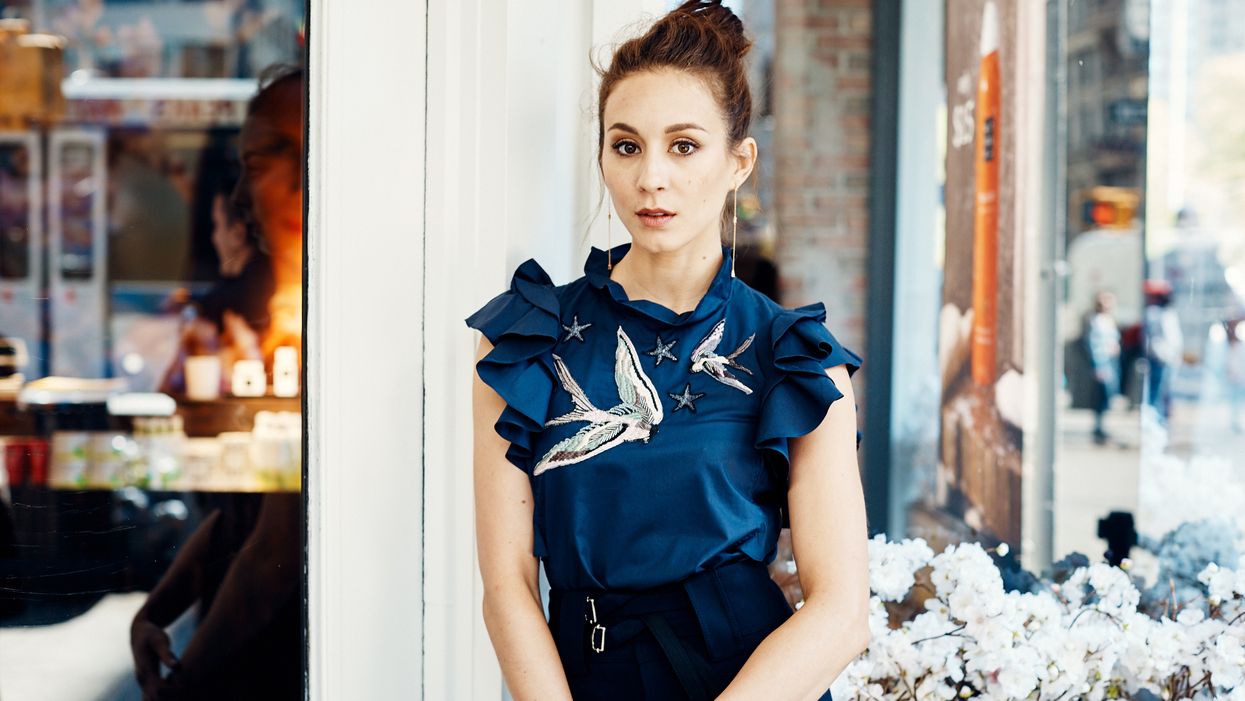 It isn't easy to achieve enviable smooth skin—this much we know is true. But Troian Bellisario has somehow managed to do the impossible. If you know anything about being in front of a symphony of flashing bulbs and on 4K TVs, it's that more-than-average-layers of makeup and the need for healthy skin come with the job. Hence why when we met up with the Pretty Little Liars actor at Rituals' Fifth Avenue store, and she looked just as flawless in the flesh as she did on screen, we immediately wanted needed to know everything. Was she washing her face with more than a cleansing wipe (were we doing it all wrong?)? What was her morning or nighttime routine?  Thankfully, she obliged to answering our incessant questioning, taking us through her day-to-day, as well as how she's dealing with these final weeks of PLL.
---
Why she doesn't wash her face in the morning:
"I read once that when you sleep, a lot of good, natural oils come out of your skin, and that you don't want to wake up and wash them off right away because it strips your skin and make it really dry. So when I wake up in the morning, I literally just splash cold water on my face and put on a tinted moisturizer with SPF. Then, if I'm going to work and I haven't gotten a lot of sleep, I'll use Skyn Eye Pads, to calm down my eyes, but generally, it's a tinted moisturizer, a cream blush, and then I'm gone. Mornings are super easy."
The nighttime must-have she's used since she was 16:
"If I've been working that day, at night I'll use a makeup wipe to take off my makeup and try to do a mask. Sometimes, I'll do an activated charcoal mask, then wash that off and do a moisturizing mask or an exfoliating one. Generally, I put an oil on to sleep and then eye cream. My mom beat that into me—I think she had me starting to use eye cream when I was 16. If you use it when you don't need it, it becomes a habit and you'll always stay moisturized."
Her favorite Rituals product:
"The shower foam has been kind of amazing. I feel like I'm a little kid again because when you spray it, once it comes into contact with any moisture, it turns into this beautiful foam that smells really nice. I also learned that you can shave with it. So it's a body wash, a shaving cream, and it's nice because doesn't dry out your skin."
Troian Bellisario photographed by Weston Wells for The Coveteur
The part of her beauty routine that hasn't changed over the years:
"I would say it's definitely eye cream...and my inability to get off all of my own makeup. As much as I told you that I do, I would go into Pretty Little Liars and Rebecca [Wachtel, a makeup artist on the show], would tell me, 'You still have eyeliner on.' And I would be like, how?! How did I miss this?! I don't understand. Then she would spend at least five minutes taking off my makeup."
Her trick for getting off excess eye makeup:
"Q-Tips! Which also, we found out, are not supposed to be used for your ears. I know that this is going around, and I know because I was creepily in a bathroom and am pretty sure I heard Jessica Alba talking about this with somebody. She was like, 'Did you know they're not legally allowed to tell you to put Q-Tips in your ears, because you're not supposed to?' So, Q-Tips are only for taking off eye makeup…on Troian Bellisario."
The part of her beauty routine that *has* changed over the years:
"When I was a teenager, I was into washing [my face] all the time. And then, of course, my skin freaked out. So it was learning things like if you washed your face before you went to sleep, and you're very moisturized, just make sure to wipe off the excess oils with a warm towel in the morning and go from there. Not attack my skin, but to let it go through what it needs to go though."
How it feels to watch Pretty Little Liars come to an end:
"It's definitely weird. I was going to watch every episode and live-tweet, and then I found that, actually, live tweeting was tough because I wanted to watch the episode. After this, it's only going to be seven more episodes, and six more episodes, and then five. As much as I love talking with the fans, I would rather take the time to experience it as it comes to an end. I'm trying to take it a day at a time and be present for the closing of this chapter, because my mind really wants to jump the finale. I want to get it out and talk to all the fans about it—'What'd you think? Did you see this coming?' Blah, blah, blah. And I really want to not do that, take a breath and enjoy the moment in my life."
On the struggle to stay present:
"It's really tough to be present, especially with these computers that we carry around in our hands. I know we're all really good at multitasking, but now multitasking is on another level. You're supposed to be having eight different conversations at once, while being able to post your life and the latest burrito you ate, and also be able to buy clothes online and work with this amazing foundation that's doing this. When you have a computer in your pocket, you should be able to do all those things. But mentally, I don't think we've caught up to the computer's powers."
Top and Pants, Rebecca Taylor