Career
This App Is About To Totally Change The Way You Meet People
For starters, it's not at all based on appearances. In collaboration with Huggle.
Illustration
Meghann Stephenson
One of the most enduring challenges of adulthood is building relationships; Whether they're romantic, or new, meaningful friendships, the older and more successful you get, usually, the harder it becomes to meet people. There are few things more disorienting than finding yourself—a successful, smart, stylish, grown-ass woman—with nobody to call for after-work drinks. It's one of the things that prevents women (and men!) from having the adventure of moving to a new city, and it's one of the most depressing things about being a grown-up.
In the long...long list of things we wish we thought of, Huggle is at the top. Inspired by feeling lonely after moving from Moscow to London, Valerie Stark invented a totally safe way to meet people, that takes more into account than initial physical attraction. Genius.
Based off shared locations, rather than appearance or anything surface-level (again, genius), Stark aims to connect people in more meaningful ways. "Knowing about people's interests changes how you feel about a person. It's how strong relationships form," she says.
We visited her at her Surrey home (much, much more to come on that…) to hear all about how she launched the app and what her yoga studio has to do with it.
---
"You can decide what's important to you and build relationships from there."
How Instagram stalking led to her aha moment:
"Back in Moscow, I was quite social both inside and outside of work. My years of relationship building gave me a strong network of people to grow friendships with. Even through work alone, I would speak to so many people and really get to know them. It gave me a strong sense of community. When I moved to London, that was something I really missed. Here I was, new to a city, with a fantastic job, in an exiting new place, but I felt lonely.
"My only social life was during work hours, and being in a top managerial position it wasn't appropriate for me to build friendships with my colleagues. This left me feeling out of touch with that side of life that I so missed from back home. I found myself constantly asking the same question: 'how do you make friends.' People may perceive this as a strange question coming from someone who is traditionally extremely social and outgoing, but it is more common than people realize and it is a real problem that exists as people travel and relocate for opportunities all over the globe."
"Although, I tried to go out and visit various events and venues quite often, I just couldn't meet people who I would instantly click with. Probably because of that I had a bit of unhealthy obsession with Instagram. I would go to a yoga studio and post a picture and tag myself and the studio, and then I would click on the geotag and see who else went there. I thought, people who enjoy the same activities as me like going to the gym, yoga studio, that quirky art gallery in Chelsea are supposed to have the same values and interest as me. But what do you do? You can't just approach them and say, 'Hey, we're both going to a yoga studio, your trikonasana is amazing; let's be friends."
"At some point, I saw one girl at the yoga studio, and I started following her. I then saw on Instagram that she was also visiting quite a few places that I used to go to. I thought she was cool because she did the same stuff I did. She started following me [back], and we started talking. At some point we decided to meet at one of the places, and that's how the idea of Huggle was born. I said, 'Listen, you know what made us comfortable about meeting each other was what we had in common.' She thought, we liked the same stuff, we had things to talk about, and we don't even need to have an ice breaker."
"I then thought, imagine if you had a technology that doesn't only show a yoga studio that you have in common, but if you could see all other places you have in common with other people!"
How Huggle works:
"The girl I met, was Stina Sanders,who then became my co-founder. She fell in love with the idea of connecting people through favorite places.  Whatever you do, whether you like a certain type of food or activity, you need a place to do it. Every single activity in our life is connected to a specific place or location. Say you're into fashion and like to attend certain shows during London Fashion Week; Huggle will check you into these events and show you other people who like going there too. On top of that, you will see all other places you have in common with these people. You'd be surprised how random your mutual places could be. You might have the same fashion show in London or New York in common as well as the same hotel in Barbados, same local bakery or that secret waxing place in common. You will discover that you have so many coincidences with people you've never met before."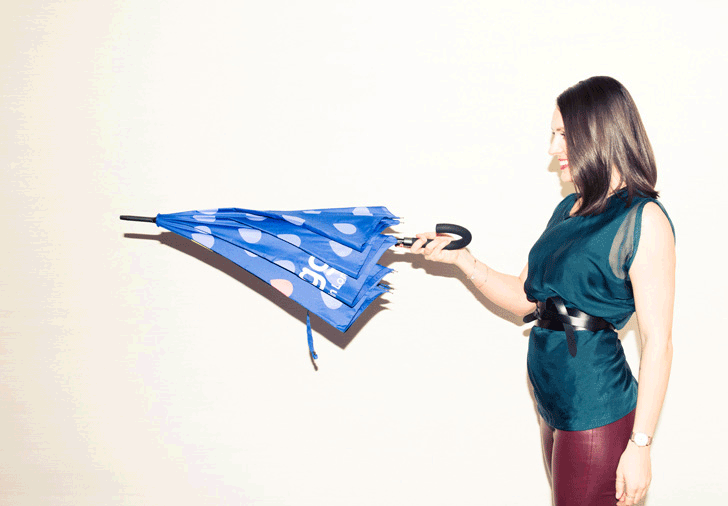 "There is no difference between girls and boys—we all code the same way."
On switching from restaurants to tech and learning to speak "developer":
"Of course the tech industry and the restaurant industry are very different, and I had to learn a lot. It was a very hands-on experience. However, in terms of creating an idea, understanding the customer and building a team it's very similar.  It took time to learn some specifics of the tech industry and I'm still learning everyday.
"If you're not a tech-savvy person you will have to learn how to speak the same language with your developers. I'm a very creative and the way I express myself is completely different from the way developers think and work. I had days when I would waive my hands trying to explain my vision and they would look at me like 'is she alright?' I had a vision in my head of how the app should work but I didn't see much difference between the logic behind UX and server side. I wanted Huggle to work certain way, which was not always possible from the technological point of view. The most challenging part is the hyper local technology, which is a core technology of Huggle. We need to identify users location very accurately in order to check them in at their favorite places. It is not always easy especially in the big cities. However, I was quite lucky with developers who came up with so many amazing ideas and made this possible.''
On the realities of being a woman in tech:
"It's quite challenging. There is this thing, if somebody writes an article about a woman in business, it's almost always about the fact she is a woman in business. It doesn't matter what you do, when you walk into a room full of men (and in tech almost every room is full of men), prepare to prove yourself. It gets better with time of course. In my case, my previous experience working as a top-manager in male-dominated industry and in a very male –dominated country helped to build confidence. 
"Whether you're a developer, visionary, copywriter or a marketing manager confidence and ability to learn is the key. There is no difference between girls and boys—we all code the same way. There are good female developers and there are average male developers. You gender doesn't affect your ability to work."
What sets Huggle apart:
"The main thing is that most of the social apps are based on appearances. Normally social and dating apps offer you a selection of profiles with a little information about your potential date or friend. Everything is based on appearance. It usually takes users less than a second to make a decision on a dating app. It's all very superficial. With Huggle, we connect people on a different level. When you flip through profiles, you see places you have in common. Huggle gives you something else besides appearance. Knowing about people's interests changes how you feel about them. Common interests form strong relationships. We help people connect on a deeper level."