Career
And why 4/20 may just be America's safest holiday.
Tristan Kallas
Union Collective, a medical marijuana dispensary just outside downtown L.A., could easily be mistaken for a chic coffee shop in Amsterdam. It's no coincidence, either; that was all part of owner Michael Dennis's plan. He was tired of the typical dispensary experience—even though they were legal businesses, he says, "it was almost nerve-racking. You went in there thinking you were doing something wrong!" The service he provides feels very fun and very legal (which it is!), and even though cannabis is only considered one of those things nationally, Michael is working hard to advocate for the latter.
He doesn't entirely understand the negative stigma around marijuana, although he admits it's come a long way and that he never pictured himself in the place he's in now. When we caught up with him, he described marijuana as an "edible flower" with health benefits and shared stories of patients whose lives have changed for the better since stepping into his shop.
Marijuana's federal status as a Schedule I substance (which puts it in the same category as Heroin and MDMA...what?!), means long scientific studies are out of the question for now. But for Michael, the medical benefits he sees in his patients are undeniable. "The one bad thing you can say about weed is that it makes people more conscious. It is like, 'Okay, that is such a horrible thing. We can't use more consciousness in this society!'"
Michael gave us a tour of his dispensary, revealing how marijuana helps some of his patients get out of bed in the morning, why everyone who works in marijuana isn't a hippie, and why he thinks 4/20 is the safest American holiday.
---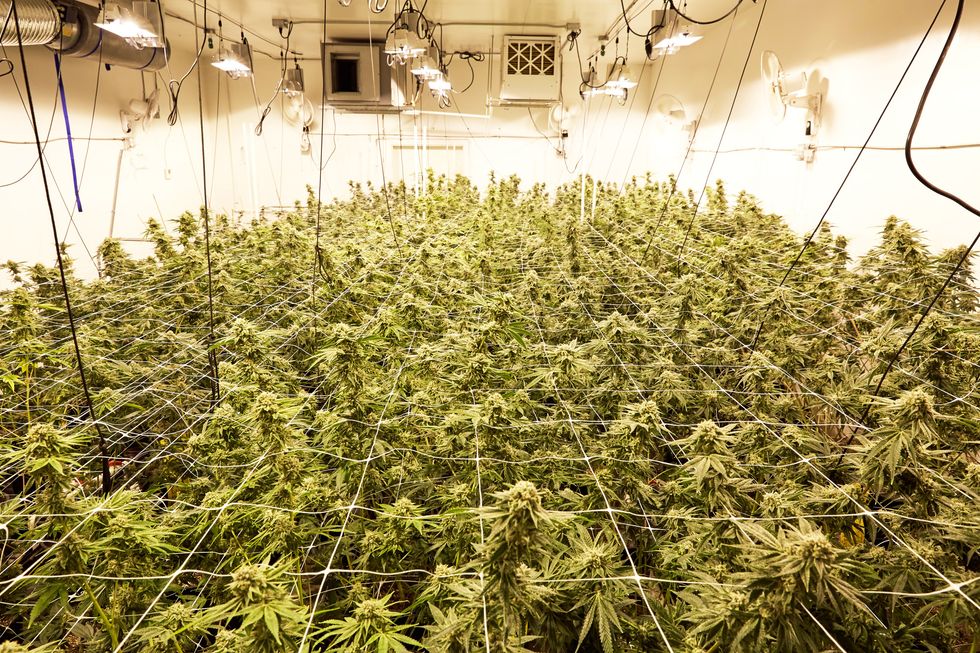 The most popular thing on his menu:
"We cultivate on site in L.A. The law says you have to cultivate on site. We grow, at any one time, 10 to 12 different strains. Those strands range from sativas that are more for an uplifting and creative mood; one of our most known ones is called Lemon Tree, and then the most popular thing in California, and growing in popularity around the country, is the OG Kushes. When you come to California, it is kind of all about the California OG! We honestly have about 10 different varieties of OG from a Fire OG to a White Fire OG to a Paris OG, so needless to say, that is kind of the list."
No, the cannabis industry isn't made up of all thugs or hippies:
"When people think of dispensaries or of the cannabis or weed business, they will say that it's still this back-alley kind of business or mountain hippie business. I don't think they realize the history of the industry—how much it has changed and how fast it is changing. It is actually pushing legalization forward, something that really has so many benefits compared to any misconceptions of stoners being lazy. The medical uses alone have been astounding! Now, after years and years of people hating on it and saying dispensaries were the equivalent of being a drug dealer, you have big pharmaceutical companies getting involved! All of a sudden, when there is a profit to be made, 'Oh, it's the best industry ever. It is the fastest growing industry in the United States.' There was so much spite and so much scrutiny in the industry, and I still think it is going to be another few years until people wake up and realize the amazing social impact that a lot of these businesses are having."
The most gratifying part of his job....
"I have talked to people that have AIDS and cancer. I had one guy who had AIDS talk to me for probably a half an hour, and even though he was shaking and whatnot—because you could tell he was struggling—he said the only reason he gets up in the morning is because of marijuana. I was like, 'Okay. The only reason I get up in the morning is because there is coffee there.' And for my son and my girl. But…to hear someone say that, I mean, it's like, an alcoholic gets up in the morning for alcohol, but it destroys their life. We're talking about the complete opposite—it couldn't be further from that. Someone who is getting up just because of that [marijuana] can eat, can live, can remain positive, and I can't think of anything better."
...and the way it changes his patients' lives:
"My uncle had cancer, and I wish he would have had the opportunity, before he passed away, to use marijuana. You are hearing that story more and more. It is unbelievable how it can almost shift your entire disposition to one where you are like, 'Okay, I am dying,' or 'The end is near' to just focusing on the present and being so enthusiastic about what is around you. It's just the positivity. We've seen the medical benefits in people actually getting cured, and if not cured, at least just alleviating the pain that they've had and are having on a daily basis. There is nothing I want to get behind more than that. Everyone I know that grows cannabis is so passionate about it, it is unreal. I haven't see that with any other industry."
His 4/20 plans (goodie bags included):
"For us, we do a patient appreciation day on 4/20. We have everything from live music to demos of all the different products that people can come and get for free. We give away goodie baskets to our first 50 patients, so you get an amazing array of anything from edibles to vape cartridges to concentrates and, of course, some merchandise. It is kind of a big thing. It is obviously an amazing holiday for patients and everyone else who likes cannabis alike. Not that everyone needs an excuse to get high! [laughs] All we do in the States is look for excuses for holidays. I think this is the one holiday where people aren't drinking tons of alcohol. It could be the best and safest holiday in the United States. In my last shop, I remember, the first 4/20 we had, there were patients lined up and down the block from about four in the morning, waiting like it was Black Friday. There were even tents outside on the street. They were waiting to be the first 50 on the street to get the goodie bag because they knew they were going to be so good."