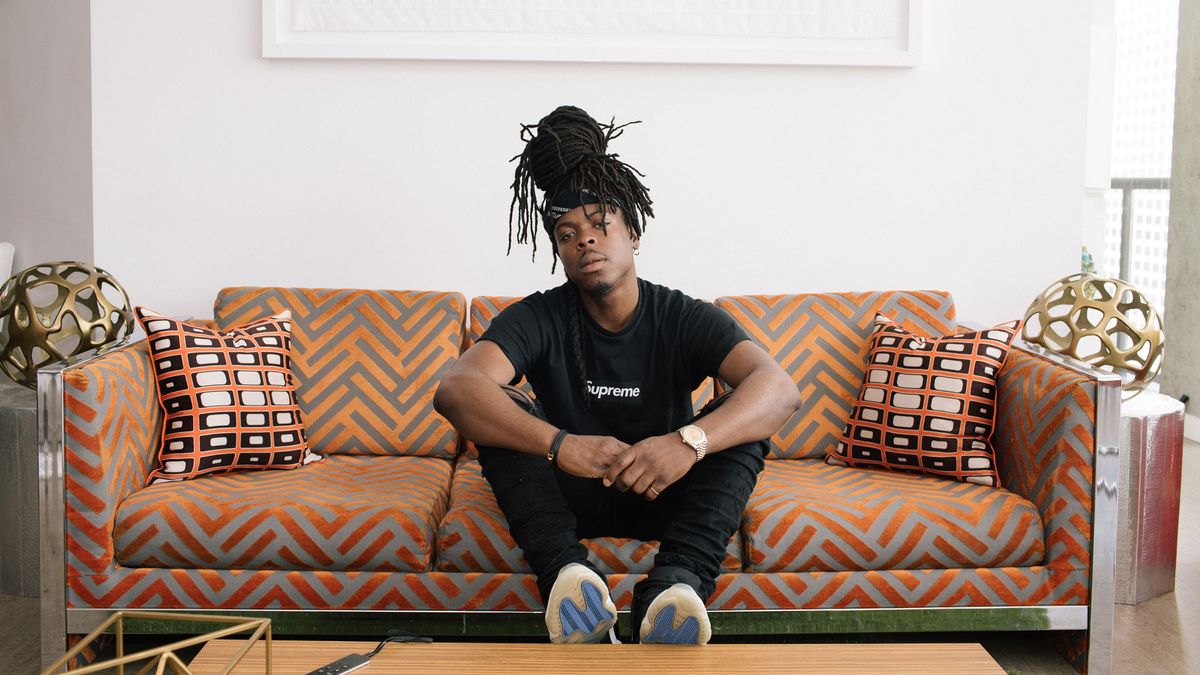 Career
This App Is Changing the Way Rare Sneakers Are Traded
The guy who started it owns one pair that's worth an entire college education.
Emily Knecht
This story starts with a pair of Nike Tiffany Dunks. Back in 2014, Kemar Newell was running a sneaker consignment/retail store/barber shop with some buddies in Silicon Valley. "It was dope," he says. "It was where all the designers, athletes, and celebrities—all the local sneakerheads came to get their kicks."
Before the release of the Tiffany Dunks, Newell had already pre-sold five or six pairs of the shoes before realizing that he couldn't get the inventory. "I had to do a campout," he remembers. For those of you who haven't seen the barricaded lines snaking around blocks, often with kids with sleeping bags and camping chairs waiting overnight, a campout is when people literally wait hours, sometimes days in line before a big drop to get the shoes they want.
---
"I realized that the majority of people doing this were kids. People as young as nine [years old] all the way to 25 were waiting in line, but the majority were kids in middle school or high school who had the time to do it. I asked them, 'What are you guys going to do with your shoes?' They were like, 'I'm going to sell them on eBay,' or 'I'm going to sell them on Craigslist.' They told me that they price them at $500." And here's where he had his big idea. Just because someone prices a shoe at $500 doesn't mean it will sell at that price. He offered the kids $250, which was about $150 more than they'd pay for them up front, and then he'd try reselling them. "Five out of six kids took that deal that I pitched. I was like, 'Wow, that is such a high conversion rate; let me go ahead and scale this methodology in an app.'"
And so, he launched Flip, an app where anyone can list their sneakers with a guarantee they'll sell in 90 minutes. The 90-minute auction model has been a key point to the app's success: "In building out this model, we figured out that we can not only sell stuff, but we can also increase the demand on things that may not be as appealing or trendy at that specific time. We care that the sellers want to sell fast and buyers want a reasonable price or have a say in price."
And what exactly are the most sought-after sneakers, you ask? For Flip's user base, which is currently doubling month over month, it's usually the Yeezy. "The most recent Yeezy color is the most in-demand shoe. They're rumored to release the all-white version April 29th, and it has been teased out for about two years in photos on blogs and social networks, so the hype is crazy. That shoe is anticipated to go for $2,000 or more, but it retails at $250. It is really crazy. [Our take is] that you can sell faster if you start closer to retail and allow people to bid up."
But even with this pricing model, they're seeing shoes selling for higher prices than in other marketplaces, which is interesting mainly because the app is built to help both buyers and sellers—buyers are able to find rare shoes not available anywhere else, and sellers can move their inventory quickly and get the best prices for them.
For someone so obsessed with sneakers, is it any surprise Newell's own collection is legendary?
"My personal collection is pretty big," he admits. "But I would say the most valuable pair I have right now is the self-tying Nike Air Max. Those are extremely valuable. Actually, we have a few more from some other sellers. These shoes on average—wasn't a [market] price point for them, they were raffled off by Nike for the Michael J. Fox Parkinson's Research—but now they are at $125,000 each. There are less than 100 of these pairs in the world. There were only three pairs that were auctioned, and one was auctioned for $200,000 in New York, one was for $50,000 in London, and one in China, there was one auction[ed] for $100,000. So now we are trying to figure out, how do we sell this on the platform? We are looking at doing something like that right now."