Fashion
Plus, what she wears (given her day can take her anywhere from Grace Coddington's house to late-night karaoke). In collaboration with Michael Kors.
ICYMI, the very impetus for our website was, in fact, street style. And with the movement serving as a career-catapulting (in the case of many a designer, stylist, editor), trend-dictating launchpad for the entire industry, it makes sense that in the decade plus since street style first became a *thing* online, its reign continues. That said, it's in our nature to take things one step further—we can't help it, really—and dissect the behind-the-scenes of, well, the scene. Like what's actually inside that insanely covetable gold Michael Kors bag with the floral embellished strap on the arm of the girl outside of La Colombe (please tell us she, too, impossible poise and all, carries around a million littered receipts)? What podcasts does that cool girl on the subway with the Christine Centenera-y choppy waves listen to? Creepy? Maybe. On your mind also? Almost definitely.
With this in mind, we thought it was only appropriate to document a handful of our own Cov editors doing their thing on the street—and quiz them on their own personal style, the street style fixtures that get their screenshot fingers itching, and where you'll find them in between the litany of shoots, meetings, and appointments that bookmark their lives in the city.
---
It might sound a little cliché, but there's truly no other way to put it: no two days are the same for Emily Ramshaw, our senior features editor. A not-so-average day can take her literally everywhere from, say, Grace Coddington's house to a press preview, after-work drinks and/or dinner, to late- (late-, late-) night karaoke with her Cov co-workers. In other words? When she leaves the house in the A.M., she needs to prepare for everything and anything that could spring up (like a last-minute invite to interview Peter Sarsgaard, for example). Here's how she does it (and what you'll find in the metallic Michael Kors bag she's starting to work into her spring rotation).
How interviewing people about their personal style doesn't make defining your own easier:
"I ask people this question almost every day, and yet I find it nearly impossible to answer myself. So I suppose I have to resign myself and say my style is pretty classic, relatively low-key, hopefully with a bit of a twist."
On experimenting with metallics (courtesy of the most convenient albeit chic bag ever):
"For the shoot, I wore the Mercer duffel in gold, which is honestly a big style step for me. I rarely wear metallics. I actually love it, though, and love how easily it makes a statement without any effort on my part. Then there was the strap, embellished with leather flowers, and the combination of both took my usual sweater-and-jeans situation to a more exciting place. The best part? I can still be hands-free, and the bag is big enough to carry my entire life with me."
What you'll find inside her bag on any given day:
"The basics: cardholder, cash, keys, iPhone, lip balm, a book. And then a ton of extra stuff that I carry around and use every once in a while (but can't get rid of): hand cream, Advil, Gravol, lipstick, cover up, a small notebook, a lighter, a million random receipts—it goes on."
Why she loves street style:
"People-watching in New York is my absolute favorite. I love and applaud anyone who can wear something outrageous and look totally comfortable. I love traditional street style because it's the best representation I can think of of the joy people get out of fashion."
Her favorite street style photogs:
"Tommy Ton 4 ever."
Who she looks forward to seeing most each fashion month:
"I have a soft spot for all the Scandinavians—the minimalist style of people like Celine Aargard and Pernille Teisbaek is what I would love to have. And I love Yasmin Sewell and am always excited to see what she's wearing, mostly because she's such a fashion fan and wears everything with her own unique spin."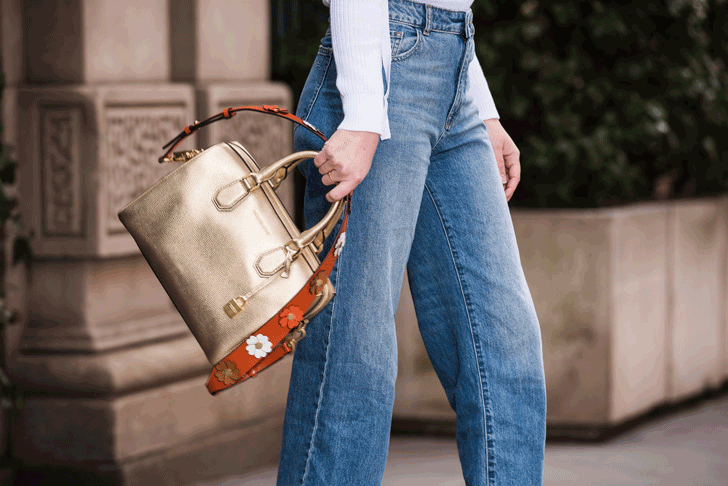 What you'll find her listening to when she runs around the city:
"I don't listen to music when I'm walking—only podcasts! My favorites right now are Pod Save America (sane, insightful, and humorous political coverage), The Moth (the very best stories told live and without notes), The New Yorker Radio Hour (it feeds my brain), and Lit Up (for intelligent interviews with authors about their books and lives)."
Her favorite thing about New York in the springtime:
"I love walking around this city—it's one of my very favorite things about living here. If I have time and the weather is cooperating, I will choose walking over the subway or a car any day of the week. I'm excited for that little bit of green that New York has to come back, the tulips on Park Ave. to bloom again, and for drinking wine outside to be appropriate."
Her 5 favorite spots in SoHo: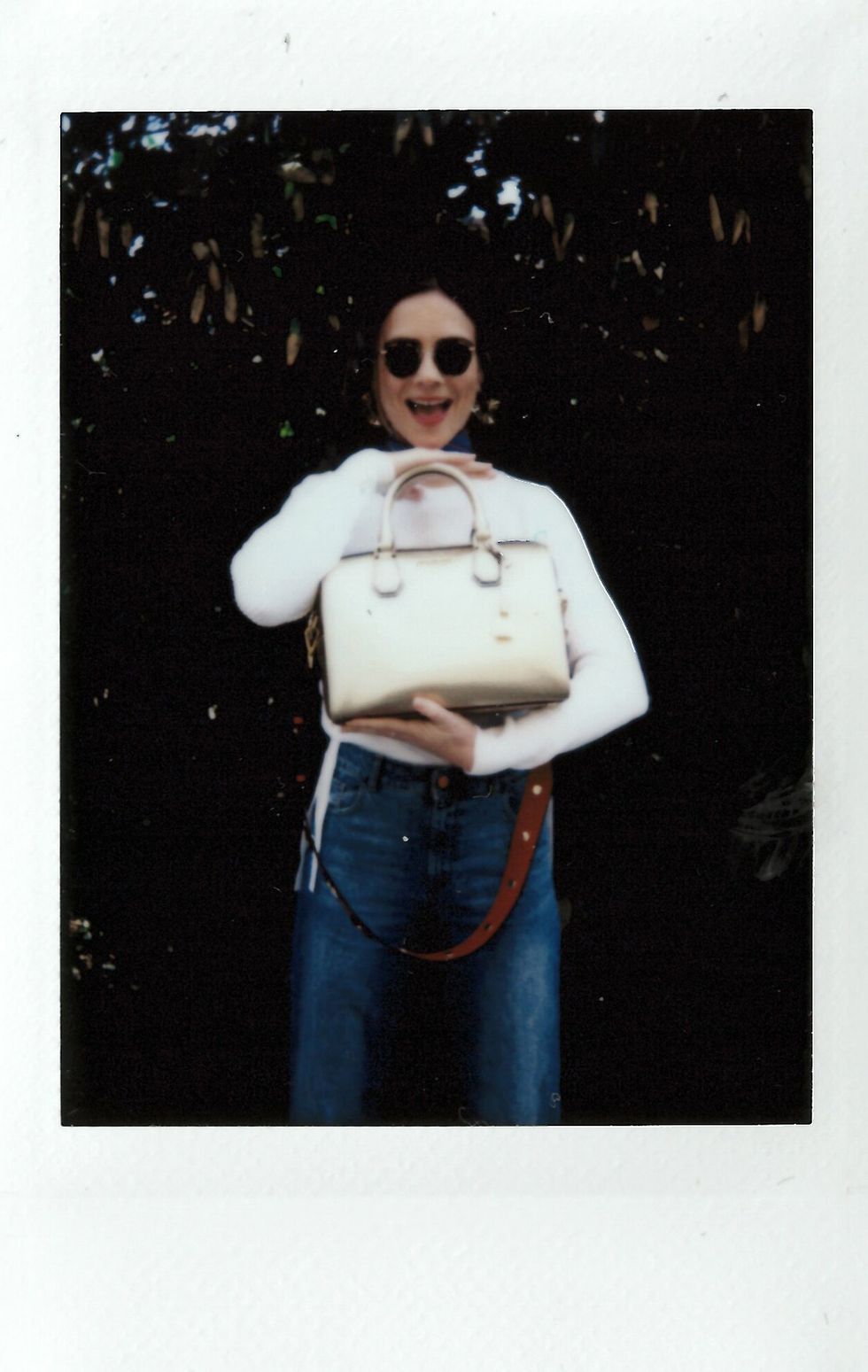 1. DeMaria: "The restaurant is quite literally made for Instagram. The food is also really good."
2. Nom Wah: "Best dumplings. I usually get takeout and eat them at my friend Dave's apartment across the street."
3. American Two Shot: "The very best place for gifts in the pin, jewelry, fun-piece-of-clothing vein."
4. La Esquina: "Okay, I realize these are mostly food related, but La Esquina's tortilla soup is my absolute favorite."
5. Little Rascal: "The cutest quiet wine bar that is pretty much the only place I want to be after a long day."