Travel
Why Japanese Hospitality Is the Best You'll Ever Experience
The animal cafés and vintage shopping aren't bad, either.
If I'm the only one wearing pajamas in public, I reason with myself, I'll feign extreme jet lag or maybe madness by way of excessive matcha consumption—if that isn't a thing, I will make it so.
I'm getting ready for my first dinner at Zaborin, a ryokan (or traditional inn) on Japan's northern island of Hokkaido, and I can't remember if the woman who showed me around said the loungewear hanging in the closet is for me to wear to dinner or after dinner. Likewise, I can't recall if the mini bottle of Hibiki whisky in my room is free or for a fee, but I've already swigged that, so I'll deal with the consequences later (note: it was not free, but worth every yen).
But wait, let me back up. I've come to Japan for a combo city-ski escape in Tokyo and Niseko, Hokkaido's prime alpine adventure town. In this country, springtime means, yes, cherry blossoms, but it also means chairlifts—the ski season in the north runs well into May, thanks to six months of continuous snow.
---
Aman Tokyo
My trip begins with a stay at Aman Tokyo, a hotel with the most impressive lobby I've ever seen. The ceiling is made of washi paper that soars several stories high, so you feel like you've stepped inside a giant Japanese lantern. There's also a pool on the 34th floor with floor-to-ceiling views of Tokyo's skyline, plus tatami-style mats covered in terry cloth and arranged around the deck for lounging.
Upon seeing the pool area, I decide immediately (and based on no research) that swimming will be essential to my pre-ski conditioning. However, when I actually go for a dip later that afternoon, I float like a river sloth on my back for two laps and then retreat to my mat, where the pool attendant has graciously folded my hotel-provided yukata (the kimono's minimalist cousin) and left me a post-workout water bottle. I am not worthy. Rather than study Niseko Mountain's trail maps, as I had planned to do, I read Aman's poolside smoothie menu from cover to cover like it's an Agatha Christie beach read.
Aman Tokyo
Also essential to my pre-alpine routine: cuddling with owls. Tokyo's reputation for eccentric cafés precedes itself, and I've heard about bistros devoted to animals, cartoon characters, robots, and boyish butlers. But what I didn't anticipate was how much I enjoy these themed coffee spots, and in a fit of joyful mania, I visit cat, owl, and rabbit cafés all in one afternoon. I am a tourist cliché, but I'm so happy, I don't care.
I round out my time in Tokyo with a visit to the Imperial Palace East Gardens (just a few minutes' walk from Aman Tokyo) to see those world-famous blossoms and do a little shopping. Among my favorite stores: Lighthouse Records in Shibuya for vinyl and "Make America Dance Again" hats, Tomorrowland (there are multiple locations, but the flagship is in Shibuya) for silk pants that tie at the top like wearable origami and linen culottes, and the chain shop Tokyu Hands, where you'll find eight floors of beauty products, craft supplies, and home goods. I end up with a basket full of Godzilla face masks, washi tape patterned with sushi rolls, and tiny erasers that look like Japanese-brand potato chips. I also spend three hours in a stationery shop (I did not think that was possible) in Ginza called Itoya, which is basically Mecca for desk supplies. While there, I bask in the presence of a $9,000 pen, drink two red bean lattés, and buy birthday cards for everyone I know for the next two years. Finally, I hit up the Sunday flea market at Hanazono Shrine in Shinjuku for vintage kimonos at $10 a pop, anticipating they will make for killer après-ski attire.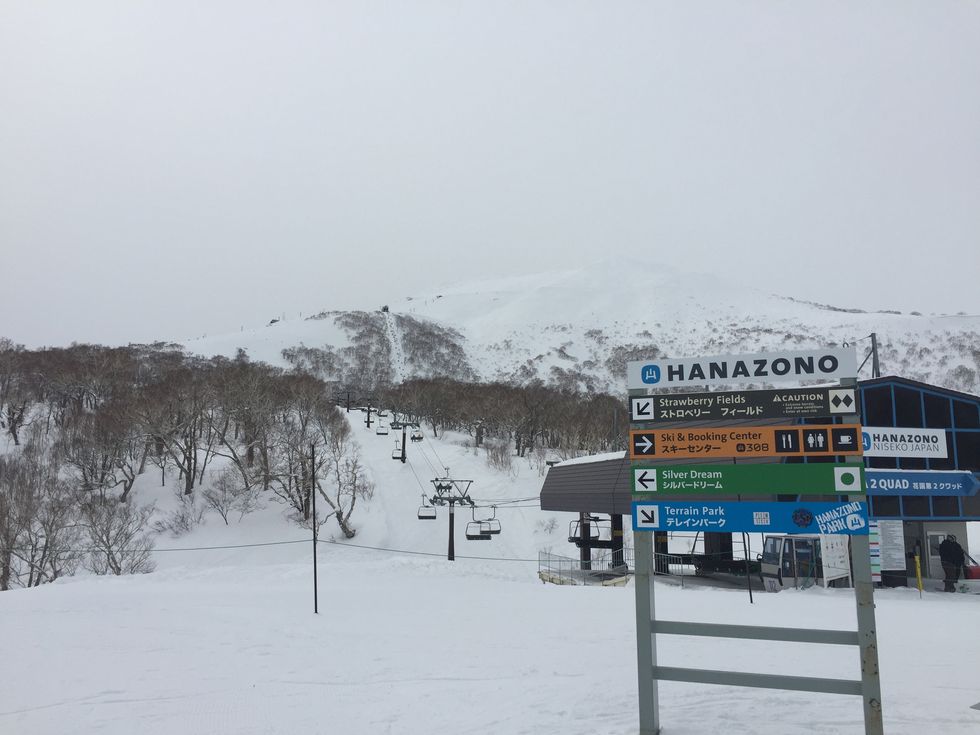 Then it's off to the north. From Tokyo, I take a quick flight to Sapporo, followed by a two-hour car ride to Niseko. Pulling up to Zaborin is like being granted access to a secret, snow-covered forest lair. Within my first hour, I meet the in-house matcha master, who gives me a tutorial on the proper way to mix the powdered green tea, and I feel like my initiation is complete.
That night for dinner, I end up trusting my gut and wear the loungewear the hotel has placed in my room. The look consists of gray cotton pants with a drawstring waist, a matching wrap-front top, a black jacket with kimono sleeves, thong-style tabi socks that separate my big toe from the rest (why not?!), and black clogs. Fortunately, I've chosen correctly, and as I make my way to the restaurant, I see a couple in the library wearing the same cozy getup. It turns out it's commonplace for ryokans to provide casualwear for guests to don throughout the entirety of their stay, which must cut down on packing needs. Genius.
Also genius: dinner, which is 11 courses and included with my stay each night. I follow the hostess to a private dining room, and I'm certain she's mistaken me for some foreign dignitary. It turns out, however, each party gets their own eating nook—I imagine this must be how Oprah feels on every vacation. I order sake and spend five minutes too long picking my preferred sake cup from a tray that the server places on my table (they're all ceramic and glass works of art—it's so hard to decide!), then settle in for the feast that's coming my way.
Dish after extraordinary dish arrives: rose fish soup, octopus sashimi, venison roasted in pine tree fragrance, and red rockfish with white miso. For dessert, there's pear soup and a pastry shell that's shaped like a daisy and filled with balls of ice cream. The ingredients are fresh and local, which makes me wonder if kids here list snow crab and red turnip as their favorite foods instead of mac 'n' cheese like most youngsters I know back home.
I finally ski Mount Niseko the next day, taking off from Hanazono Resort, which is just five minutes from Zaborin. It's an international crowd, with French staff in the rental shop and loads of Aussie snowboarders vying for the best selfie in front of Mount Yotei, a nearby active volcano. Once my legs get sore (turns out my "conditioning" at the Aman Tokyo pool wasn't effective enough), I head to the lodge to join my fellow skiers in slurping ramen, drinking bottles of Kirin, and listening to a guitarist play what sounds to me like Japanese jam-band tunes.
That night at Zaborin, in addition to eating 11 courses again (it's a hard life), my only plans are to bounce back and forth between my room's indoor and outdoor onsen baths—yes, there are two. They're filled with natural, mineral-rich volcanic spring water, and the Japanese swear by their curative effects. Historically, the baths healed injured samurai returning from battle. I've only been drinking beer and skiing beginner and intermediate trails, but spending the day in such close proximity to a volcano makes me feel like a warrior in my own right.
Eventually, the time comes for me to pack my bags, gather my washi tape and erasers, and begin my journey home. It's with a heavy heart that I pick the thong socks out from between my toes, retire my hotel-issued clogs, and lovingly fold my kimono jacket. I realize that my next few stays at American hotels will be tough. Surely there will be brief moments of disappointment each time I head to the closet and lament, "What, no loungewear?!"
Amelia Mularz is an editor for luxury travel company Mr & Mrs Smith. She's written about travel for HarpersBazaar.com, Refinery29 and National Geographic Traveler.