Fashion
Plus, Laurel Pantin on the best restaurant in the city, her love of street style, and what she listens to to get pumped before a big day. In collaboration with Michael Kors.
ICYMI, the very impetus for our website was, in fact, street style. And with the movement serving as a career-catapulting (in the case of many a designer, stylist, editor), trend-dictating launchpad for the entire industry, it makes sense that in the decade plus since street style first became a *thing* online, its reign continues. That said, it's in our nature to take things one step further—we can't help it, really—and dissect the behind-the-scenes of, well, the scene. Like what's actually inside that insanely covetable gold Michael Kors bag with the floral embellished strap on the arm of the girl outside of La Colombe (please tell us she, too, impossible poise and all, carries around a million littered receipts)? What podcasts does that cool girl on the subway with the Christine Centenera-y choppy waves listen to? Creepy? Maybe. On your mind also? Almost definitely.
With this in mind, we thought it was only appropriate to document a handful of our own Cov editors doing their thing on the street—and quiz them on their own personal style, the street style fixtures that get their screenshot fingers itching, and where you'll find them in between the litany of shoots, meetings, and appointments that bookmark their lives in the city.
---
Our editorial director, Laurel Pantin, is no stranger to the whole street style scene—meaning she's pretty much perfected the looking-cool-while-running-around-doing-a-bajillion-different-things thing. Here, the wardrobe staples she's returning to this spring (hint: pajamas!), what's on her headphones as she runs between appointments and meetings, and how an apple-red Michael Kors bag is just the thing to get you noticed by the likes of Phil Oh.
How her style is changing now that it's spring:
"My style changes every day. Some days I'm really tomboyish in a mechanic's jumpsuit; others I like to go full-on sparkle. This spring, I'm really getting back into basic men's shirting and pajama shirts. It sounds like a no-brainer, but it's a look I've relied on in bursts throughout my life. I love unbuttoning them a little bit below where you probably should and wearing lots and lots of chunky gold chains."
How she'd describe her bag of choice:
"I wore a MK Mercer crossbody in bright red—I have a thing for red bags. It's my favorite color, and I think it's a nice, somewhat neutral alternative to black and navy. I love the little gold lock detail on it and that you can wear it with or without a shoulder strap."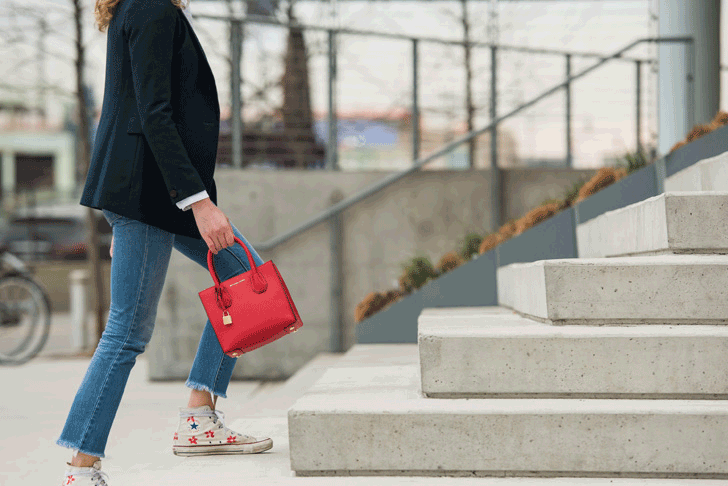 What you'd find if you took a peek inside:
"My red Comme des Garçons wallet (red again!), my iPhone, headphones for listening to podcasts or music, and VMV Hypoallergenics Boo Boo Balm for my lips."
Her favorite thing about street style:
"I love attention and love having my picture taken...so everything? Kidding—sort of. I love that it encourages people to push their outfits a little further. While the circus around shows can be a bit much, there's nothing better than seeing everyone fully decked out in their wildest clothes."
Her favorite photogs to see each season:
"Phil Oh, Tommy Ton, Tamu [McPherson], and Tyler Joe is the nicest person ever."
Who she looks forward to seeing most in a street style slideshow:
"Taylor Tomasi Hill forever. Also, Ada Kokosar is so chic, and Veronique Tristram is unbelievably cool."
What she listens to as she runs around town:
"I love NYT's Modern Love podcast, and of course This American Life. I always listen to podcasts while walking to work. If I have something I need to pump myself up for a bit, I'll listen to the University of Texas' fight songs played by a marching band (seriously!). They're called fight songs for a reason, and they really do the trick."
What she's most excited to get up to now that it's spring:
"Riding bikes on the West Side Highway with my husband, early evening walks with my friend Michael, and weekends in the Hamptons."
Her 5 favorite spots in the West Village:
1. I Sodi: "It's the best restaurant in the West Village, maybe in the entire city."
2. Whitney Museum: "I love The Whitney because the people-watching is just as great as the collections, and the views are incredible."
3. Her apartment: "Is it weird to say my apartment? I love my apartment."
4. The End Of History: "For their collection of antique glassware. I've never bought anything, but even just walking by makes me feel better."
5. Casa Magazines: "On 8th Ave and 12th St. It has the best collection of international magazines, plus, they always have back issues, so if you missed one, you can catch up."