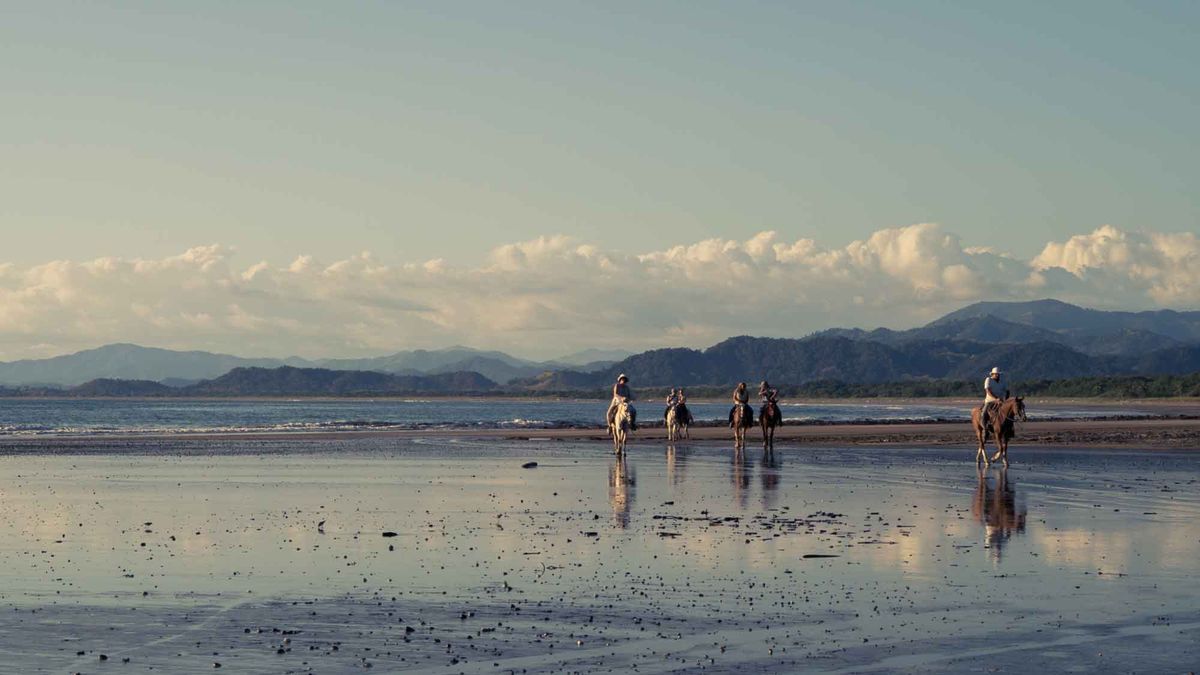 Travel
A freelance photographer hit the waves and chased sunsets in Costa Rica for an entire month.
Renée Rodenkirchen
We're so close to warm weather, we can almost taste it. But that doesn't mean we're not still spending our days scrolling through IG obsessively looking at beach pictures or living vicariously through our friends who have been fortunate enough to take some time off and head south—sometimes we feel like we're almost there with them, but then our pale, non-glowy skin brings us back to reality. A few weeks ago we found ourselves refreshing freelance photographer Renée Rodenkirchen's IG on an almost hourly basis as she was enjoying a month-long surfing vacation in Costa Rica. Not only did she inspire us to do our own version of this trip one day (although we can't promise we can get up on a surfboard), but she also shared her iPhone pics with us from the journey (probably because we wouldn't stop bugging her to see them). Enjoy, and apologies in advance for reigniting your travel itch.
"I've surfed for years, but mostly on random vacations and road trips—I even went as far as surfing on the lakes around Toronto for a couple of years, in really bad weather, with onshore winds, and icicles forming from my eyebrows. However, what I've truly always wanted to do is spend a chunk of time in (warmer) water surfing my brains out.
"Having gone freelance recently, I took it upon myself to take a month off and follow my dream of being a surf bum—my friend is an actual real-life surf bum, so she seemed like the perfect accomplice. Within a week we had booked our tickets, found an Airbnb, and added a few more pals to the group. The trip was everything and more than I thought it could be. We surfed every day (sometimes twice a day), watched the sunset like it was a religion, and drank fresh pipas (young green coconuts) like they were water. The experience of leaving work behind and taking an actual vacation was something I'd never done, and this was the beginning of a new life lesson to take things slower, absorb the moment, and chill the fuck out. The only thing I'd change would be to bring my boyfriend along next time :p."
---
THINGS TO DO IN PLAYA HERMOSA/SANTA TERESA
1. "Walk down to the Playa Hermosa beach, and get a pipa and ceviche from the pipa man (not sure if this is the name that everyone calls him?). Swim, watch the sunset! Imperial and Pilsen are the local CR beers and are yum."
2. "At low tide either walk up or down the beach for about 10 mins, and you will get to see sandy low-tide pools—so fun to float in and have a beer!"
3. "Cafe Couleur for lunch and/or coffee."
4. "TP8 Pizza Bar. You turn right on the main road after walking down the jungle path and walk past Shaka—there's a resto that serves pretty good pizza."
5. "Make sure to experience an ice cream sandwich called a Trits. It's fucked-up good."
6. "Koji's: yummy, yummy sushi—rolls and other delicious things for dinner."
7. "The Bakery in Santa Teresa."
8. "Chop It for lunch is delicious and you will love it. Salads, burgers, juices. Yum!!"
9. "Vista de Ola. This is an infinity pool up in the mountain. Go for sunset!"
10. "Kika and La Lora. [The] party night is Thursday night—you go to Kika for live music and then get blackout at La Lora. They're right next door to each other."
11. "Rocamar. Go here for sunset any day. Sunday is the big party day with bonfires and Hula-Hoop girls."
12. "Drive up the beach on ATVs at low tide."
13. "If you're looking for a one-night or morning adventure, we stopped here for the best coffee, and they make breakfast!"
14. "Turtle Refuge. This is a bit of a hike, but I loved the black sand beach. Also, a highlight was when one of the rangers released a baby turtle while we were there for a picnic and surf."
15."I LOVED Shaka Surf Camp. Go here for a dreamy week of surfing and yoga."