Career
You've probably seen her work on Coveteur. In collaboration with UNIQLO.
We have endless respect for, and will always be inspired by, people who are able to turn their passion into a career—creating their dream jobs for themselves. But in reality, following your passion and turning it into a fulfilling *and paying* career is, to most, straight-up fantasy. Not for Meghann Stephenson!
The Brooklyn-based illustrator not only managed to live out *one* of her passions, but fused her two loves (fashion and illustration) into one unicorn career—creating works of art for publications, including us! We went over to Stephenson's Williamsburg apartment to hover over her shoulder while she walked us through her creative process, talked finding inspiration from artists like Sol LeWitt (whose work inspired the current UNIQLO collection in collaboration with The Museum of Modern Art), her best day ever at MoMA, and why fashion and art will always be intertwined for her.
---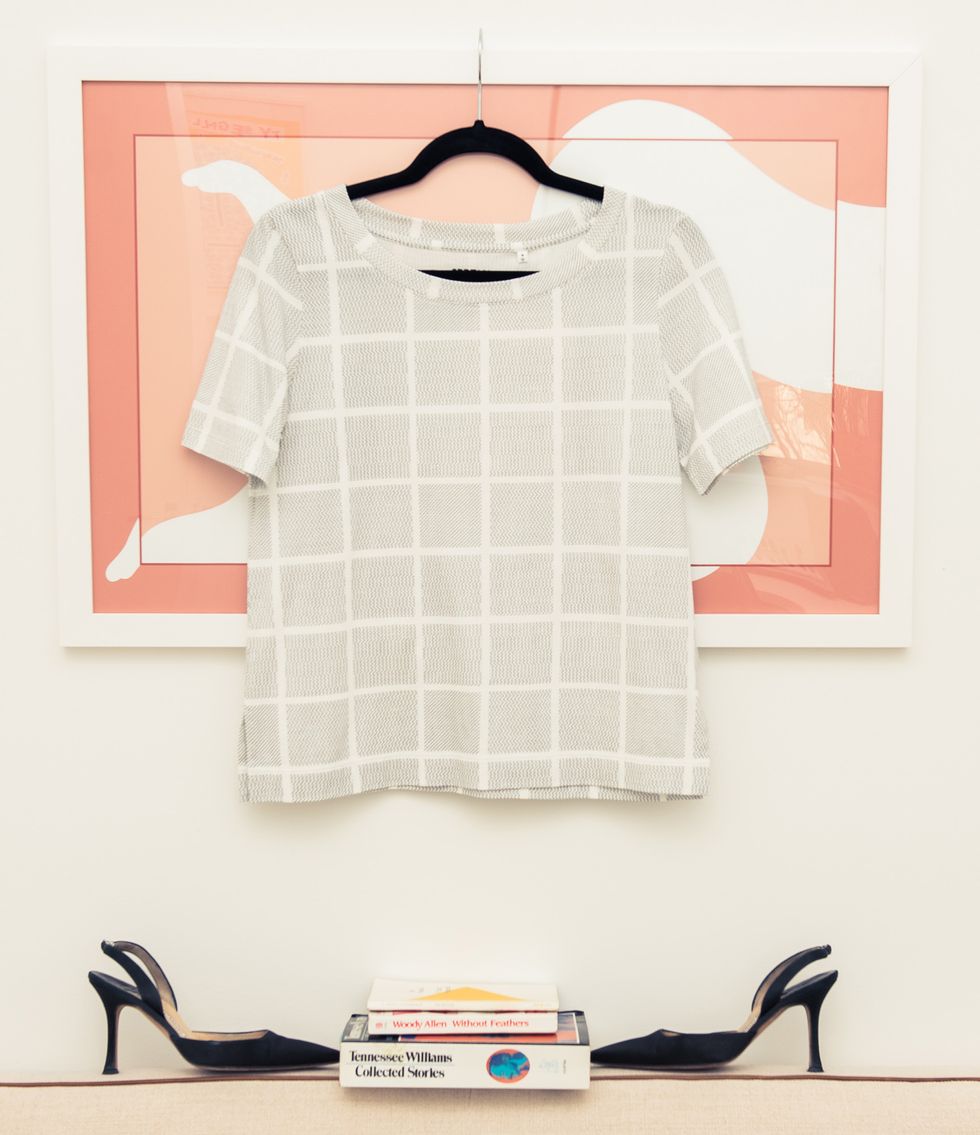 Why drawing was always entertainment for her:
"I grew up an only child and started taking art classes when I was three. My parents wanted me to be able to entertain myself—they thought that was really important. So I was always really interested in art, but it wasn't until high school where I realized that I could do it as a career."
How illustration became her career:
"I applied to a bunch of art schools and got into Parsons. I wasn't really sure what I wanted to do once I got there. I went into illustration because that was something that I really loved. The first year [at Parsons] is really great; it's like a foundation year—we learn every skill set to figure out what we want to do. I was really interested in how to tell stories visually, because if you can do that, you can do so much.
"After school, I ended up working as a design assistant for Pamela Love. Because I can draw, that translated well into the role. Illustrations just kept rolling in, and I was able to go full-time freelance, which was great."
The first time art really spoke to her:
"I remember there was this one Matisse drawing, a line portrait, and I was six or seven—I kept trying to copy it because there was something about it that felt so special to me. Its simplicity was really amazing."
What inspires her now:
"I've been obsessed with mid-century graphic design and working on a vintage book series for a while. I really like reproducing that type of print work in watercolor. I think it translates in a really interesting way. I also like Japanese vintage matchboxes, that always inspires my work. And definitely fashion; I will see things from an editorial I like, and I'll work that in somehow. That's sort of a constant for me."
The connection between fashion and art:
"Fashion is clearly inspired by traditional art a lot. If you study art history, you can tell that that campaign was inspired by that. They are both expressions of a mood or a story. Especially with illustration and fashion; I can tell a story with a painting, and I like to think I can tell a story with how I'm dressing. I think that that is what makes me like fashion so much; I can tell stories that way, even if it's subtle."
The artist whose work she loves:
"I've been familiar with Sol LeWitt's work for a while. A few months ago, I went up to Dia:Beacon in Upstate New York and saw a few pieces of his up there. His wall drawings are really interesting because he doesn't actually do them himself; he will provide a set of instructions for his assistants. His whole thought is that everyone has a different quality of line, everybody interprets directions differently, so the piece always ends up being different."
MoMA was the setting for a perfect day:
"The first week I moved to New York for college, I went with my roommate to MoMA—and I remember that it was the best day. It was summer. It was really amazing to get to see all of these pieces that I had never been able to see in person before, like all of the Warhols and the mid-century furniture that I love so much. There was an installation going on at the time, where you got to draw on the wall at your height. It was so nice."
Shop the Story:
© 2017 Artists Rights Society (ARS), New York / ADAGP, Paris
Atelier Morellet, Cholet / Banque d'Images de l'Adagp.
© 2017 The LeWitt Estate / Artists Rights Society (ARS), New York
© Fundación Gego
Project: 2017 by The Museum of Modern Art