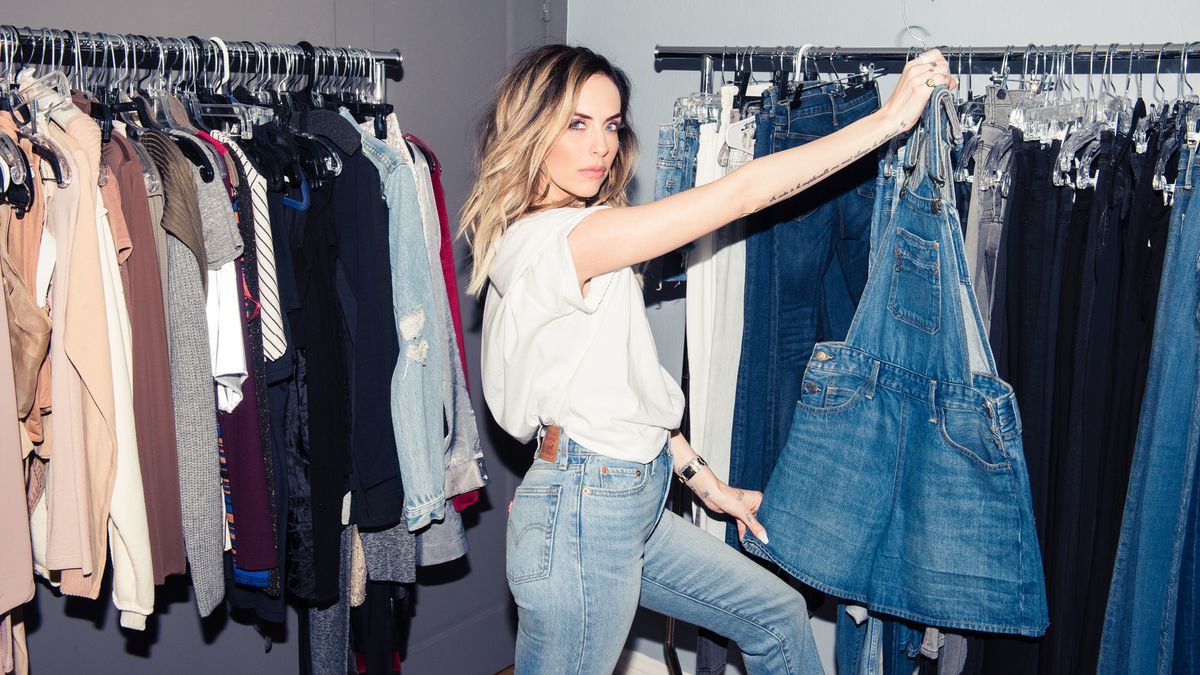 Fashion
Maeve Reilly is here to single-handedly change how you see your go-to wardrobe staple. In collaboration with Levi's.
Meagan Wilson
If you've ever screenshotted an outfit of Hailey Baldwin with the intention of hunting down something similar for yourself (so…everyone?), you might want to sit up and pay attention when her stylist, Maeve Reilly, has something to say.
It's not often that we go out on a limb and say something akin to the following, but in Reilly's case, we're willing to make an exception: Girl is a bonafide image architect. She's one of those rare stylists who somehow allows each and every one of her clients to let their individual personas peek through the pieces she picks for them, but at the same time, her signatures are written all over their looks. She's single-handedly shaped the style of Hailey Baldwin (as captured by, oh, only about a bajillion camera lenses daily), Janelle Monae (hello, did you see her awards season appearances?), Justine Skye (pretty much the coolest), Halsey... We could go on.
---
So when we rolled up to Reilly's West Hollywood studio (none other than Madison Beer may have made a surprise guest appearance as we wrapped), you can probably imagine how our eyes just about popped out of our heads upon walking inside. Somewhere between awards season ending and festival season beginning, Reilly had the following on deck: rolling racks upon rolling racks of crazy colorful, sparkly, spangly things, rows upon rows of bags, shoes, and clutches, and, of course, plenty of denim. If you haven't caught on quite yet, the latter is the bonafide backbone of Reilly's aesthetic; it's a mainstay among her clients, who more or less reinvent how we consider the staple. Seriously—you can hardly scroll through her Instagram feed without the blues making an appearance (it also helps that Reilly's the type to pair a denim jacket with, say, a ball gown).
And so, with a spring and summer replete with festival after festival, and one all-day-Sancerre-fueled outing after another, who better to consult on how to style classic Levi's pieces (and some not-so-classic ones, too) than Reilly herself? We sincerely suggest you consider taking notes.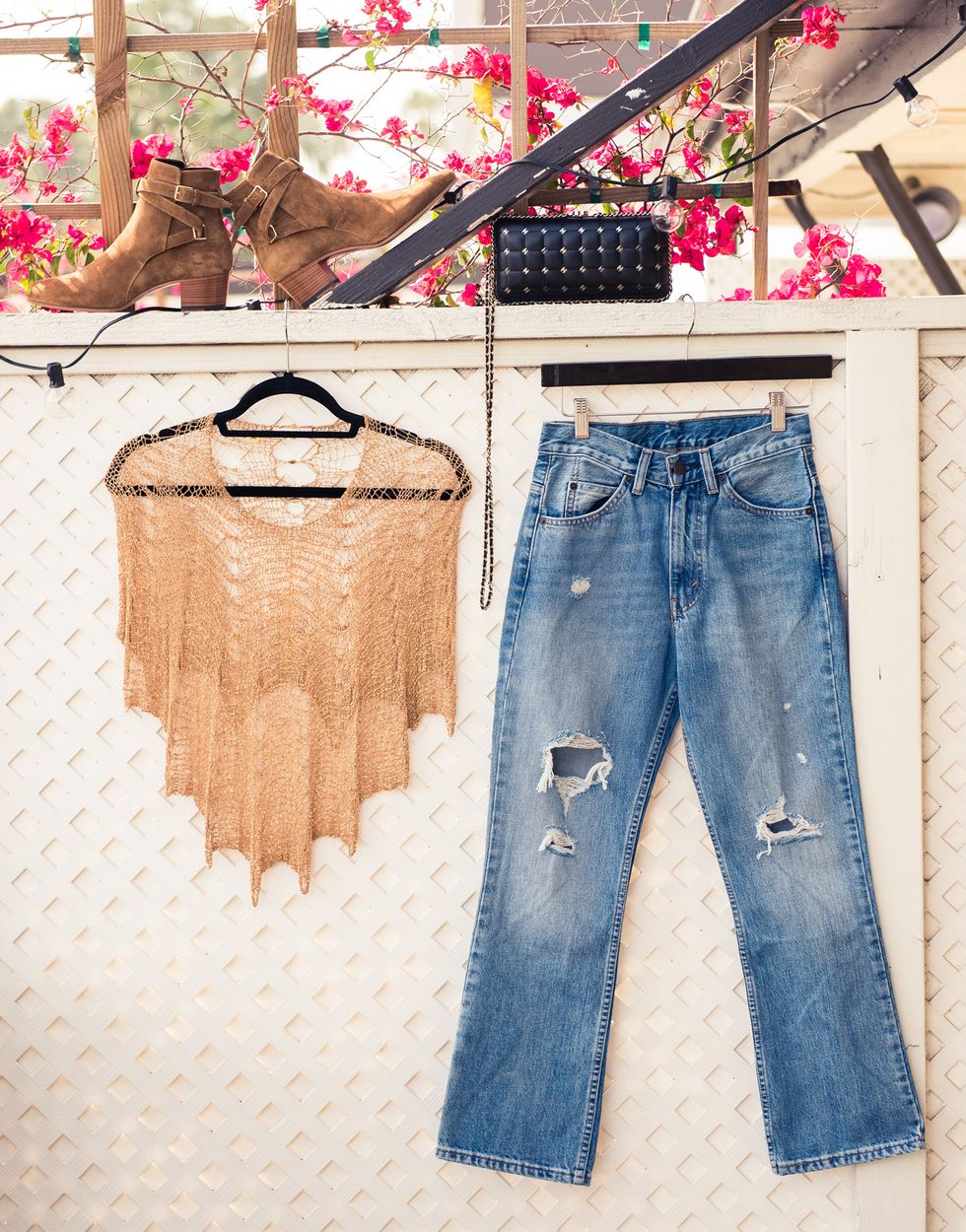 "The sexy chainmail top is a way to stand out in the crowd, but mixing it with the boyfriend jeans makes this look comfortable and appropriate for a day at the festival."
 

"The sexy chainmail top is a way to stand out in the crowd, but mixing it with the boyfriend jeans makes this look comfortable and appropriate for day at the festival."
How she takes a unique approach to every. single. one. of her clients:
"All of my girls have a different aesthetic. When I walk into my office, I'm immediately like, 'Okay, this is for that one, this is for that one.' That way I can keep it as separate as possible for each of them to have their own identity. I'm not here to have a revolving door of the same client."
Why denim is a mainstay in her work:
"I use Levi's for all of my clients, all of the time. Most of my clients are most comfortable in high-waisted denim. I think typically speaking, higher-waisted jeans are more flattering for everyone. It hits you at your tiniest point in your waist and accentuates your ass. It's the way to go! Not all jeans are created equal, and every cut is different. You just have to focus on what looks best on your client."
The look she wore for our shoot:
"I chose the Wedgie jeans here because the high-waisted fit is best for my body. The oversized denim jacket I wore is also a favorite of mine, because I can style it casually like I did for the shoot, or over a sexy dress at night to give me a tomboy vibe, which is very much me."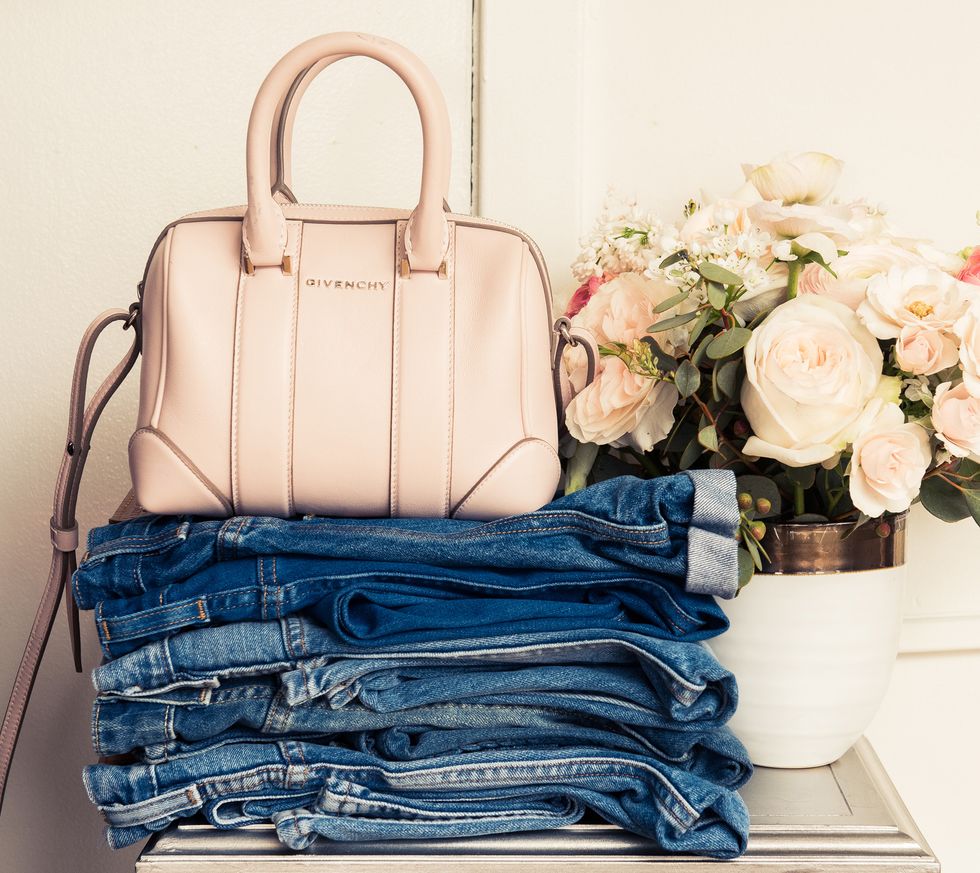 "Love to have a variety of Levi's for all my fittings with multiple clients during festival season. I can always find a pair that works!"
How she approaches working with musicians:
"The music really dictates the style and what direction we are going to go in. It's obviously specific per client; it's also specific per album, even for a single. I had a client [Janelle Monae] who had a song called 'Yoga,' so all of the clothes we did, every time she performed, was athleisure. Music dictates the wardrobe, as opposed to the other way around."
What makes her musical clients so special:
"Actors don't get to take as many risks as musicians do. You get an opportunity to be a little more creative with music people. It's why I love doing it as much as I do! It gives me the opportunity to come up with different ideas and push the envelope a little bit."
 
"I chose these Wedgie jeans because the high-waisted fit is best for my body. I run around so much and never want to be restricted by what I'm wearing."

 
How she styles her clients for something like Coachella:
"With Coachella, the heat is an issue. It's about making sure that they're comfortable and can breathe, that they won't pass out [laughs]. Something that can move."
How she approaches her work with Justine Skye and Halsey (same, but different, basically):
"In a weird way, if I try to describe them, they're similar; but when I get to it and put clothes on them, they're different. They both look great in baggy, oversized clothes. Justine just has this '90s Aaliyah essence to her, whereas Halsey has more a rock-and-roll edge. Halsey's Grammys outfit was very TLC, T-Boz, '90s. Justine could have pulled that off, but it would have given you a completely different vibe."
How she'll style Hailey as a festival-goer (listen up!):
"The first thing she is going to say is that she wants to be able to run around all day and not sweat through her clothes, while still being sexy and cute. Levi's is a great brand [for that] that's classic and a great way to feel comfortable all day; throw on a pair of awesome jean shorts that are going to survive the dust and the dirt. Hailey is my risk taker and can probably get away with anything."
...versus someone like Madison Beer:
"Who's literally walking in the door right now! Madison is sexy and cute and about keeping it simple. It's really about her shape and her beautiful face. I like to keep her more bodycon and edgy. Obviously, she has new music coming out, so it's going to dictate her look."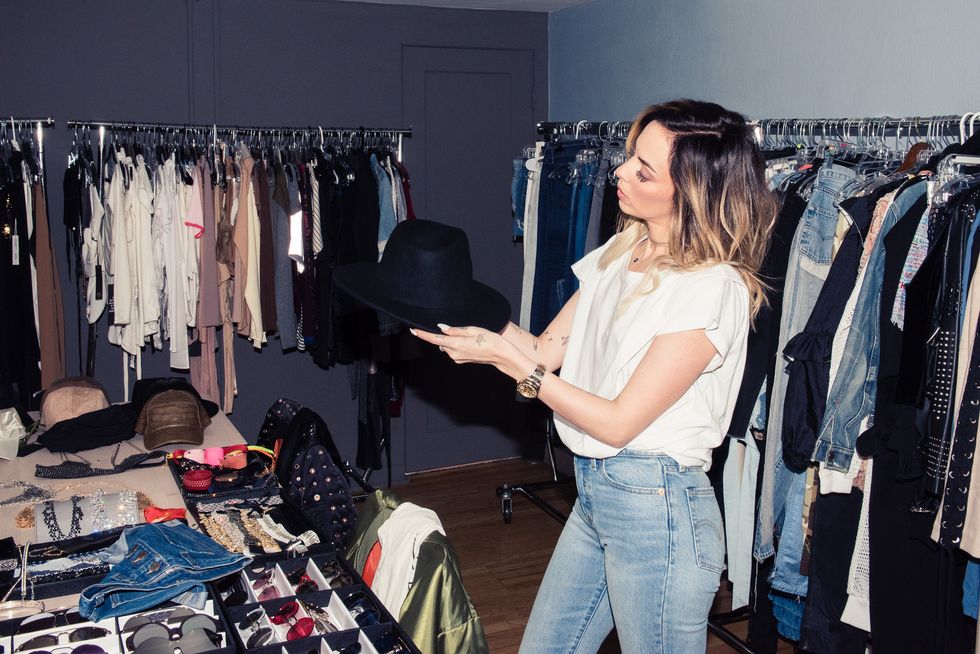 And Janelle Monae:
"Janelle is in a league of her own. She has her own, completely different [aesthetic]: black and white only, with metallic. You saw that with her Oscars dress. She has definitely loosened up a bit with some pops of color, but it is consistently black and white. She would wear black denim. With her, it's really dictated by the event and what she is working on. Janelle as an actress is very different from Janelle as a musician. We have tried really hard to show a difference in these past couple of months with these movies. I think when you see her next with music, it will be a different vibe."
The musicians she's most influenced by:
"I am forever influenced by Bowie, I am forever influenced by Prince, but in the sense of 'just be yourself.' Don't do everything everyone else is doing. Obviously my girls are trendy, but if anything, they are trendsetters. Janelle is another perfect example of someone like Prince, who was just true to his brand and didn't care if anyone bought it or didn't buy it. My girls are strong women who have a strong point of a view. It's definitely an attitude. That's the best part of working with these women, for me: each of them have their own story."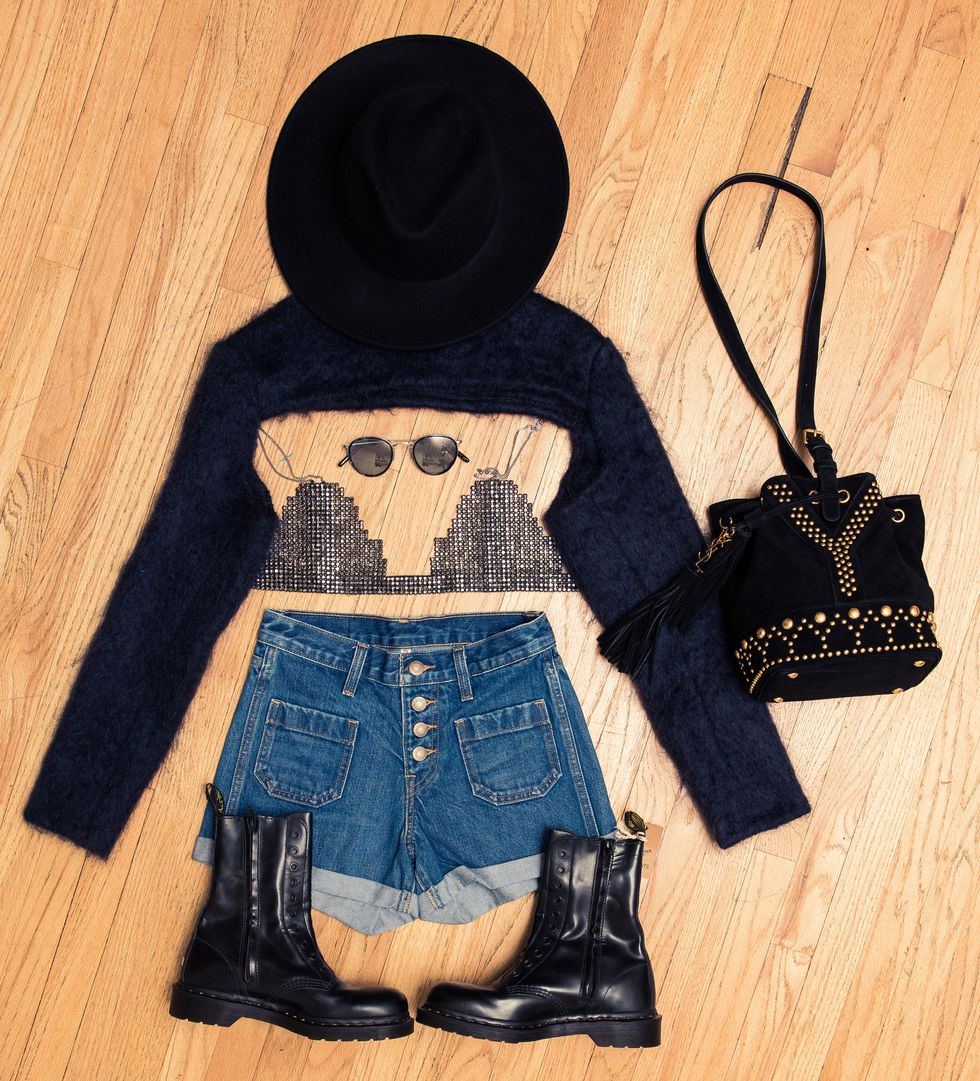 "I love the edginess of this look. This is exactly what I will have on at Coachella this year. Look for a higher waisted short when wearing a crop top, so as to not show too much skin. The Vetements combat boots add a toughness to the look and will keep you going all day and night at a festival."
"I love the edginess of this look; this is exactly what I will have on at Coachella this year."
On her favorite vintage, oversized Levi's denim jacket:
"It was a gift from my assistant. I love it! I use it at night over a sequin dress, or during the day with a t-shirt and jeans. It has big pockets, so I can throw my phone and my keys in it so I don't have to carry a purse, which I love. I like to be hands-free as much as possible. It's a classic piece that you can never get tired of. Denim has made this resurgence in the past couple of years. It's just a great piece."
Her favorite offbeat way to work denim into a look:
"I loved the Levi's Made & Crafted collaboration with Off-White. So dope. Not only did I put it on some of my clients, but also I purchased it for myself. I got this one pair of jeans that were really wide-legged and had this paint splash up the front. I think Virgil is a genius, reinventing a classic brand like that. I love denim at night too, with a blazer and a heel, just classically sexy and easy."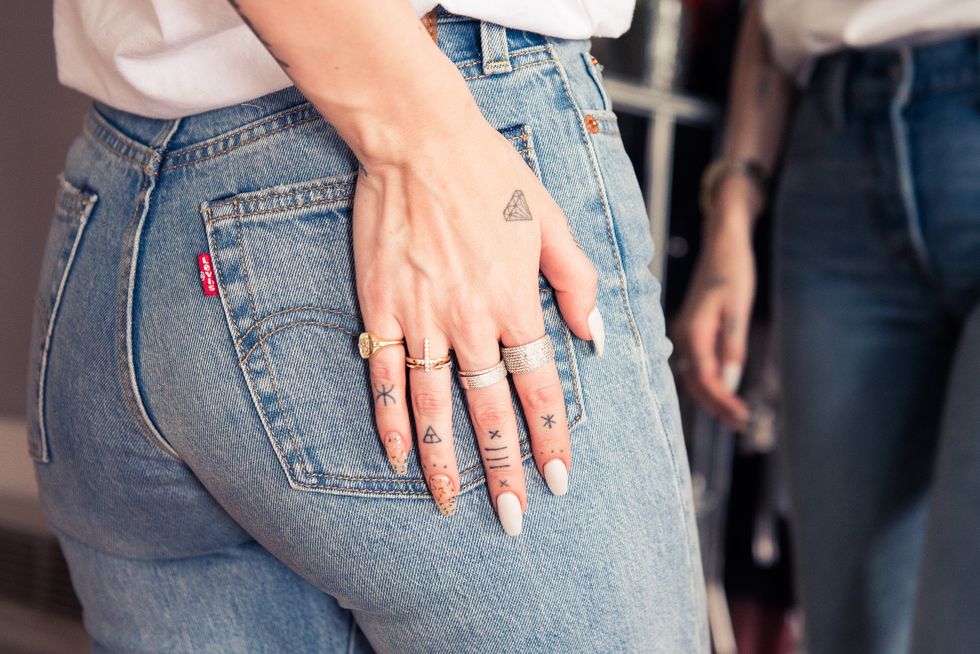 Her plans for festival season:
"I've always gone to Coachella since I moved to L.A.; it's my fifth time going. I always have a blast! I was most excited to see Beyoncé, but…I'm really excited to see Kendrick now. I'm excited to see The XX, I love them. I actually fell in love with The XX at Coachella on the main stage a couple of years ago."
Her festival essentials:
"A lot of water, lip balm, and a phone charger. For clothing, it's about comfort, so jean shorts, jeans, and a bodysuit or crop top. I keep it simple; I just want to be comfortable all day. I am definitely not the girl there with the flower crown and fringe... That is not my vibe. I am definitely more rock-and-roll and edgy. I stay true to how I feel as opposed to what everyone else does."