How Poppy Delevingne & Sofia Richie's Sister-Act Stylists Do Festival Season
The Bartolis' world is a no-flower-crown zone (heavy on the denim, though). In collaboration with Levi's.
Fashion
Festival dressing—it's tricky. Just the phrase "festival season" alone is enough to immediately conjure up everything eye-roll-y and kind of takes the magic out of the whole thing. Of course, the way Marie-Lou and Chloe Bartoli do things, even the most hardened Coachella cynics could be swayed into spending a weekend in the desert.
For one, the Bartolis (who have worked with everyone from Shay Mitchell to Sofia Richie, and more), are veteran attendees of the festival. They've gone "forever," as Chloe told us at Marie-Lou's Bel Air home; and with them every year comes a suitcase packed with all the essentials: sandals and sneakers they can run around in, plenty of '70s-inflected separates, and denim, denim, and more denim. "Anything Levi's, we're obsessed with and we use at every fitting," Marie-Lou told us. Here, everything else you'll need to do Coachella the *right* (aka incredibly luxurious) way.
---
Their approach to styling their musician clients:
Marie-Lou: "I feel like everyone is different. We never want to change anyone's style; we just want to improve it, but keep it their own at the same time. We have that approach with everyone."
Chloe: "For musicians, I love to mix in vintage."
How they change things up from performance to performance:
Chloe: "It depends where they are. If they're in the South of France, it's way casual; if they are doing a show at the Hollywood Bowl, it's way more out there. You have to be able to move in it comfortably and be comfortable onstage, whether they are dancing or moving around a lot."
Marie-Lou: "There are a lot of things to think about when they're onstage."
Chloe: "Whether it's undergarments—is it going to be see-through? Is it going to be stretchy enough? Are the heels too high? Are there going to be a bunch of sweat marks? For day-to-day, it's kind of whatever we want."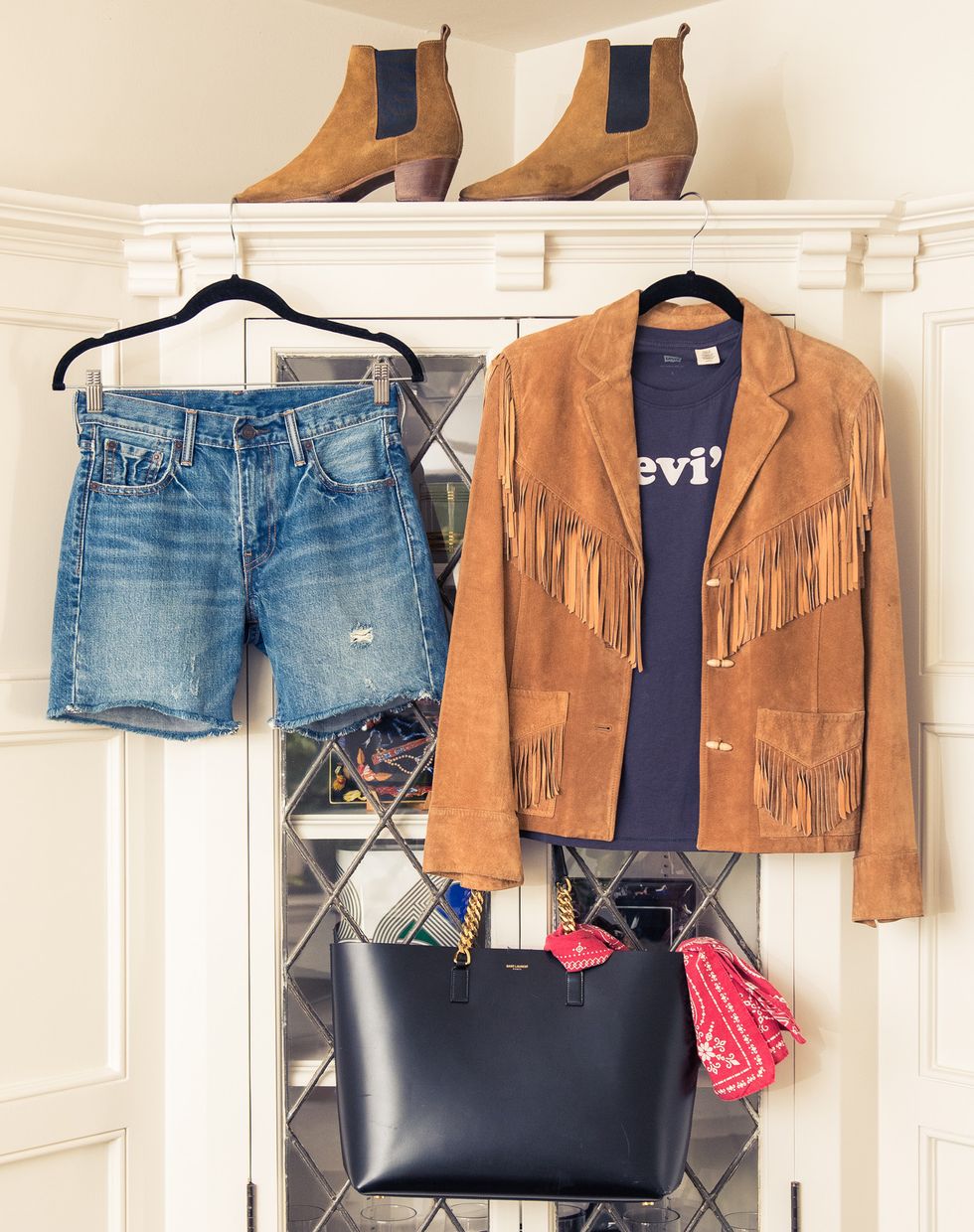 "I call this one, 'the festival look'. Vintage fringe suede jacket, distressed boyfriend Levi's shorts, mixed with a vintage inspired tee, Saint Laurent suede ankle boots and a oversized tote. Perfect for any music festival weekend!" —Chloe
"This look feels very Americana inspired. The vintage tan suede fringe jacket paired with the blue denim shorts sets a western tone." —Marie-Lou
"Vintage fringe suede jacket, distressed boyfriend Levi's shorts, mixed with a vintage inspired tee, Saint Laurent suede ankle boots and a oversized tote. Perfect for any music festival weekend!" —Chloe
The one thing that stays consistent, no matter the client:
Chloe: "Our favorite thing that we always go to fittings with, that we never come without, is Levi's 501s. Dark washes, light washes, flared, high-waisted, skinny, shorts. Anything Levi's, we're obsessed with and we use at every fitting."
Marie-Lou: "We use them literally every day. We also wear them ourselves every day."
"This jacket is great. It reminds me of a vintage one my father used to own and wear all the time! I would style this look with the jacket zipped up all the way up, with a pair of blue jeans as I love the double denim look. I would add pops of color, such as the yellow Levi's bandana, and a printed bag such as the snakeskin Gucci disco purse, to brighten up the all-denim look." —Chloe
"This denim jacket, bandana, and hands free Gucci bag are the perfect combination for a festival look. A denim jacket is a perfect layering piece that's not too heavy and can be worn multiple ways. A denim jacket is a staple item that everyone should own. The bandana adds a pop of color." —Marie-Lou
"I would style this look with the jacket zipped up all the way up, with a pair of blue jeans as I love the double denim look. I would add pops of color, such as the yellow Levi's bandana, and a printed bag such as the snakeskin Gucci disco purse, to brighten up the all-denim look." —Chloe
The favorite Levi's pieces in their wardrobe:
Marie-Lou: "I'm obsessed with these ivory jeans. They are so cute. They are cropped with a little flare, super flattering on the ankle. They are cute to wear with sandals, or a flat, or a boot, or to go out with a heel."
Chloe: "I love the t-shirts, especially the red one with the white stripes on the sleeves. Even the fabric has a thickness to it that feels vintage-y."
Their favorite unexpected way to wear denim:
Marie-Lou: "I wear it casually. My every day uniform is a pair of vintage Levi's and a t-shirt. I like to throw on a belt here and there."
Chloe: "I like to dress it up. I can do it with a cool fur jacket at night, with some heels, a dress blouse, and jewelry."
"The off-white, straight leg cropped Levi's pictured here, I like for a nighttime look. I would pair these jeans with a classic silk blouse, unbuttoned low with a belt, and a high heel ankle boot or pump, with a nighttime bag, such as this Saint Laurent black weaved fringe bag." - Chloe
"These cropped flared jeans were my favorite from the shoot. They can be styled so many ways. I like to wear them as an 'everyday' jean with a cotton t-shirt and this YSL crochet bag for an effortless day look." - Marie-Lou
"I would pair these jeans with a classic silk blouse, unbuttoned low with a belt, and a high heel ankle boot or pump, with a nighttime bag, such as this Saint Laurent black weaved fringe bag." —Marie-Lou
Their musical style icons:
Chloe: "Mick Jagger, obviously. Jimi Hendrix, I love. Robert Plant, Joe Cocker."
Marie-Lou: "We love Bob Seger—obsessed with Bob Seger."
Chloe: "Cher kills it in her denim."
Marie-Lou: "Elvis!"
Where you can catch them on the festival circuit this summer:
Chloe: "We've been going to Coachella forever. We love it."
Marie-Lou: "I would love to go to Stage Coach. I've never been, and I hear very good things. I'm obsessed with country."
Chloe: "I might be going to Glastonbury with some of my friends from London. I've never been, and it's during my birthday."