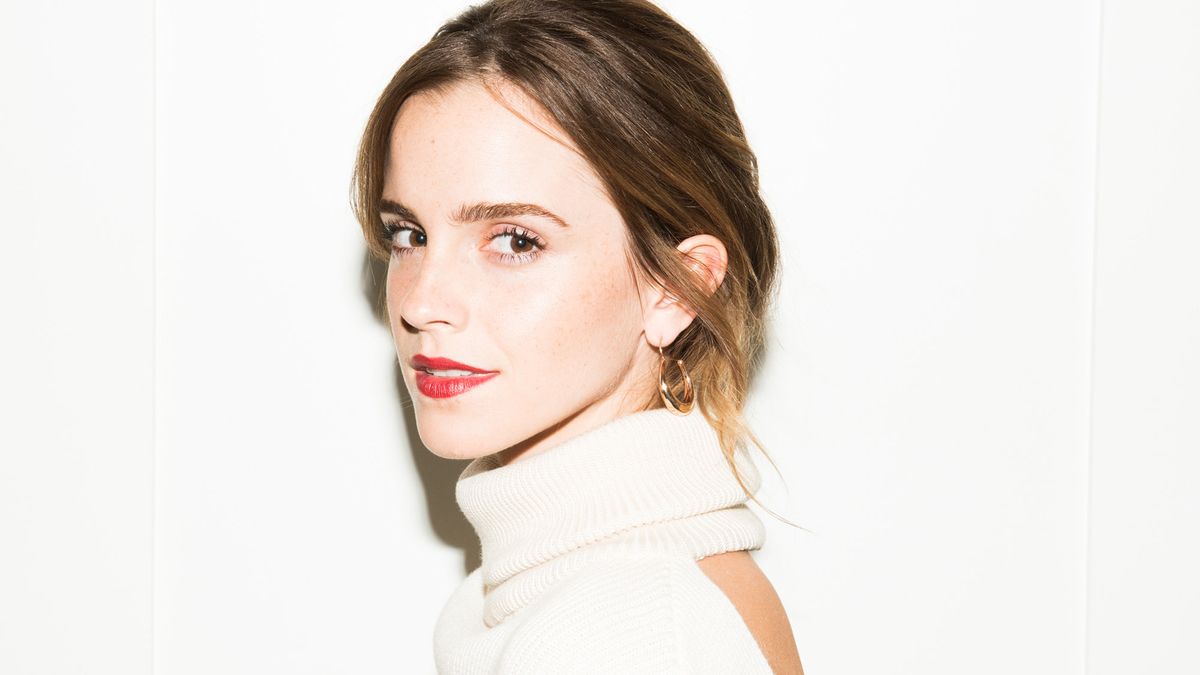 Celebrity
Turns out she feels it too.
We hate to say or think that feminism is merely having a moment, but it's undeniably every-fucking-where right now. And given that the momentum continues to transcend mere lip service and actually manifest itself into real, tangible action and activism, we're here for it. As you likely already know, so is Emma Watson, who, since her 2014 "He for She" speech at the United Nations HQ, has been championing not just equal rights for all women (emphasis on the "all"). She's also been having meaningful discussions around intersectionality and criticism around white feminism, thrown down with bell hooks for Paper magazine, and launched a feminist book club to share the work of her favorite theorists since then, too. With all of this in mind, it was kind of a given that when we had the opportunity to meet her, we'd ask her about her beliefs, how she deals with the current news cycle, and how we can all be a little more politically active.
How she came to identify as a feminist:
"In school, I was really taught that gender inequality was something that had already been solved, that equality was a reality in the world around me, and so I really believed that. Once I went through puberty and started having adult relationships, and moving through the outside world, it very quickly became clear to me that that was a complete fallacy. I realized that feminism was just such an incredibly important idea—and more than just an important idea, it was what would keep me sane in difficult situations."
On the personal being political:
"I feel like women internalize an awful lot, which has nothing to do with them. The personal is made very political for women. Women have experiences with certain things, and instead of internalizing them, they're starting to realize that there's a much larger pattern and a much bigger issue and problem, which [in turn] is personal for them."
On the whole tired "can you enjoy fashion and still be a feminist" thing:
"Naomi Klein wrote an amazing book called The Beauty Myth, and she articulates how adornment is something that women and men have done throughout time, throughout different cultures. It's a form of celebration. It's not so much the adornment that's the problem. For me, when fashion gets negative, it's to do with the sense of not having a choice or feeling forced into doing something that makes you uncomfortable or makes you feel less than, or whatever. If fashion is something that you derive pleasure from, and it gives you joy and a creative outlet, then that is absolutely in line with feminism. If it's a way to celebrate yourself and it really feels that way, then that's incredibly empowering."
How she ensures her red carpet fashion choices are feminist, too:
"I'm thrilled to support and work with Dior, because there's a female at the head of the house, which is amazing. There should be more of that. [LVMH] also signed the Women's Empowerment Principle, so as a brand, not only are they talking about empowering their customers, but they also empower the women that make the clothes for them. It's all very well in marketing for a company to say, 'We want to empower women,' but do they empower the women that do their work for them? I think that dual approach is really important.
"I think Gabriela Hearst is absolutely amazing, very sustainable, really smart. As I put together my press looks for Beauty and the Beast, I really had in mind, 'How can I support up-and-coming female-owned businesses?'"
The feminist theory that should be next on your reading list:
"Bell hooks does a very good, almost pamphlet-length book, Feminism Is For Everybody. It's really great because it's not overwhelming, but it does a really good job of contextualizing [feminism]."
On the realities of activist burnout and self-care as resistance:
"The really cool thing about so much of our movement at the moment is that we have some incredibly funny, witty, and intelligent women working. It's very easy for people that become politically engaged to become overwhelmed and really burn out. It's important to realize that joy, self-care and love are radical. They are acts of resistance, and it doesn't have to be incredibly somber and serious all the time."
How she deals with the news cycle:
"I try to stay informed. I have people that I tell, 'If you read something really good, send it to me.' I think that reading too much media can be very negative and bad for the soul. You just forget there are good things happening in the world and good people who are doing good things. It's important sometimes to tune out and take a break from the daily digest of doom and gloom. The last year I've been focused on reading books and reading less media; it's been good and helpful [laughs]."
Why she urges everyone to become politically active:
"Something that my dad was always very cognizant of was the idea that when you stand up for yourself, you're also standing up for other women. And it's true. You don't just stand up for yourself, you stand up for everyone else that's in your position, and I think it's super important to do that."