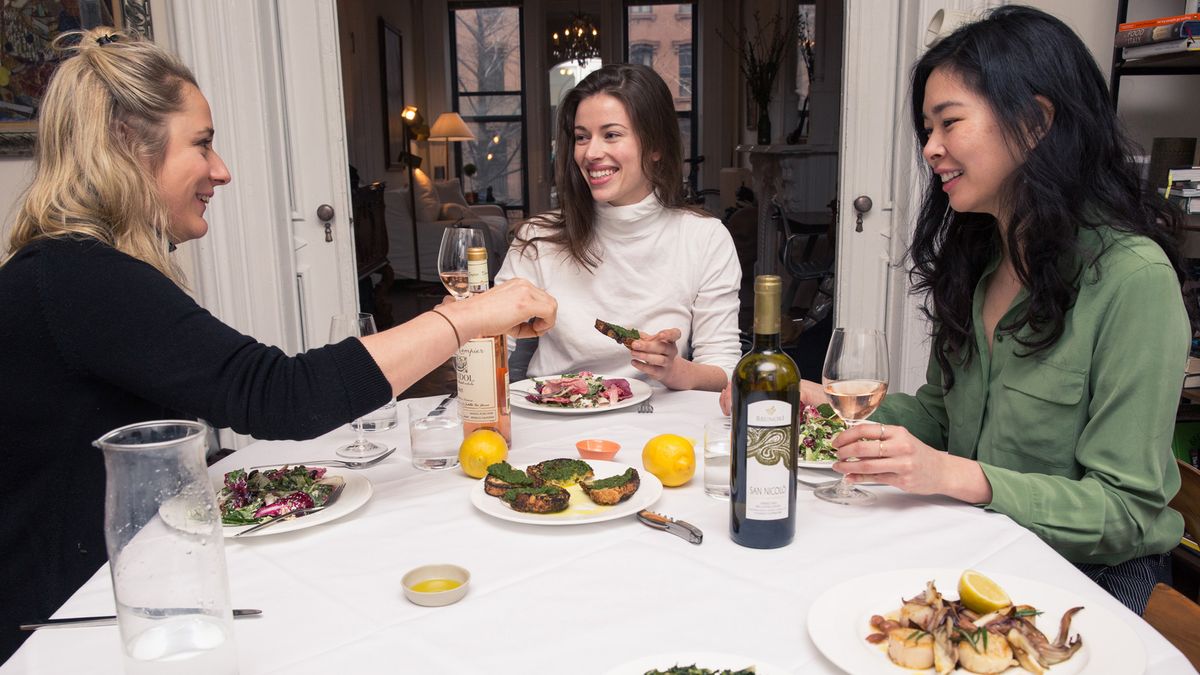 Entertaining
Three female chefs show us how.
Alec Kugler
Just putting this out there: We are big brunch fans. We are totally those people eating massive meals on Sundays accompanied by as many of our pals that we can drag out of bed before 11 and their requisite cocktails. Any excuse to be socializing (read: eating and drinking) to stave off any encroaching Sunday Scaries. It's also true, though, that it's crossed our minds that we might be able to put together something just as good (if not better) ourselves in the comfort of our own apartments (also read: staying in our pajamas). The fact remains, however, that we struggle enough cooking just for one, and the thought of throwing a Sunday lunch for our friends is minorly terrifying—and yet the prospect of doing it well is truly satisfying.
With that in mind, we asked the girl squad behind King, a new-ish restaurant in Lower Manhattan that serves an especially delicious Sunday lunch in the English roast tradition of their London hometown, to help us out. Co-head chefs Jess Shadbolt and Clare de Boer and general manager Annie Shi shared a gourmet, crowd-pleasing recipe that's easy enough to make while your guests are sipping rosé with you in the kitchen, and even better to eat—over more rosé. See? Way better than waiting in line at Jack's Wife Freda.
---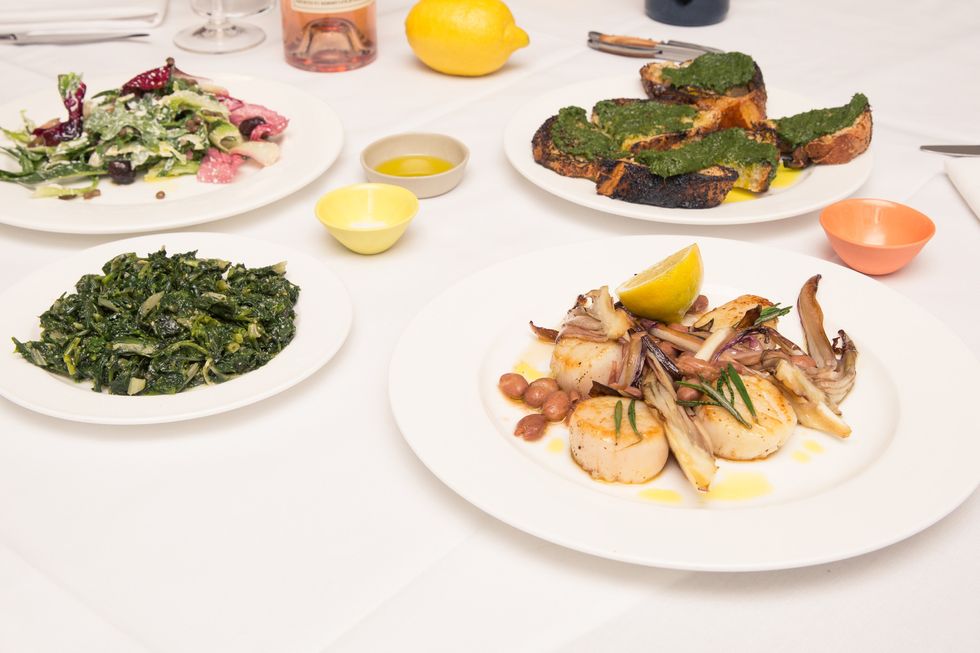 Cavolo nero crostino with Capezzana 2016 olive oil
At King, we like to serve this with an aperitif. It's a great way to start a lunch with friends. In Italy, the cavolo nero comes into season after the first frost, which coincides with the harvest and press of the new olive oil. The peppery notes of the verdant green new oil and the earthy flavor of the Cavolo nero work brilliantly together.
INGREDIENTS:
2 bunches Cavolo nero, stems removed
2 cloves garlic, peeled
3 cups extra virgin olive oil—single-estate is best (we use Capezzana)
Maldon Sea Salt Flakes
freshly cracked black pepper
4 slices of bread (we use pagnotta)
DIRECTIONS:
1. Bring a large pot of salted water to the boil with the garlic cloves.
2. Blanch the Cavolo nero until completely cooked; there should be no bite. Approximately 7-10 mins.
3. Remove the leaves from the water and drain, retaining the garlic and some of the blanching water.
4. Add the Cavolo nero and garlic to a food processor, and start to blitz. Gradually add a small ladle of the blanching water to make a soft paste, ensuring it does not become too loose. Slowly add the oil until the paste becomes a smooth puree. Season with plenty of black pepper and more salt if needed.
5. Grill the bread (we use a naked flame) until charred, not burnt. Sprinkle a little salt and olive oil onto the toast before topping with the warm puree. Finish with more extra virgin olive oil.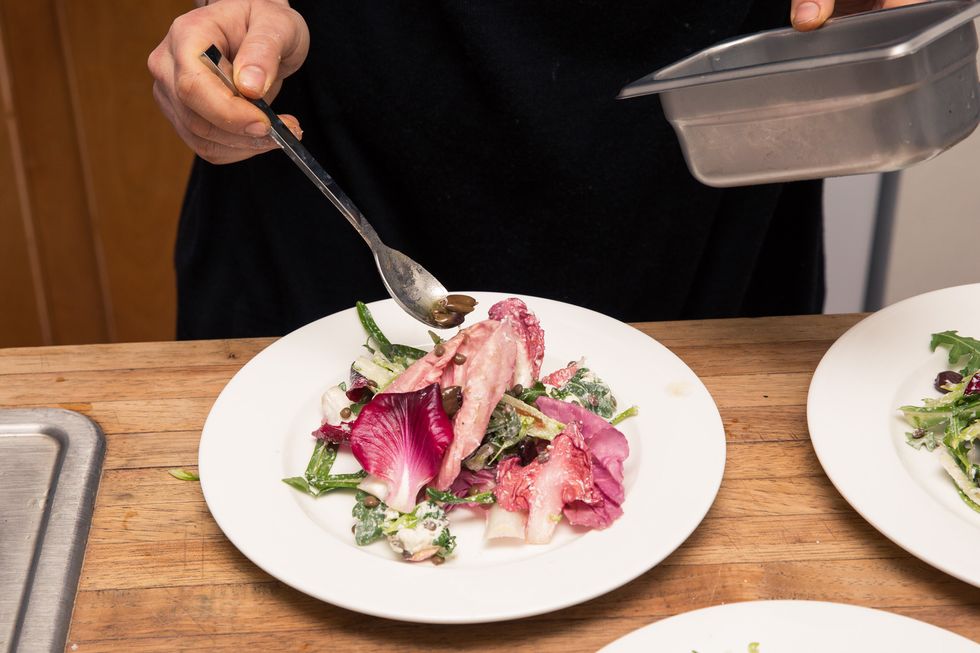 Fresh ricotta with winter leaves, puntarelle, and castelluccio lentils
This is a fresh and delicate salad that celebrates the winter leaves that are so in season at the moment. If you can't find puntarelle, you could easily use Florence fennel instead or as well as—just make sure it is thinly sliced. Try to find Castelluccio lentils—these smaller lentils have an intensely fragrant flavor.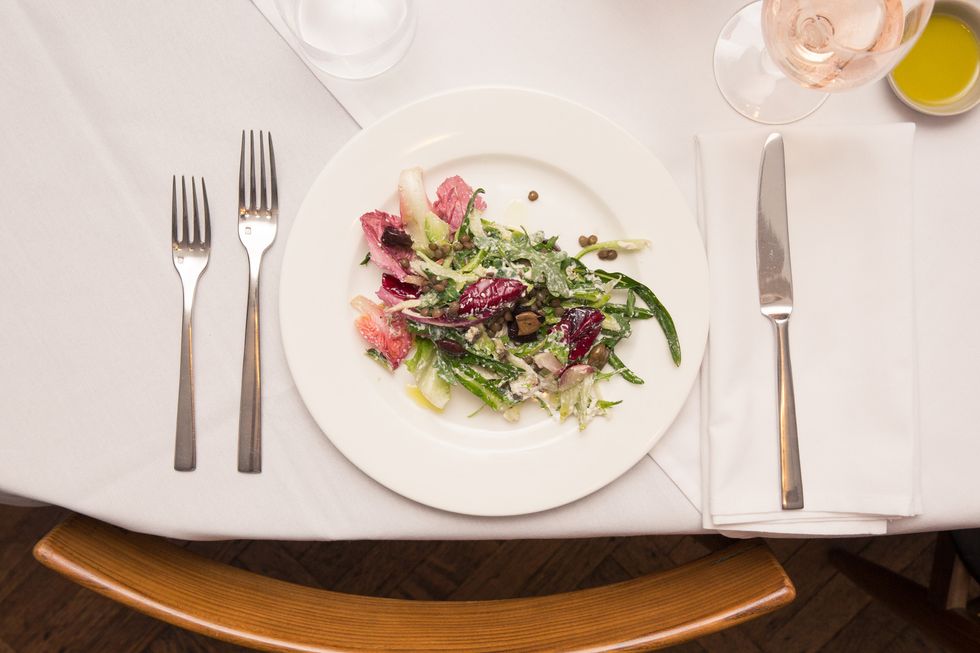 INGREDIENTS:
2 cups lentils
2 sage branches
3 cloves garlic
1 cup olive oil
juice of one lemon
1 cup fresh ricotta—sheep or cow's milk will work
a selection of winter leaves—grumolo rosso, radicchio di goriza, arugula
1 head puntarelle, woody stems removed, thinly sliced into iced water; or 2 heads Florence fennel, outer leaves removed, thinly sliced 
2 tbsp fresh marjoram
sea salt
freshly cracked black pepper
DIRECTIONS:
1. Begin by cooking the lentils. This can be done ahead of time and warmed gently when needed.
2. Rinse the lentils under cold running water to remove any residual dust. Place the lentils in a saucepan with the sage and garlic, and add enough water to cover them by 2 inches. Cook on a gentle heat for 20-30 minutes until cooked. You may need to add more water.
3. Remove the aromates, and season with salt and pepper and finish with olive oil. Leave to cool.
4. Place the ricotta in a large mixing bowl with a pinch of salt and black pepper. Add the marjoram, puntarelle, and winter leaves.
5. Season again with salt, pepper, lemon juice, and olive oil. Gently toss together, ensuring the ricotta lightly coats the leaves. Taste, and adjust the seasoning.
6. To serve, tumble some lentils onto the plate, and top with some of the dressed leaves. Sprinkle some more lentils through the salad, ensuring each plate has a little of each leaf. Finish with some good-quality olive oil.
Scallops roasted with treviso Tardivo, borlotti beans, red wine vinegar, and rosemary
Treviso Tardivo is a member of the radicchio family—its flame-red leaves are unmissable, and though difficult to find, effort should be made to search it out. You won't be disappointed.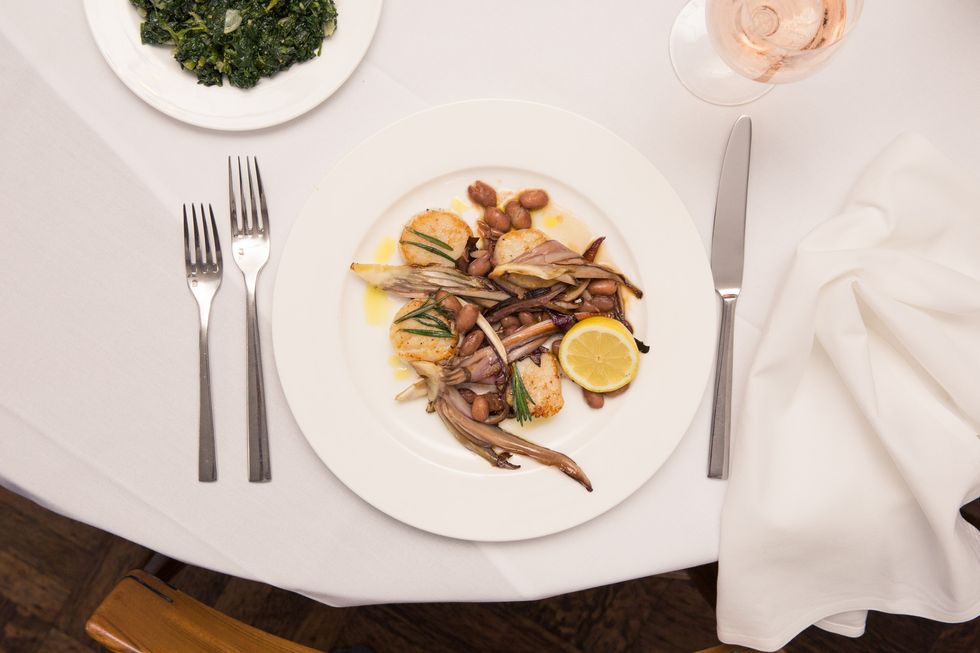 INGREDIENTS:
2 cups dried borlotti beans, soaked overnight
1 bunch sage
1 head garlic, sliced in half across the top to reveal the cross-section of the head
2 heads treviso Tardivo
16 day-boat scallops
1 branch rosemary, sprigs removed
olive oil
sea salt
black pepper
good-quality red wine vinegar (we use Volpaia, which has a gentle acidity)
DIRECTIONS:
1. Soak the beans overnight in plenty of water. They will swell dramatically.
2. The beans can be cooked in advance; keep refrigerated until ready to use. To cook the beans, drain off the soaking water and place in a large, heavy-bottomed sauce pan ideally large enough so that the beans lie in a single layer. Add enough water to cover the beans by 2 inches with the garlic, sage, and olive oil. Cook these on a low heat at a gentle simmer for 1 ½ hours - 2 hours. You may need to top up the water. Once cooked, remove the aromats and season with salt and pepper, and finish with more olive oil.
3. Prepare the Tardivo by removing any damaged outer leaves and trimming the tough root. Slice the head lengthwise into eight, striking shards.
4. Warm the borlotti beans.
5. Heat two cast-iron pans over a high heat with a little olive oil, enough to just cover the base of the pan. It should be very hot. Season the scallops generously with salt and pepper. Place the scallops in the pan, and reduce the heat a little. Allow the scallops to cook on one side, without moving, for 2 minutes. Working quickly, turn the scallops and add the tardivo to the pan; season this, and allow to gently roast. Add a drop more oil if needed. Add the rosemary until crispy, and a splash of red wine vinegar. The scallops are cooked when they have some give to the touch.
6. Serve on a plate with a scattering of beans and the tardivo. Finish with olive oil.
Baked pear in Marsala
Baked fruits are perfect for the winter months; at King we like to use pears and apples or quinces, but as the summer approaches, we'll be looking forward to poaching stone fruits, like peaches and plums, for something lighter.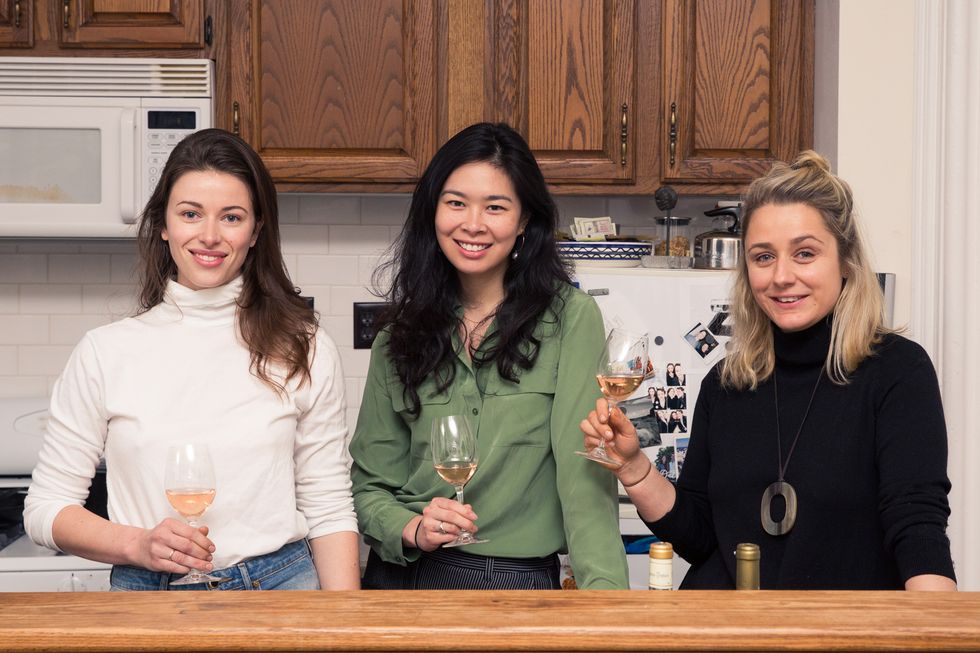 INGREDIENTS:
4 whole pears, core removed (Bartlett or Comice are good options)
⅛ cup slightly softened unsalted butter
½ cup soft brown sugar
500 ml dry Marsala
1 stick cinnamon
DIRECTIONS:
1. Pre-heat the oven to 500°F.
2. Rub each pear with a generous coating of butter. Dredge with brown sugar over the pear so that it sticks to the butter. The pear should be completely covered in sugar.
3. Place the pears in an oven-proof roasting tray, and pour in the Marsala with the stick of cinnamon.
4. Cover tightly in tin foil and place in the oven. Cook for 2–2 ½ hours until soft.
5. Serve in a bowl with the liquor and some crème fraîche.