Makeup
Model Kota Eberhardt Has the Best Tricks for Depuffed Under-Eyes & Larger-Looking Lips
The beauty chameleon on shooting with Bruce Weber, experiencing racism as a model, and inspiring Solange's latest eye look.
Weston Wells
Alicia Cesaro
All it takes is one glance at model Kota Eberhardt's silvery-white (she's also been blue, pink, green, and just about every other color under the sun) buzzed crop to suddenly have the urge to root around in her medicine cabinet, trying to find the source of her infinite cool. We figured interviewing her about it might be easier. Here's what Eberhardt, signed with MSA Models, had to say about being discovered by Bruce Weber, the day she learned to love her hair, experiencing racism while meeting with modeling agencies, and the eyeliner trick that inspired Solange.
---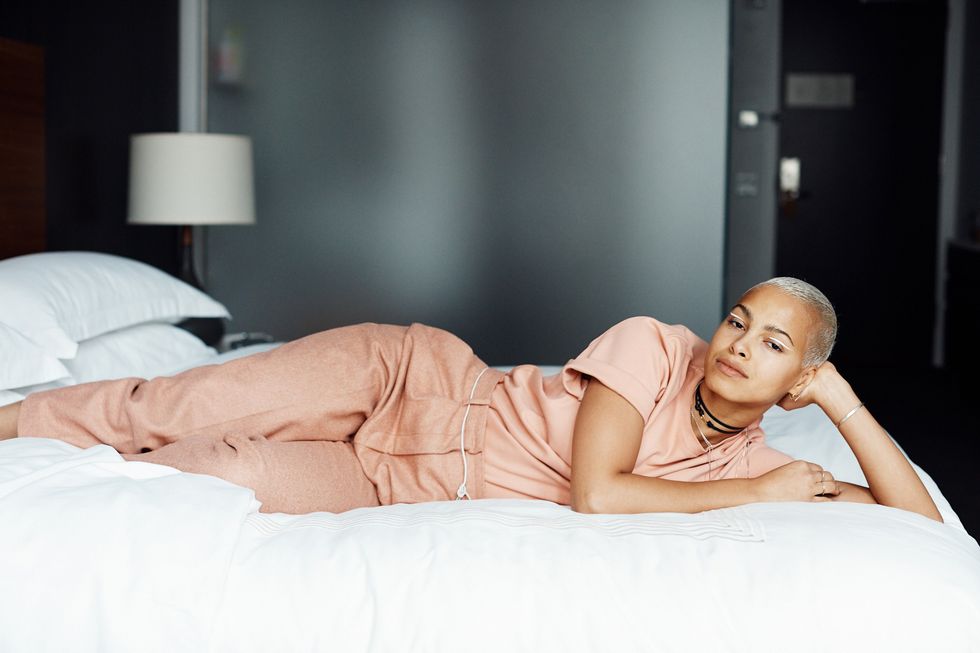 Kota Eberhardt photographed by Weston Wells for The Coveteur
On being discovered:
"I was scouted by one of Bruce Weber's main casting agents. He found me in Virginia Beach. They were like, 'We're casting for Abercrombie and Fitch, and we're looking for people of color, boys specifically, but we think you might work.' I went out on my own and didn't tell my dad, and we just took some shots. Next thing you know, I'm being cast for Abercrombie and Fitch."
Her everyday beauty look:
"My hair is buzzed now, so I love playing around with my eyebrows and my eyes. If I'm messing around with anything, it's going to be very minimal, nothing too outlandish. 'Minimal slay,' is what you could call it. The whole point of makeup is that you aren't supposed to look like you're wearing it, you're supposed to look like you woke up with it—emphasizing the features that you have."
Kota Eberhardt photographed by Weston Wells for The Coveteur
How she came to love her hair texture:
"I grew up in a predominantly white neighborhood; I'm from the hood, in DC. Where we went to school, we were the only black kids. I remember feeling really insecure because I looked different. I didn't have a mother here to show me what to do with my hair, so I always slicked it back. One day I went to school with my hair in a fro, and people were like, 'This is incredible, why don't you wear your hair like this all of the time?' That was where my hair journey started."
On what pushed her to buzz her hair (without telling her agency first):
"I always feel that restlessness where I want to do something to my look. It's a beautiful way to start that process [of change]. That may sound superficial, but it shouldn't. We're always going through something. Why not express it outwardly? I came home one day, looked in the mirror, and had this long white hair. I really wanted to become someone new, so I took scissors and started cutting my hair. My roommate walked in and was like, 'Kota! Did you tell your agency?' I didn't, but I just did it. [laughs]"
Kota Eberhardt photographed by Weston Wells for The Coveteur
Kota Eberhardt photographed by Weston Wells for The Coveteur
On experiencing racism in the industry:
"I took a meeting at [a modeling agency and told them about wanting to dye my hair blonde], and they were like, 'Black girls don't have blonde hair, you're not going to be able to work in this industry.' I promise you, that happened. I was mortified. I remember responding like, 'Really? Do you feel like black people cannot have blonde hair?'"
The beauty products that stock her vanity:
"I love Aesop products, especially the Parsley Seed Eye Serum. That stuff is amazing. I like Benefit's Gimme Brow. It's like microfiber; it looks like a thicker mascara, but for your eyebrows. Then I'll do a clear mascara over the whole brow to keep them super full. And I love Urban Decay's white liquid liner. It's razor-sharp. I have started putting that above my eye, and apparently it's caught on. I heard that Solange has been really inspired by it. I love playing around with liners."
Kota Eberhardt photographed by Weston Wells for The Coveteur
The best beauty tips she's learned on set:
"One of my favorite ones is when you apply your cream or serum under the eye, use your ring finger. What I like to do is put spoons in the fridge as I'm getting ready, and then once I put my creams or serums on my eyes with my ring finger, I'll put the cold spoons gently to the skin. If I have a photo shoot in the morning, I'll do that.
"Another thing I do is mix coconut oil with my mascara. Also, I always wear a matte lipstick and I overdraw the bottom lip, just a little bit. I don't go all the way around, just directly under the bottom lip. You would be surprised at the difference it makes on camera."
The beauty advice she'd give her high school self:
"Accept your hair. Just let it go and wear it natural. Another tip I would give myself is to not be afraid of color. It's okay to be loud and live colorfully. Beauty is way more dynamic than people think it is. It definitely starts with skincare, but also loving your skin, living in it, and wanting to take care of it. It's deeper than just makeup for me. It's more about becoming a character and loving what you live in."