Career
Anyone who says we're living in a post-sexist society better take another look.
Over the last few weeks, Coveteur has been profiling women who are doing exciting things in tech leading up to SXSW and an event we were hosting there with RewardStyle and Bumble celebrating just that. As part of this, I traveled to San Francisco a few weeks ago to meet and interview a few of these women. This was the very same week that Susan Fowler's incendiary blog post about the sexism she experienced as an engineer at Uber surfaced, and, with that in everyone's mind, I asked each woman that I met about their own realities as women working in the tech industry.
As someone who has worked my entire career in a majority-female industry and for a company that encourages us to, for example, strike for International Women's Day, and where we can openly discuss (and write about, for that matter) everything from menstruation health and hygiene to the unending search for appropriate wedding attendee wear without judgment, I found their answers alarming, despite knowing, in an outside way, how misogynistic the industry could be. To an extent, I suppose I was ignorant, because the sexism that exists is entrenched and systematized by the same old boy's club that run industries like finance and health care (and just about every other major field out there).
It's important to remember that, while the tech industry is getting a lot of attention right now (you might have seen the cover of this month's Atlantic), it doesn't mean that other, older industries don't have their own gender inequality and discrimination issues. And while tech has been exposed as being particularly misogynistic and hostile towards women, there has been movement and initiatives to rectify this—people are talking—in part because while there aren't many of them, there are some women in the industry with great power and loud voices. Like those excerpted below. Let's listen up and support, shall we?
---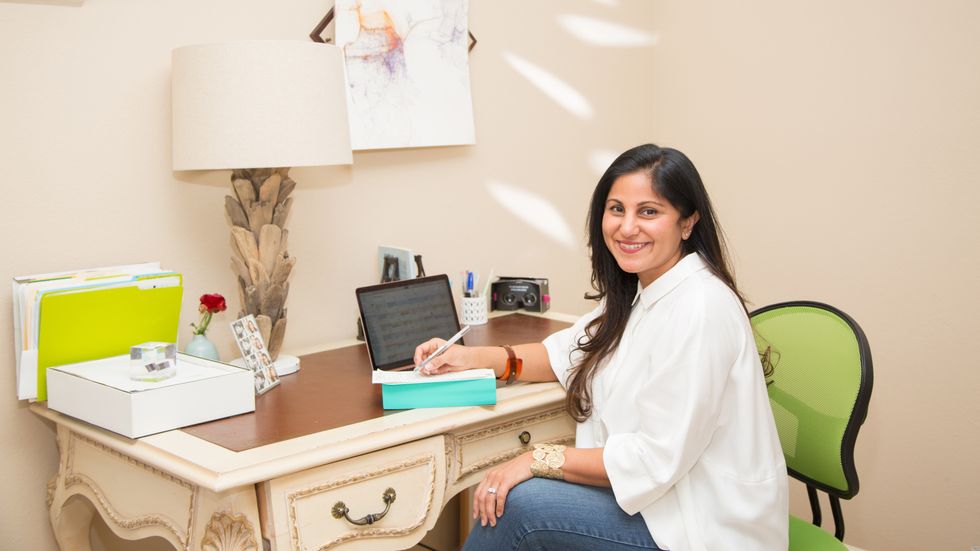 "I've had two babies. It's great but also super taxing, and you have to find the ways that make it work. I work from nine to midnight four nights a week. But I'm also able to stop work at 4:30 PM and pick up my son from school and be with my kids and do dinner and bedtime, which is really great. But I'm pretty sure America hates mothers. They make it really hard; there's no support. I work with some great guys, and they have wives who work and they get it, but not everyone gets it. You can't talk about it because they'll ding you for it if you do. It's punishing. We don't have a legal pumping room. We're a small startup, and there's one room in the office, so things get really tricky if you're nursing. I had meetings at Facebook all day a couple of days ago, and it was great—I just took my pump parts with me, and they had lactation rooms, but not everyone works at companies that prioritize that. If you have nowhere to go, you have to pump in a bathroom. I've had to pump in bars before. And we have board meetings that are often four hours, and I can't take a break in the middle of that to go pump—what am I going to tell them?

"I have never experienced sexism or misogyny or just general weirdness around being a woman until moving to Silicon Valley, and I don't know why. There is a super male-dominated tech industry, sure, but I've worked in a lot of male-dominated industries, and it's never been a problem. I'm technical—I can code if I need to, I can design stuff. The skills are there, but somehow... Maybe it's not just being a woman in Silicon Valley; it's since I've become a mom that I've really felt the brunt of it, and that's why I say that America hates moms. I don't know what it would be like in another industry as a mom, but I don't think it would be much better—the world is not designed for my needs at all. It just feels like everything has been designed for a guy. It really feels like a rat race if you look at the way a working day is structured. It doesn't have to be that way. It doesn't have to be that painful. I am very hopeful that this next generation of women will take the reigns to make sure that work culture does not feel like being punched in the face."
"It's clear that we live in a society that rewards machismo, and we also live in a society that is fraught with pattern matching, which is basically thinking that people like Mark Zuckerberg are successful and, when we see people that remind us of Mark Zuckerberg, matching that pattern in our brain and wanting to believe in that person. You will often hear stories of investors who are like, 'I met this guy, and I just knew he was going to be successful'. You don't hear that very often about women because women tend to have some characteristics and traits that aren't the quote-unquote masculine traits that we are taught to see as successful. It's not like I am exempt from experiencing these biases at all—it goes not just for gender but a type, something that everyone experiences and that we need to learn to keep in check and call ourselves out on. With things like 'There is just something about her I don't like' or 'There is just something about him that I find really compelling,' we need to understand where that cognitive fallacy may lie. My point is that it's hard to be a woman in technology. I think it is hard to be a woman in many industries. We see stories like Susan Fowler's about Uber that are absolutely insane. This is going on at Uber, one of the highest-valued tech companies. That kind of stuff certainly gives me pause.

"When I came to Silicon Valley for the first time and looked around in my accelerator class, I realized I was one of four women in the entire room—it was insane. It made me a little disappointed and uncomfortable. The nice thing about it is that the women that are entrepreneurs are just so incredible because they have had to overcome all of the barriers that are put up purposefully and not purposefully by society and investors. The group that remains I find to be an incredibly strong group, and because there is so few of us, we all know each other.
"We had an investor once who passed and later called having told [his] wife about our business, and now he wanted to invest. It's great he invested, but how often does that kind of thing happen where it doesn't work out that way? Where the investor doesn't have a wife to talk to or doesn't talk to his wife or girlfriend about the business?"
"We started a women in venture capital group about two years ago in New York. We organize dinners on a bi-monthly basis so women can network and share deals and deepen relationships. The first one we did, we had fifteen people, and we were really excited about that. Fast-forward to the event that just happened, and we had a hundred and thirty women in venture there! I do think that the numbers of women in VC have grown in New York in the last two years, and I do think that the dialogue around women in technology and women in venture has changed over the last couple of years as well. Every so often a survey comes out saying there's no diversity in tech. I think that that conversation isn't as random as it used to be. This is a real discussion point, and not just for women talking about themselves, but for men that recognize that having an unbalanced workforce is probably value-detracting from the business you are in and the economy you are trying to create. More women in VC helping other women in VC has meant that we've been able to share deal flow, deepen relationships, find co-investors."
"I have lots of opinions about this. One of the things that would make my life easier as a female CEO is having more female investors. At the end of the day, early-stage investing is just finding what problem you want to solve as an investor, and an entrepreneur that you like, and then supporting them with your capital. I struggle sometimes to get men to connect to our product. I know that they care about our issue, and I can't tell you how many times a male investor has said, 'This is an important business but...' An investor does one to two deals a year out of hundreds [that they see], and if you are a guy and you are seeing virtual reality companies and drones and artificial intelligence and augmented reality, which is all really sexy, you may like the idea of Maven and you may want Maven to succeed, but you want the other guy to do it because you want to [invest in] the drone company. That's the brutal reality of our business, and that's why even as I meet junior females in venture capital, I'm like, stay in venture capital! When there are very female businesses solving female issues, that's when it's challenging [to get funding].
"For women wanting to go into tech, it's about supportive environments. As we're all reading right now, there are companies with environments that aren't supportive to women, and life's too short to work at them. Your career will hurt, and the stress that you'll experience working in an environment where you're not supported will hold you back. Every company is good and bad in its own way. Work is work; work is not play. But there are certain companies in technology that just fundamentally don't support women, so don't work at them."
"The biggest challenge I saw was when I was working in venture. It was really clear to me that the way things in the world happen was through this old boys club, where some guy would call his buddy and he'd get a deal done, or all the guys who were my partners there were like, 'Hey, my buddy is starting a company,' and I was like, well, most of my girlfriends aren't starting companies, so I don't get deal flow that way. Without that behind-the-scenes power network, it was really hard to get an edge, and I was missing a piece of the puzzle to do my job. That made me really angry when I was an investor. I felt really impassioned at that point to try to connect women in a meaningful way where they could start to build relationships well before they needed to do business together. Now we do this Park City women in tech retreat and invite the threefold that you need in order to build a healthy startup ecosystem: investors, entrepreneurs, and the corporate side, the people who are potentially going to acquire companies.
"If you're just looking to be in tech, it's a great time, because I feel like everyone is looking for women to join their companies. Join a company where ideally you're not the first woman. You would be a trailblazer if you do that, but be ready for a little bit of a hardship. If there's at least two other women around the table, you're going to have a much easier time feeling supported."