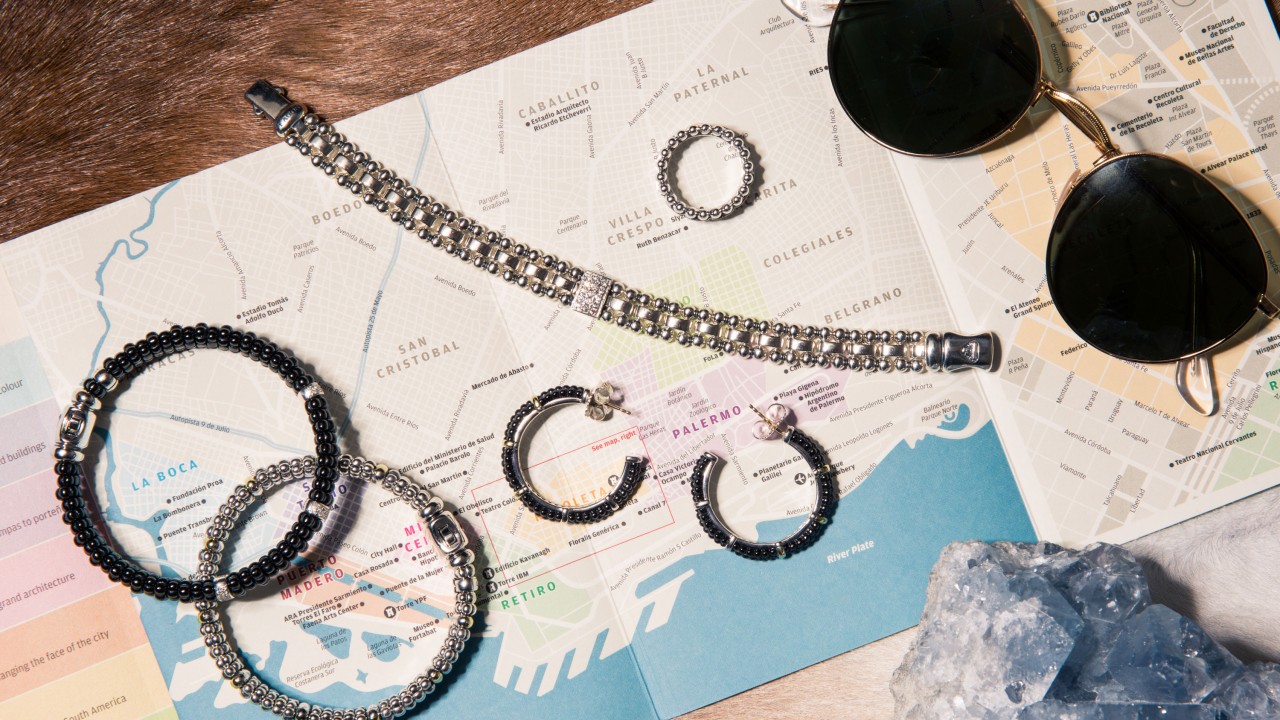 3 Under-the-Radar Travel Destinations You'll Want to Book Tickets to ASAP
Spending our next paycheck on airfare in 3, 2, 1… In collaboration with LAGOS.
It's right about this time of year—when no matter where you live, everything starts looking just a little bit more gray, slightly dingy—that cabin fever starts setting in. And we know better than anyone that there's one real antidote to the general sense of ennui: to get on the next plane out to some far-flung capital you've never been before. With the whole wide world for the taking, we've narrowed things down to three of our favorite, slightly under-the-radar (highly 'grammable, because of course) cities worthy of your next getaway, and put together a little packing list (heavy on the fine jewelry, courtesy of LAGOS—did we mention it won't weigh down your carry-on?) for each to pre-empt your trip, too. What can we say? We're thoughtful like that.
---
---
If you've long admired Scandinavian culture in all of its pitch-perfect, minimal-albeit-occasionally-offbeat aesthetic dreaminess, it's time you booked your trip to Copenhagen already. Here's what you need to know first.
Where to stay: How does staying in a castle (technically a manor, but still) sound? Good? Then get thee over to the Kokkedal Castle Copenhagen, a former private aristocractic residence that was renovated a few years ago. While it's half an hour outside the city proper, well, look at the place. If something a little more modern (and in the actual city of Copenhagen) is more your speed, we like Hotel Alexandra, which is appropriately design-minded and close to the Tivoli Gardens. Any of the boutique Brochner Hotels will take good care of you, too.
Where to shop: While we tend to prefer the wander-around-and-uncover-hidden-gems approach to shopping (especially in a city like Copenhagen), we can share the names of a few spots to get you started. Namely, The Apartment, a favorite of Phoebe Philo (also appointment-only), Illum and Magasin du Nord (fancy Danish department stores), House of Design (all the midcentury masterpieces), and Stig P (a well-curated mix of favorites like Stella McCartney and local labels).
What to eat: Given that Copenhagen is the birthplace of Noma (R.I.P., for now), you better believe that the dining scene is unreal—so make reservations accordingly. Itching for something with Michelin cred? Hit up Kong Hans Kaelder, home to old-school fine dining at its, well, finest, with hearty French-tinged Danish eats aplenty. Looking for your brunch fix, Copenhagen-style? Look no further than Atelier September, which also has its own namesake boutique (because of course it does), and where soft-boiled eggs, fresh grapefruit, and cheese and rye, plus traditional matcha, will totally simplify how you see your morning meal. Craving a little traditional smørrebrød (aka open-faced sandwich on traditional rye bread, with smoked fish and allllll the fixings)? Try to beat the lunchtime rush at Ida Davidsen, a 5th-generation family-owned spot (the restaurant itself is more than a century old, so there's that), loved as much by travelers as by locals.
What to pack: Do as the Scandis do and bring your best blue jeans. You'll also need a little silk scarf to wrap around and knot at the neck just so (ideally over a turtleneck or with a little white tee). Finish the look off by mixing intricate silver and gold pieces by LAGOS, like these delicate-albeit-statement-making drop earrings with 18K gold (perfect with that turtleneck and one of those artful hair tucks, right?), or a sleek studded pendant.
Scarf, Hermes; Jewelry, LAGOS; Jeans, Acne Studios
---
Havana, Cuba
---
Skip the tourist-y resorts in favor of a stay in Havana, Cuba's capital.
Where to stay: Skip anything state-sponsored in favor of the luxurious: Hotel Nacional is a classic, with incredible art deco architecture (everyone from Sinatra to Naomi Campbell has apparently spent the night).
Where to shop: While this obviously isn't the place for rare designer scores, you will come away with incredible historic items and keepsakes you won't find anywhere else in the world. Try Coleccion Habana, which specializes in reproductions of colonial tchotchkes, for something that screams "yep, I did that"—otherwise, stick to taking in the incredible architecture and more historical spots like the Museum Nacional de Bellas Artes de La Habana.
Where to eat: First things first: plan ahead to make reservations at paladar—private, often family-run restaurants, usually in someone's home, for the realest, authentically Cuban meals (we like Los Narajnos, for their croquettes and lobster dishes). Looking for authentic Cuban fare? Hit up Doña Eutemia, for classic ropa vieja (stewed beef with vegetables—a national dish) and all of the mojitos. It also happens to be situated in an especially walkable (and picturesque) part of Old Havana. For something a little hipper, try El Cocinero for their fish dishes (wash 'em down with plenty of rum). Cap your night off at El Floridita for one of their signature daiquiris (and a cigar, because Cuba).
What to pack: We advise going straight for shirt dresses and airy slips you'll want to alternately wander all over and tear up Old Havana in. Also, colorful, embellished sandals that you can walk around in all day but have the potential to carry you through to night, too (because you never know, right?). Play off the hues of everything around you with statement-making numbers from LAGOS's Maya collection—stack up chunky, textured lapis and turquoise statement rings, pile on turquoise drop pendants, and layer in a classic link bracelet dotted with turquoise stones, just because you can.
Jewelry, LAGOS; Bag, CHANEL; Shoes, CHANEL
---
Buenos Aires, Argentina
---
Where to stay: Looking for something a little more low-key? 1555 Malabia House is a tiny boutique B and B close enough to happening hoods for a night out but not so close you're kept up all night before your flight. Home Hotel, in Palermo, is an incredibly eclectic spot with a beautiful pool and garden (the only potential downside is that you'll likely never want to leave). If supremely fancy is what you're after, look no further than the Alvear Palace—it's been around since the 1930s and is as much a landmark as any.
Where to shop: Before we get into where to shop, let's note that this may be one of those trips that necessitates the ol' suitcase-layering trick (placing a smaller suitcase inside your larger one), because you're about to have a whole lot of goodies to bring back. For one, the vintage here is nothing short of incredible (shout out to Gil Antiguedades), but the contemporary labels from local talent are equally astounding (try Panorama for the city's best edit). Try your luck antique shopping at San Telmo Market and El Mercado de las Pulgas, Feria de San Telmo for cowhide, or the tiny shops in and around the Recoleta nabe for leather.
Where to eat: First things first: get your quintessential BA steak fix at La Cabrera, the city's most popular steakhouse, or try La Carnicería for something a little more dialed down (and traditional). The vibes at Les Anciens Combattants signal the start of an excellent night out, while Oui Oui is the coolest spot for day. If it's Sunday, be sure to load up on street food at La Feria de Mataderos.
What to pack: So glad you asked! Put your own appropriate-to-wander-around-in spin on the local (-ish) uniform: denim cut-offs or a sundress, a quality leather jacket, stellar sunglasses, and platform (aka walking-friendly) sandals. Then, load up on plenty of glamorous silver with sparkly touches: a LAGOS black caviar diamond bracelet (!), this extra-blingy one, to start, plus a few thin bangles, and a glimmering diamond pendant to match.
Sunglasses, Ray-Ban; Jewelry, LAGOS