The Beauty Elixir That's About to Replace the Coffee in Your Cup
This is not your ordinary chicken stock.
Food
If you've been a longtime reader of Coveteur, you'll know that we're kind of into keeping up with food trends. You'd also know that the aforementioned statement more accurately translates to "we love to eat and drink, so any healthy excuse to do so is fine by us."
Which is where Brodo—Italian for "broth"—comes in. The recently opened West Village location, brainchild of chef Marco Canora, is the second one in the city, and for good reason: bone broth is pretty damn good (and really, really good for you).
This comfort food turned beauty elixir is a nutritionist-approved all-rounder. The coffee alternative is filled with good-for-you nutrients (more on that here). It's got you covered in terms of everything from glowing skin and hair to minimizing cellulite. Something tells us it would also be a pretty great cold (or hangover) remedy. Oh, and Salma Hayek apparently drinks it, so there's that.
Marco walked us through some of Brodo's most sipped-on combinations: Sipping Beauty (hearth broth with fresh parsley and lemon juice), Tom Yum (chicken broth with chili oil, coconut milk, lime, and curry spice blend), Oishi Oishi (chicken broth with shiitake tea, reishi powder, roasted garlic puree, and grass-fed butter) and Morning A Go Go (chicken broth with bitter cacao, Brodo blend of herbs, and grass-fed butter.) If you're feeling extra creative, you can also make your own by picking one of the four types of base bone broths. You really can't go wrong with any of the flavorful options and toppings like freshly grated turmeric, ginger juice, and bone marrow, so go crazy with it. Marco even provided us with a recipe from the Brodo Cookbook (warning, contains majorly drool-worthy pictures of broth) so that we can attempt to make this stuff ourselves.
---
HEARTH BONE BROTH
MAKES ABOUT 6 QUARTS
Ingredients:
2 (2- to 3-lb) stewing hens
2 (1-lb) turkey drumsticks
3 lbs beef shin
3 large onions, peeled and roughly chopped
6 celery stalks, roughly chopped
3 large carrots, scrubbed and roughly chopped
1 (14.5-oz) can whole peeled tomatoes
10 sprigs flat-leaf parsley
1 tbsp black peppercorns
fine sea salt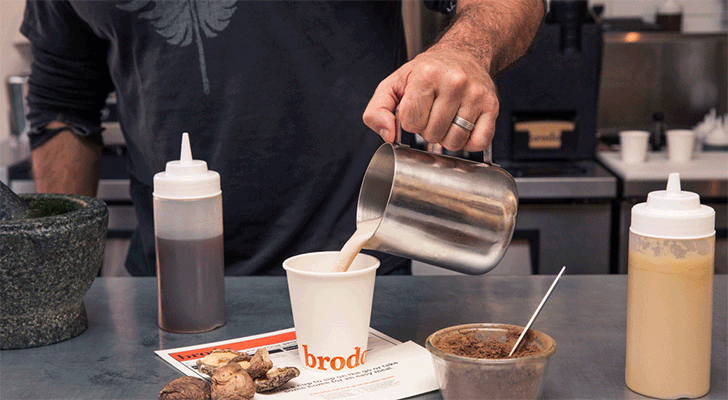 Directions:
1. Place all the meat in a 16-quart pot and add cold water to cover by 2 to 3 inches. Bring it to a boil over high heat, about 1 hour, skimming off the foamy impurities every 15 to 20 minutes.
2. As soon as the liquid boils, reduce the heat to low and pull the pot to one side so it is partially off the burner. Simmer for 2 hours, skimming once or twice.
3. Add the onions, celery, carrots, tomatoes, parsley, and peppercorns, and push them down into the liquid. Continue to simmer for 3 to 5 hours, skimming as needed and occasionally checking to make sure that the bones are fully submerged.
4. Use a spider skimmer to remove the solids. Set the meat aside to cool, then pull it off the bones and reserve. Strain the broth through a fine-mesh strainer. Season with salt to taste, and let it cool.
5. Transfer the cooled broth to storage containers (leaving any sediment in the bottom of the pot) and refrigerate overnight. Skim off any solidified fat from the top and store the broth for up to 5 days in the refrigerator or freeze for up to 6 months.