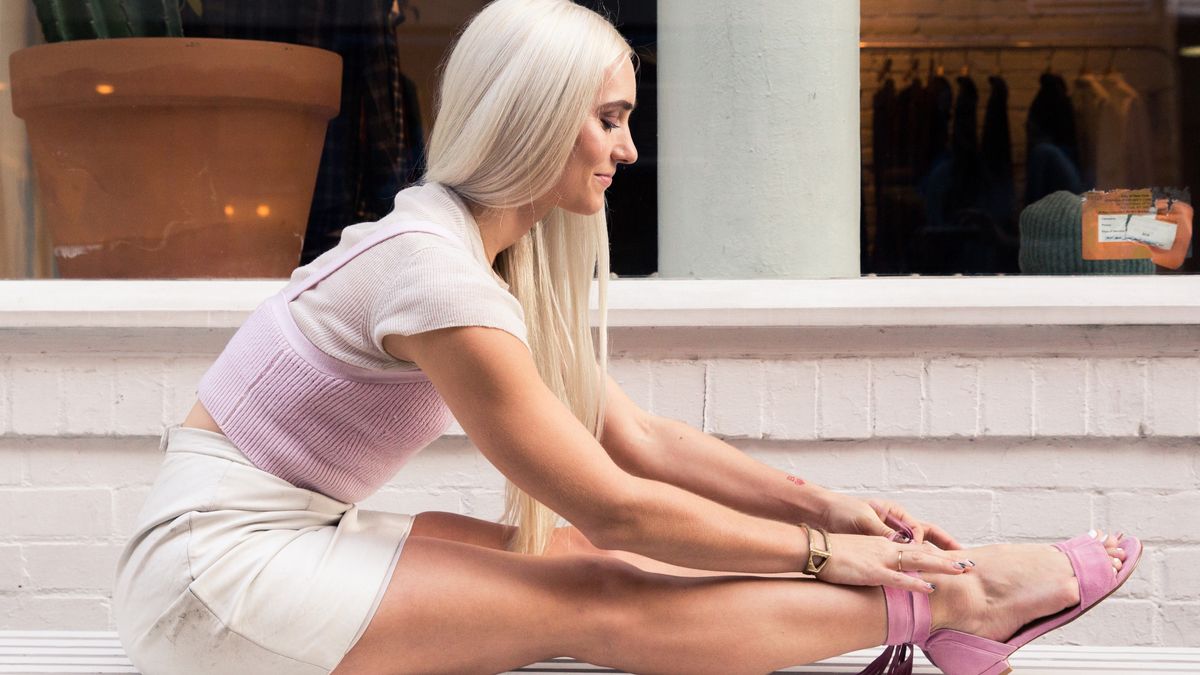 Fashion
New York Pilates' fearless leader on the ideal spring day in Soho and why you'll (almost) never catch her in sneakers. In collaboration with Stuart Weitzman.
Alec Kugler
Alicia Cesaro
If the seasons were punctuation, spring would unequivocally be an exclamation mark. We dare you to find someone who it doesn't instantly make giddy. After all, it's synonymous with the start of a few of our favorite things: sunshine, rapidly emptying bottles of rosé, and really great shoes. And so, to celebrate (aka to validate our need to stock our closets with new sandals), we're teaming up with Stuart Weitzman to take a walk in the shoes of three New York women and see how they step things up for spring.
---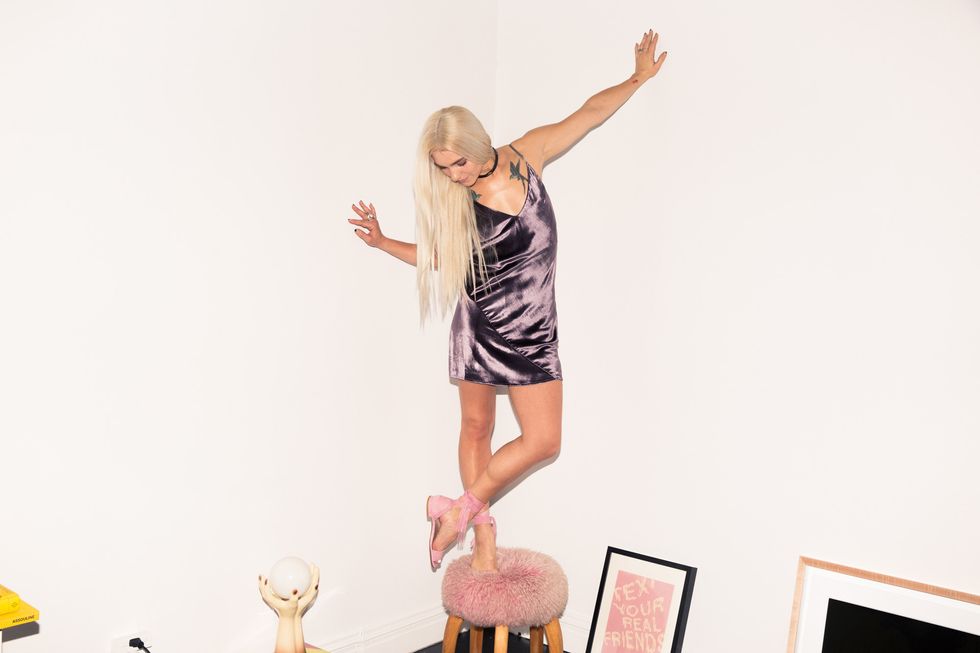 New York Pilates founder Heather Andersen's look is, well, that of an archetypal Pilates instructor in downtown New York City: long, white-blond hair that's definitely gotten her a comparison or two to Khaleesi, boundless energy, the biggest smile, and a wardrobe of cool-girl neutral athleisure wear. That being said, in reality, she's anything but: she opts for pulled-together looks as a means of staying sane (her Instagram bio even reads "always get dressed") and actually eschews sneakers in favor of a block sandal (like Stuart Weitzman's Corbata style—bonus points if it's in that pale shade of millennial pink that's inescapable right now). Here's what else we learned about how she navigates re-upping her style for spring.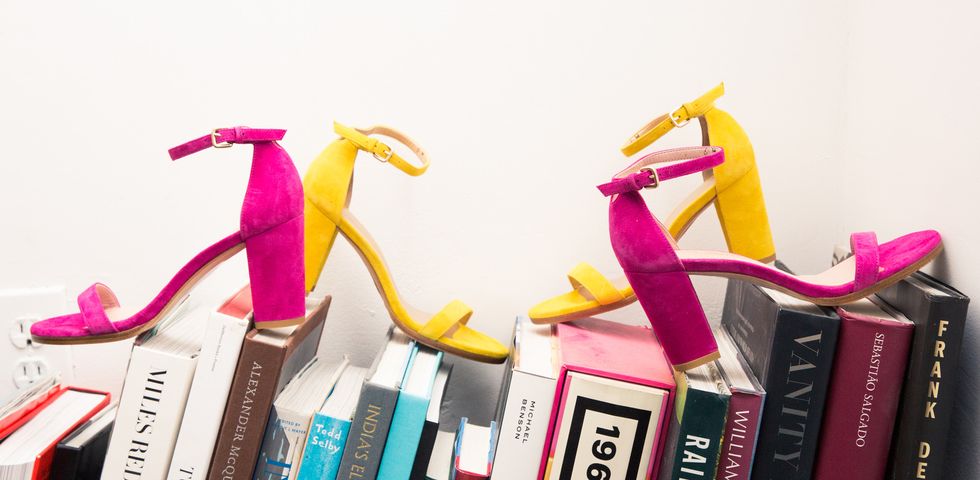 How she defines her style:
"I feel like my personal style is fun. For me, it's a little bit of a creative outlet. I like to try new things. It's a little health goth!"
What wearing workout gear for her 9-to-5 means for her wardrobe:
"I have a big thing about getting dressed. I have been teaching for twelve years, which means my professional attire has been essentially sweatpants for twelve years. For me, not putting myself together makes me go crazy. I make a really big effort to put an outfit together every day."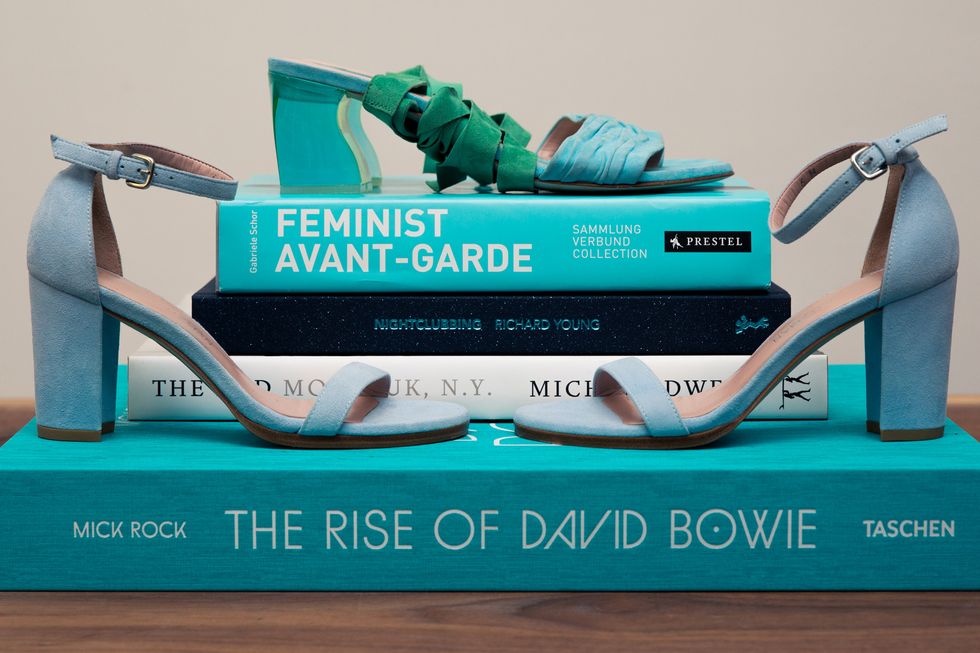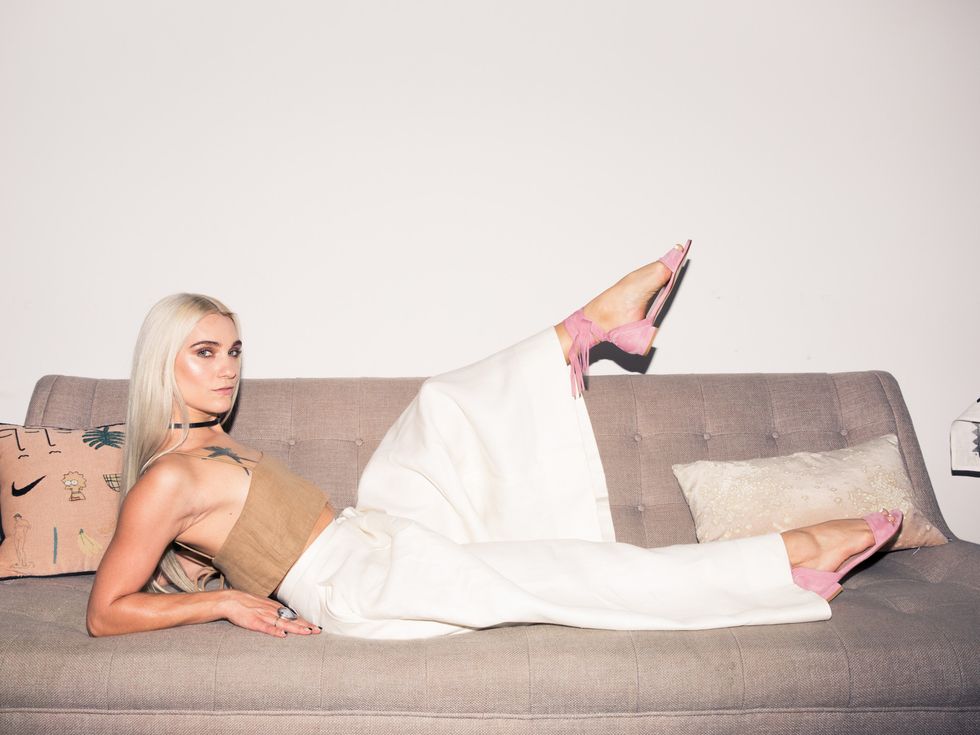 Proof she takes her spring cleaning very seriously:
"When I'm pulling out my spring clothes, every year I'm like, 'What am I going to wear? What is my new outfit for the season?' As I'm digging through my clothes, figuring out what I want to wear, I'm usually also going through things going, 'You know what, I'm not into this anymore.' Then I make a big pile and take it to Salvation Army."
Her go-to spring shoe silhouette:
"I love a block heel, because it's really sturdy, and I like having a little lift. Something a little chunky that you can really cruise around town in. They're easy and chic."
The spring moment she looks forward to all year 'round:
"For me, a big spring thing is pulling out my bicycle. I just start zipping around the city, and I venture out to different neighborhoods much more frequently."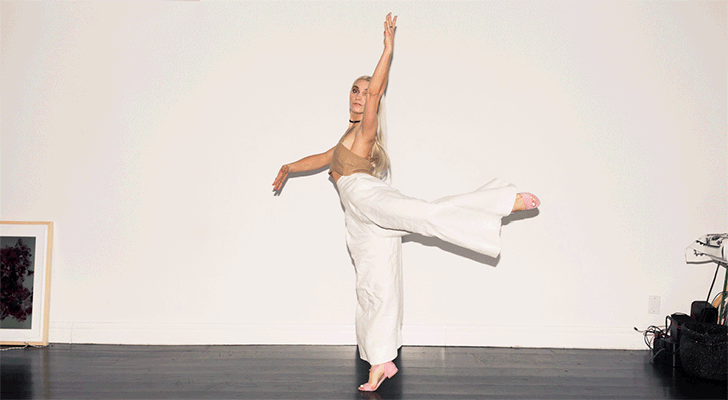 The Stuart Weitzman sandal you'll find her in all spring:
"I really liked those shoes with the little heel, the Corbata Sandal. And they come in those bright colors. I feel like they are perfect for color blocking. When I saw those shoes, I wanted to make a crazy color blocking outfit, in an all-blue or -purple palette."
Her favorite spring spots in the neighborhood:
"The Soho studio is so dangerous because on that block is Reformation, Opening Ceremony, and Rick Owens. If you want to drop some cash, it's the best! I love getting coffee at either Saturdays or across the street at the Smile, if you have a half hour to wait [laughs]. If you walk just up Lafayette, there is La Esquina, which is always my jam. Café Select, too. If you can get one of the outside seats there, they have outdoor heaters, so even if there's still a little chill, you can sit outside and have a coffee or a drink. It's so luxurious."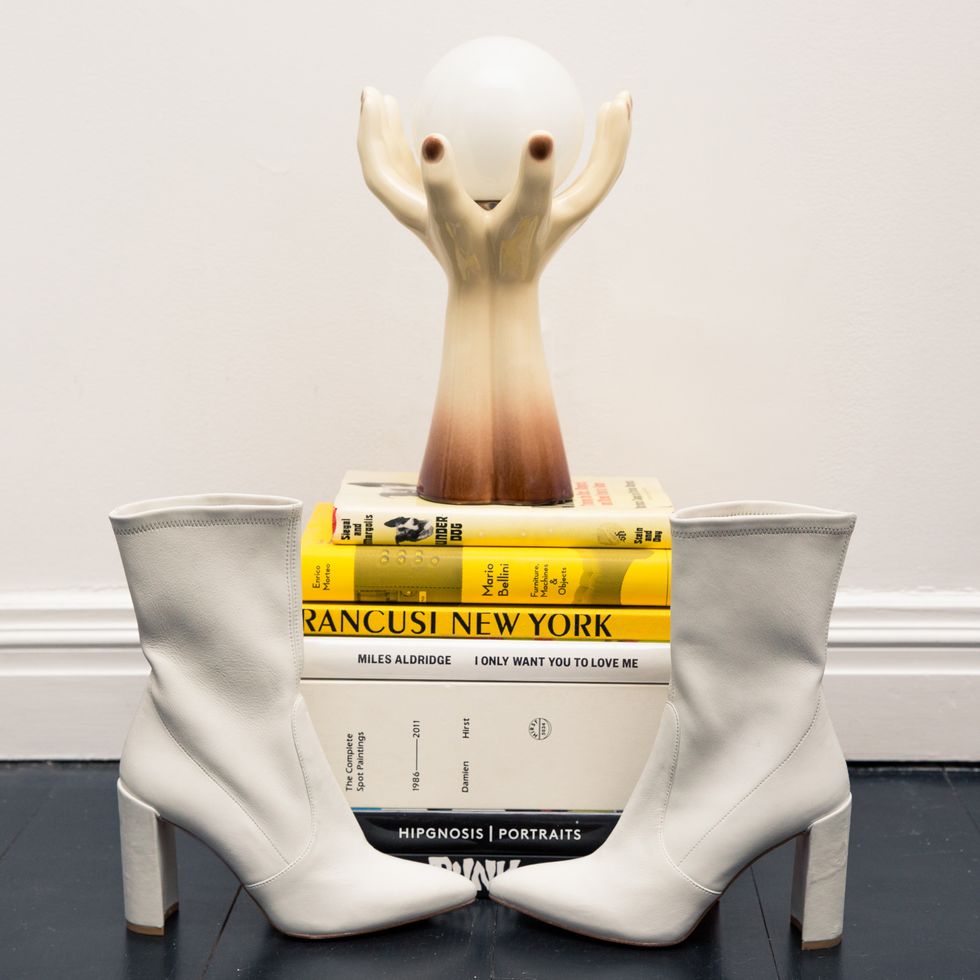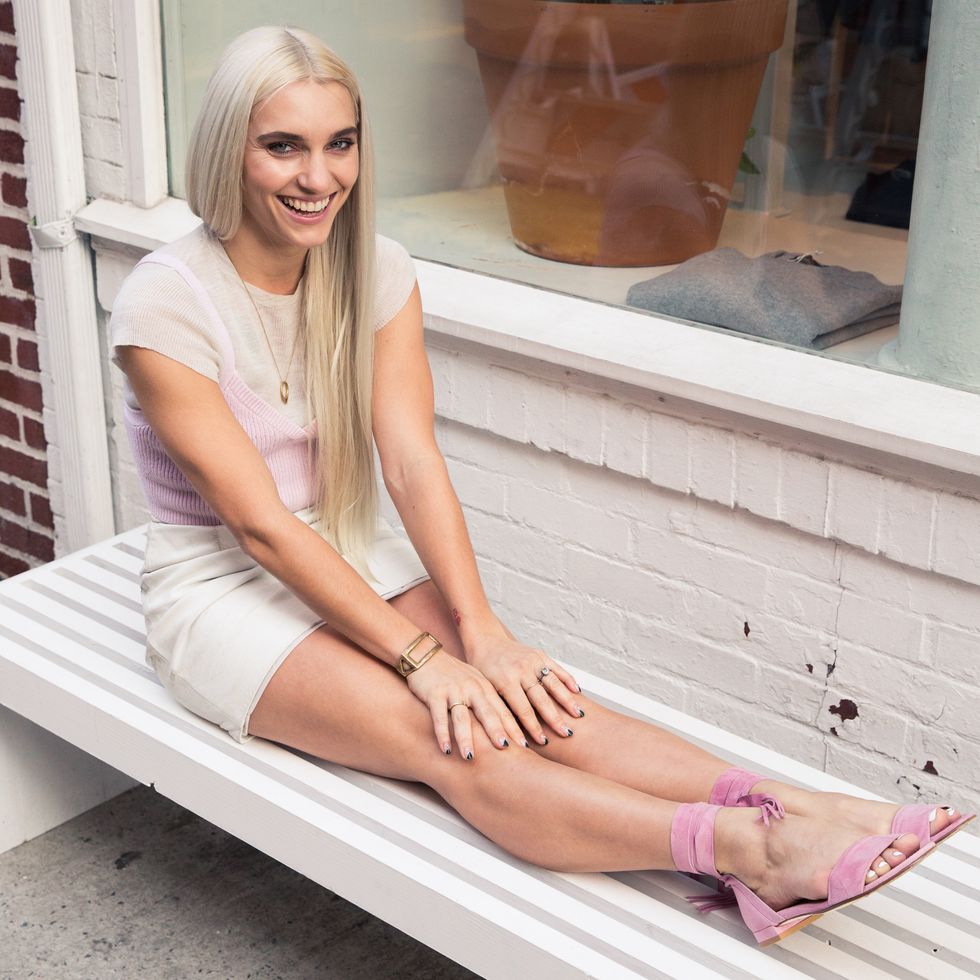 What the change in seasons means at NYP:
"As soon as there is the first day warm enough for shorts, the studio is booked. You cannot get into class! It's like clockwork, every year. As soon as it gets warm, you have to book a week in advance for class. It's so funny. People get really concerned because they haven't seen their thighs in six months."
Why she's Team Sandal > Sneakers:
"There is a joke about me that I literally never wear sneakers. It's funny because being in fitness, people send me stuff all of the time, and people always send me sneakers. It's a running joke at the studio. We don't wear sneakers to do our workout, so there is no reason to show up to the studio in sneakers if you aren't going to wear them. I always show up in a heel!"